Halloween Events in Birmingham 2023

Thrills, Chills, and more!
Get ready for a SCARY amount of Halloween events heading your way! This is one of the busiest event weekends of the year, so here's a list of the spookiest and most festive events happenin' around town for all you ghouls and goblins to enjoy!
#RUhappenin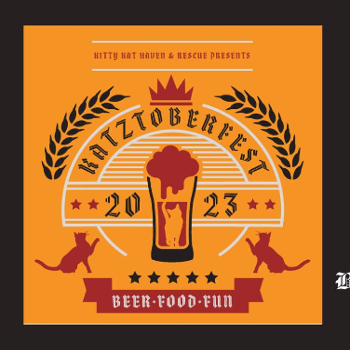 Katztoberfest 2023
Thurs, 5-9pm
Cost: FREE
At: Brocks Gap Brewing (map)
Don't miss the 5th Annual Katztoberfest Fundraiser! There will be live music, food and beer. What more could you ask for?! There is no admission fee. They will have a fun event t-shirt for sale as well as a raffle and merchandise tables. Funds raised during this event will help to support this not for profit feline only rescue - Kitty Kat Haven & Rescue.
Click here for more info.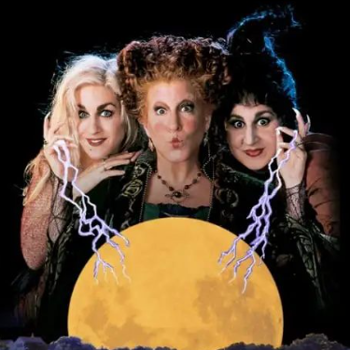 Hocus Pocus
Thurs. 7pm/Sat 2pm 7pm
Cost: $10
At: Alabama Theatre (map)
A teenage boy named Max and his little sister move to Salem, where he struggles to fit in before awakening a trio of diabolical witches that were executed in the 17th century. Tickets are $10 each. Children ages two and younger are free of charge. Doors open 1 hour before showtime, and each screening will begin with a sing-along accompanied by the Mighty Wurlitzer Organ. Seating is general admission, first come, first served.
Click here for more info.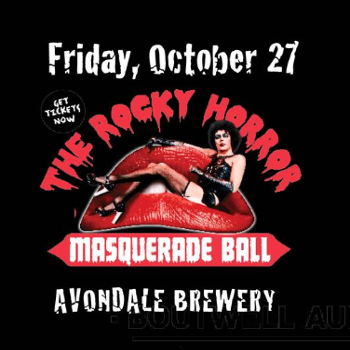 Rocky Horror Masquerade Ball
Fri, 6:30pm
Cost: $30
At: Avondale Brewing Co. (map)
Don't miss Birmingham's most extravagant Halloween event - The Rocky Horror Masquerade Ball this Friday night at Avondale Brewing! There will be TWO cash Costume Contests (general character and Rocky character look-a-like) as well as Neon Electric spinning the ghoulish groove. Bring a camp chair, props, and get ready to do the Time Warp again!!!
Click here for more info.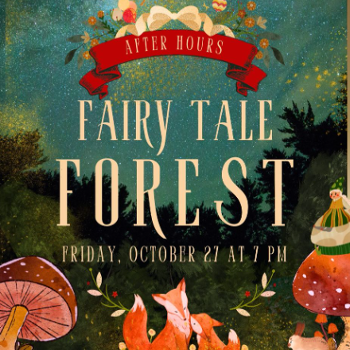 Fairy Tale Forest
Fri, 7-9pm
Cost: FREE
At: Hoover Library (map)
Looking for some not so scary fun for the kids? Head over to the Hoover Library Friday for Fairy Tales in the Forest! This event is a fun and playful evening of fairy-tale crafts, games, and Halloween family fun! Costumes are encouraged! Come and get your witchy cottage core vibes on!
Click here for more info.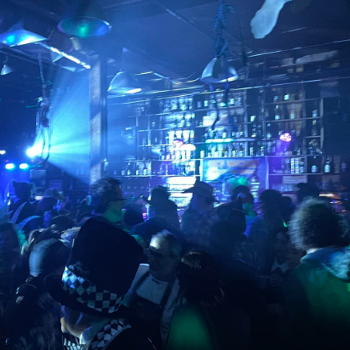 BOO 26 Halloween Party (21+)
Fri, 8pm-2am
Cost: $25
At: B&A Warehouse (map)
Birmingham's biggest and baddest Halloween Party is back with live music from Get Sideways, DJ Mark AD, Scaryoke, cash bar and the famous midnight costume contest with over $1,500 in cash and prizes! This event always has some fantastic costumes! All the scary fun benefits the Leukemia & Lymphoma Society. BOO is a 21 and up event. Get all the details and RIP tickets in the link!
Click here for more info.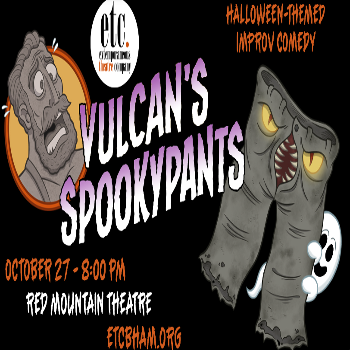 Vulcan's Spooky Pants
Fri, 8pm
Cost: $12
At: Red Mountain Theatre (map)
Giving a new meaning to pre-partying, ETC is bringing their fast-paced show full of familiar and new improv games to start your Halloween weekend! Wanna test out your costume? Dressing up is welcome! Put your fears away and get ready to die laughing. With this group you can expect a few tricks as well as some treats!
Click here for more info.
Scare Your Face Off Fest XIII (18+)
Fri, 9pm
Cost: $15/$10 if in costume
At: Saturn (map)
DIY Birmingham is providing Halloween festivities with cover sets of your old favorites by Birmingham's finest musicians. It's a costume party! Dress up and get a discount at the door. Ghouls with the creepiest costumes get prizes, in addition to a hand painted, horrid trophy. Featured music will include tributes to: Red Hot Chili Peppers, Black Sabbath, Blue Öyster Cult, Wire, and The Birthday PartyDischarge. Performances include contributions from Mood Room + Wax Fur, TOWU, Chayse Porter and His Palace Doors, Cash Langdon, B.O.R.N. + Anomaly, Foaming Doors 8 / Music 9. $10 in costume, $15 in street clothes. Tickets will be sold at the door.
Click here for more info.
Montevallo Art Stalk
Sat, 11am-5pm
Cost: FREE
At: Montevallo (map)
Come to the annual arts festival on Montevallo's historic Main Street! This is a family friendly event where you are guaranteed to see something new from up to 100 artists, craftspersons, makers, and performers. Shop from temporary vendors and permanent Montevallo merchants and restaurants, enjoy a music line-up sponsored by Montevallo Main Street, and enjoy the friendly and funky City of Montevallo vibe! Enjoy live music at Owl's Cove Park sponsored by Montevallo Main Street!
Click here for more info.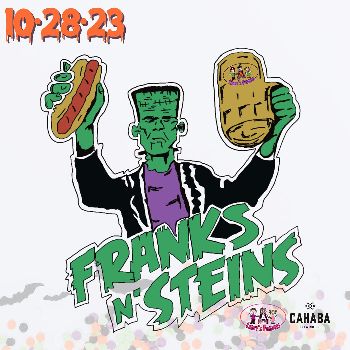 Franks N Steins
Sat, 12-5pm
Cost: FREE
At: Cahaba Brewing (map)
What better way to celebrate Oktoberfest and Halloween than spending an afternoon with Libby's Friends at Cahaba Brewing Company?! Join in for Franks N' Steins, a family-friendly event featuring costume contests, stein hosting, a hot dog eating contest, and more! Enjoy trick or treating, antique fire trucks, live music, and a bounce house! Libby's Friends is a non-profit that aims to ease the financial burden for families living with a disability. They look forward to seeing you at the inaugural Franks N' Steins!
Click here for more info.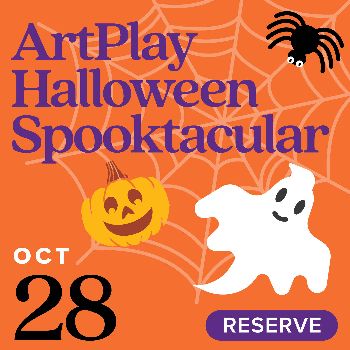 ArtPlay Halloween Family Spooktacular
Sat, 1-4pm
Cost: FREE (must register)
At: ArtPlay (map)
There's a chill in the air, and the time is right to get a little spooky at the ArtPlay House! Join in for the annual Halloween Bash! They will have treats, music, dancing and a visual art activity or three. Wear your favorite costume, and don't forget to bring the entire family to this FREE, fun, and festive party! The ArtPlay House looks like it's straight out of either Sabrina or Hocus Pocus, and is the perfect venue for some Halloween fun!
Click here for more info.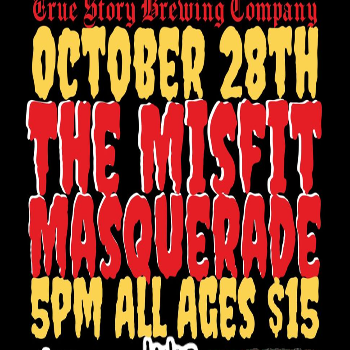 The Misfit Masquerade
Sat, 6pm
Cost: $15
At: True Story Brewing (map)
Come and check out some punk rock Halloween vibes! The Annual Misfit Masquerade returns and each band will be doing a full cover set and one Misfits cover as well as a few originals!
Dress up in costume! You could even win a tattoo! This is an all ages show!
Click here for more info.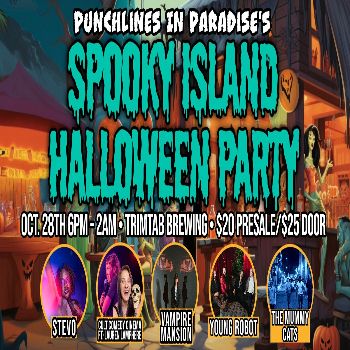 Spooky Island Halloween Party
Sat, 6pm-2am
Cost: $20 adv/$25 door
At: TrimTab Brewing (map)
Head to TrimTab Brewing for a night of killer fun! From 6pm-9pm Stevo Blaque will be bringing the vibes to the dance floor. Then from 9pm-11pm after you've danced your heart out, take a seat and hangout out Birmingham's very own horror hostess with the mostest purple hair, Natalia, from Cult Comedy Cinema while she riffs through Scooby-Doo: The Movie (2002) with special guest, Laugh Garden founder & NYC comedian, Lauren Lamphere! Come dressed to impress because at 11pm they will have a costume contest where the best costume of the night will take home a $100 cash prize!!! They'll also have other prizes for the runner ups! Finally, from 11:30pm-2am, they'll be closing out the night with killer performances from Vampire Mansion, Young Robot, and The Mummy Cats!!!
Click here for more info.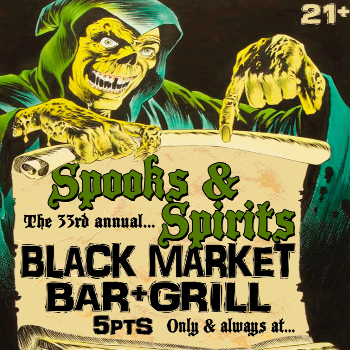 33rd Annual Spooks & Spirits Party (21+)
Sat, 7pm
Cost: $10
At: Black Market 5pts (map)
It's time for the annual Spooks & Spirits charity Halloween bash! Join the fun in your best spooky suit for a chance to win prizes and monster mash the night away with a live DJ. They will have jello shots, as well as drink specials from Crown Royal and Johnny Walker. This year's charity is Bama Bully Rescue, helping bully breed dogs find their forever homes. Spooky fun for a spectacular cause!
Click here for more info.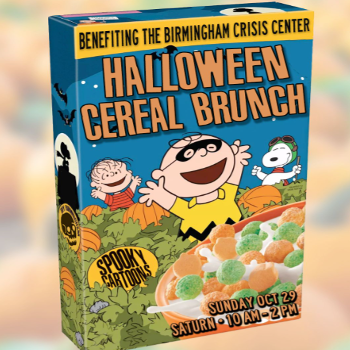 Spooky Cereal Brunch
Sun, 10am-2pm
Cost: FREE (donations encouraged)
At: Saturn (map)
Cereal Brunch is making a special holiday return for Halloween! On October 29, 10 AM - 2 PM swing by Saturn for a cup of coffee, and your favorite Halloween cereals. A wide variety of milk options will also be available. They'll be showing spooky Saturday morning cartoons to recreate that nostalgic autumn feeling of sitting around in your PJ's and chompin' on bowls of Count Chocula. PJ's and Halloween costumes are encouraged! These events are so much fun! d
Click here for more info.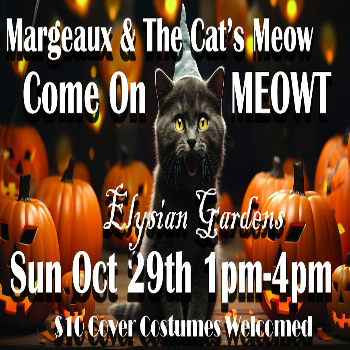 Halloween Cats
Sun, 1-4pm
Cost: $10
At: Elysian Gardens (map)
It's going to be a wicked good time at Elysian Gardens Sunday Oct 29th as Margeaux and The Cat's Meow gets you grooving!! From Minnie the Moocher to Damien Marley and Zappa, they will keep your toes tapping! Get dressed up and enjoy the Halloween Holidays! Pets and children welcomed!! $10.00 Cover! Don't forget there are two restaurants at Elysian so plenty of delicious food will be available for purchase! (The wings are incredible!)
Click here for more info.
HALLOWEEN NIGHT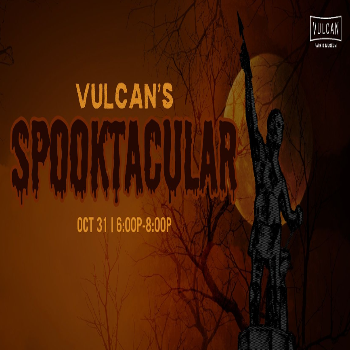 Vulcan's Spooktacular
Tues, 6pm
Cost: $6
At: Vulcan Park & Museum (map)
Join Vulcan Park & Museum on Tuesday, October 31 from 6:00P- 8:00P for Vulcan's Spooktacular. There will be trick or treating throughout the museum, photo stations, free popcorn, music & MORE! Leashed furry friends are invited to park grounds, so bring them out in their costumes for a treat. Tickets are $6 for ages 12 and up, $5 for ages 12-5, and kids 4 and under are FREE. Admission is free for Vulcan Park & Museum members and includes entrance to the festivities, and the museum.
Click here for more info.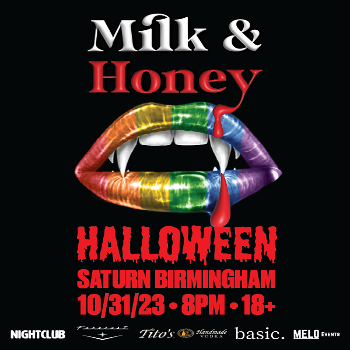 Milk & Honey: Halloween
Tues, 8pm-1am
Cost: $20
At: Saturn (map)
DJs, Performers, Talent Show, & Costume Contest! Celebrate Halloween with the sexiest people in Birmingham at Milk & Honey - HALLOWEEN! The fabulous hosts bring the glam while resident DJ Stevo Blaque will set the vibe with Birmingham's top DJs, spinning a little bit of everything. Plus… The TALENT SHOW!!! This event has an incredible vibe and the Halloween edition will be packed with spooky fun!
Click here for more info.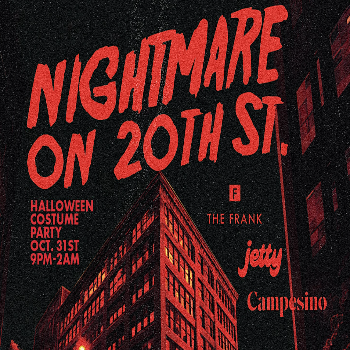 Nightmare on 20th Street
Tues, 9pm-2am
Cost: $20-$30
Code "HAPPENINS" gets $10 off!!!
At: The Frank (map)
Join in on Halloween from 9pm - 2am to celebrate the spookiest night of the year with dancing, DJ's, and drinks that are to die for! This party is one you don't want to sleep on, or Freddy might get you! Music will be spinning from six local DJs playing Tech House, R&B House, Bass Music, Dubstep, Disco, Deep, French House, and Bass House. Campesino Rum drinks will be served up cold for party goers. Get your tickets before it's too late… Be sure to use the code HAPPENINS for $10 off!!!
Click here for more info.