Birmingham Events: Dec. 3-6 2020
It's beginning to look a lot like Christmas!
Decorations are going up, we've had our first "snow" of the season, and everyone is in full holiday mode!  There are quite a few events happening this weekend, but we will be hunkered down in the Sidewalk Cinema enduring hours upon hours of bad holiday films as part of the Sidewalk Cinema Bad Movie Marathon! (Click here to find out how to help us win!)  While we endure the worst holiday films, you can enjoy some of these fantastic events!
#RUhappenin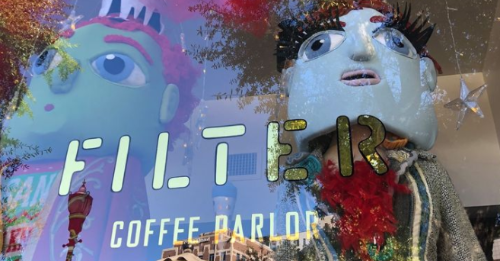 Holiday Gift Guide at Filter!
Now-Dec. 15, 7am-4pm (Sat-Sun, 8am-3pm)
Cost: Free to attend
At: Filter Coffee Parlor (map)
Shop FILTER this holiday featuring all your coffee brewing needs from beans to equipment. Small grab n go gift boxes from Priester's Pecans. They have a  NEW local book section featuring 18 titles from Arcadia Publishing about Birmingham and Alabama. Artwork and more!
Click here for more info.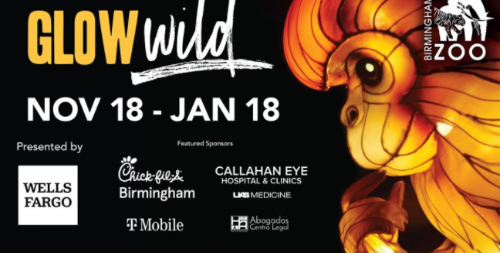 GLOW Wild: Animal Lantern Celebration
Fri-Sun, 5-9pm
Cost: $15-$25
At: Bham Zoo (map)
Head over to the Birmingham Zoo on select nights for an event that is sure to be LIT, literally! The zoo will have captivating lantern creations shaped like your favorite animals. Some will be up to 30ft tall! Purchase a wristband and ride the carousel. This is sure to be a holiday favorite this year. Head to the website to book your time to get your glow on!
Click here for more info.

Sidewalk Cinema Bad Movie Marathon
Fri, Dec. 4, 7pm-until….
Cost: Free to stream/donations encouraged!
At: Online/Sidewalk Cinema
This Friday we will be participating in a Bad Movie Marathon to help raise money for Sidewalk Film Festival & Cinema! This Friday we will be locked in Sidewalk Cinema to endure hours upon hours of bad holiday films to help raise funds for all the amazing programs Sidewalk puts on as a 501c3. You can register to watch here, but we need your help! You can help us win by sponsoring naps, caffeinated drinks, food, thermostat control, or movie veto power!  It all goes to help us hit our goal of raising $5k for Sidewalk! May the odds be ever in our favor!
Click here for more info.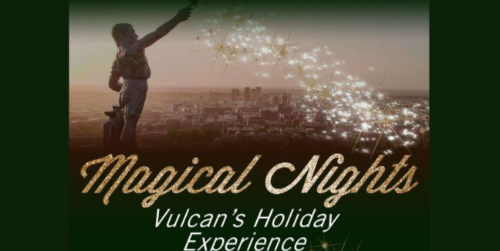 Magical Nights: A Vulcan Holiday Experience
Thurs-Sun, Dec. 3-6, 5:30-9pm
Cost: $4-$6
At: Vulcan Park & Museum (map)
Vulcan Park & Museum invites the Birmingham area to gather for the 3rd
Annual Magic of Lights: Vulcan's Holiday Light Experience, Dec. 3– 23. At the top of each hour, beginning at 5:30 p.m., guests will enjoy a 15-minute lively array of dancing lights choreographed to delightful holiday music. There will be hot chocolate, wine and beer available for purchase. Visitors are encouraged to shop at The Anvil for the Red Dot Sale or purchase Birmingham themed items from local artisans such as Earthborn Pottery and Glass Studio. There will be plenty of fun for the entire family. Admission is $6 for 13 and up, $4 for kids ages 5-12 and children under 4 are free!
Click here for more info.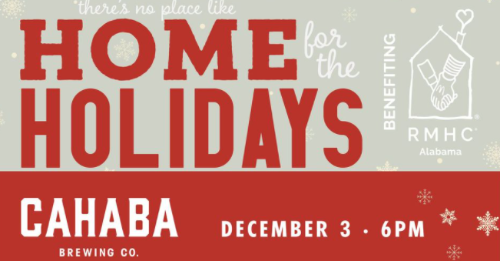 Ronald McDonald House: Home for the Holidays
Thurs, Dec. 3, 6-9pm
Cost: Free to attend
At: Cahaba Brewing Co. (map)
Join the Cahaba Brewing team as they support the Ronald McDonald House! They'll have A Train at the Taproom from 6 - 8 with a portion of all Taproom sales donated to the RMHC of Alabama. This is a great way to support an amazing organization by sipping on some refreshing brews!
Click here for more info.
Alabama Theatre Holiday Film Series
Thurs-Sat, Dec. 3-5, 7pm
Cost: $10
At: Alabama Theatre (map)
This week kicks off the 2020 Holiday Film Series at the historic Alabama Theatre! These showings always sell out, and this year there is limited seating due to Covid19 restrictions. All the more reasons to get your tickets today! This weekend they will be showing It's a Wonderful Life, White Christmas, and everyones' favorite, Christmas Vacations! The shows begin as 7pm, but arrive early to hear the wurlitzer play some holiday classics! There are more showings over the next few weeks as well. Wear your mask and leave filled with Christmas Cheer!
Click here for more info.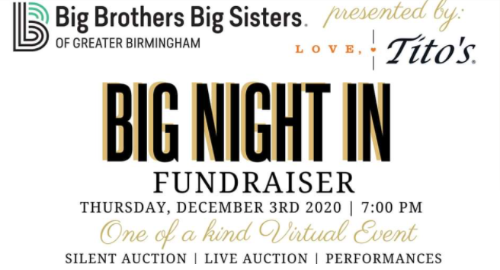 The Big Night In
Thurs, Dec. 3, 7pm-4am
Cost: Suggested $25 Donation
At: Virtual
For the first time, Big Brothers Big Sisters invites you to an event that you won't soon forget! Grab some takeout and a bottle of wine and joinin from your couch for the Big Night In presented by our good friends at "Love,Tito's!" Littles in the Big Brothers Big Sisters program will VIRTUALLY take the stage and perform a one-of-a-kind-show. Experience can't-miss live and silent auction packages! The best part of the event? Every dollar raised helps Big Brothers Big Sisters continue their mission of creating and supporting one-to-one mentoring relationships that ignite the power and promise of youth.
Click here for more info.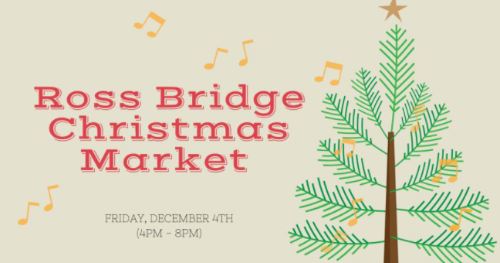 Ross Bridge Christmas Market!
Fri, Dec. 4, 4-8pm
Cost: FREE
At: Ross Bridge (map)
Get festive and knock some items off of your Christmas list! Head to Ross Bridge to support local farmers, artisans, & more! Please follow the safety precautions that are instructed at the market in order to keep yourself & the community safe. They will have live music, and numerous food trucks including, Eugene's Hot Chicken (that will warm you up!), Rendezvous, Baba Java Coffee, and more!
Click here for more info.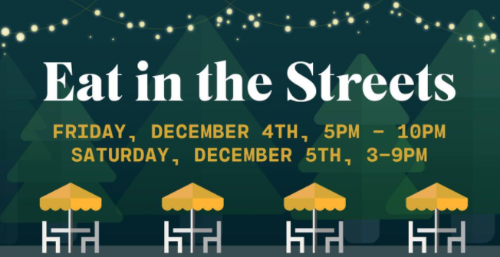 Pepper Place Holiday Open House/Eat in the Streets
Fri, Dec. 4, 5-10pm & Sat, Dec. 5, 3-9pm
Cost: FREE
At: Pepper Place (map)
This is a TWO for ONE event! Pepper Place will host their Holiday Market AND they will be hosting Eat in the Streets this weekend both Friday and Saturday! Shop local vendors, enjoy live music, and eat delicious food! If you haven't seen the new string lights over the street yet, you  are missing out! They are turning the District into a Winter Wonderland! Friday they will have an exclusive showing of the Magic City Nutcracker at 5pm and "A Christmas Story" at 7pm. Santa will be on site Saturday from 4-7pm! Oh, and be sure to stop by The Lumbar and wish Tim and Rylie Hightower congratulations on Lumbar's two year anniversary! This is definitely an event you don't want to miss!
Click here for more info.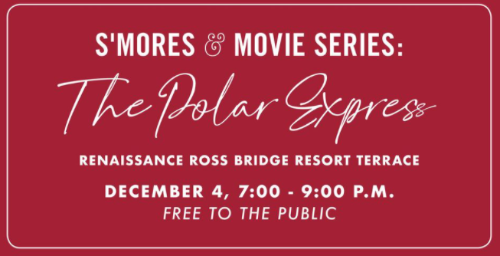 Smore's & Movie Series: Polar Express
Fri & Sat, Dec. 4-5, 7-9pm
Cost: FREE
At: Renaissance Ross Bridge & Spa (map)
Stick around after the Ross Bridge market and head over to the hotel for a FREE event! They will be showing the Polar Express on the mezzanine! They have multiple fire pits and will have all the ingredients to make Smores! When we did this they had all kinds of candy to choose from, so don't be afraid to get creative!  They will be doing it again on Saturday while showing "Mickey's A Christmas Carol!" This will be a relaxing time and is perfect for kids and adults alike!
Click here for more info.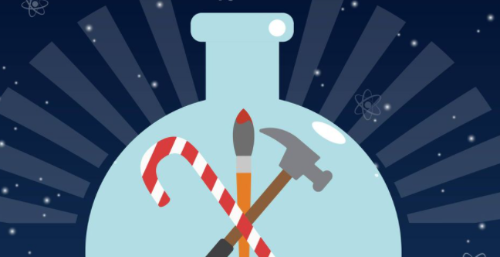 McWane Makers Market
Sat, Dec. 5, 10am-3pm
Cost: Free with purchase of reg. Admission
At: McWane Science Center (map)
Why not add some science to your holiday shopping this year? Join the McWane crew for the McWane Makers Market this holiday season! This Saturday McWane Science Center will be hosting local makers and artists outside on the McWane plaza to share their work as well as the science behind their work with you. This is the perfect event for kids of all ages!
Click here for more info.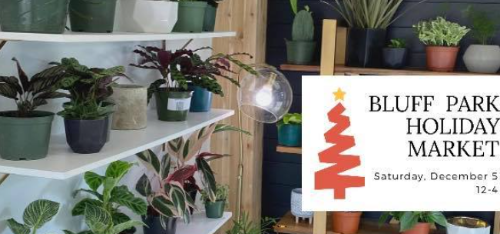 Bluff Park Holiday Market
Sat, Dec. 5, 12-4pm
Cost: FREE
At: Bluff Park (map)
Shop local vendors at the Bluff Park Holiday Market this Saturday. There will be fabulous local vendors, food trucks, & live music! This event is always great fun and you can come and go at your own pace! Be sure to get some coffee from Wild Roast while you're there!
Click here for more info.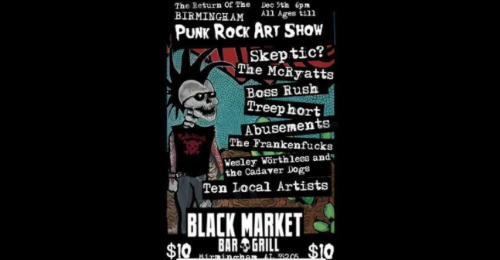 Punk Rock Art Show
Sat, Dec. 5, 6pm-2am
Cost: $10
At: Black Market 5pts (map)
Looking for a festively funky gift for that special someone? Head over to the Punk Rock Art Show and you'll be sure to find it!  The doors open at 6pm and the punk rock music starts at 7! Enjoy local musicians as you shop. We always look forward to these events since we never know what we'll find!
Click here for more info.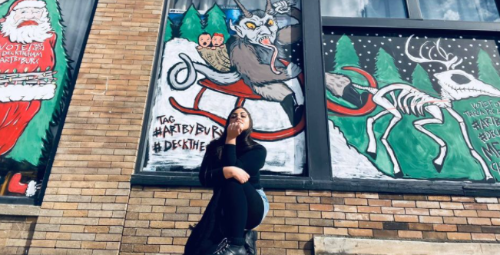 Deck the 'Ham 2020
Sun-Dec 31st
Cost: FREE
At: All over Bham!
Vote for the very best of Birmingham during Birmingham Art Crawl's annual winter window art contest! Shop windows will be painted with creative Christmas scenes! Local artists will be competing for cash prizes! The winning design will be selected by a panel of local artists and business owners, as well as, votes tallied through public Facebook and Instagram accounts that use hashtag #DeckTheHam with photographs of the artists work through December 31st! So go hunt for the local art, snap a selfie, and tag the artist! This has become a new Bham Christmas tradition! Click the link for a list of participating locations!
Click here for more info.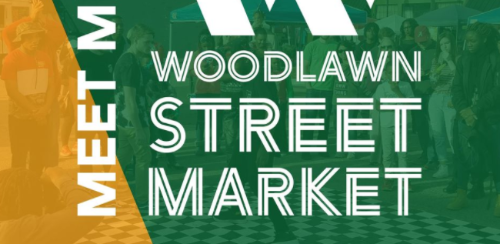 Woodlawn Street Market: Holiday Edition
Sun, Dec.6, 12-4pm
Cost: FREE
At: Woodlawn Street Market (map)
The Woodlawn Street Market is back! It's the December edition and you don't want to miss it! The local vendors will be setting up to sell some awesome items. They always have delicious food on site to choose from as well! The market is on 55th street and is a great place to shop while social distancing!
Click here for more info.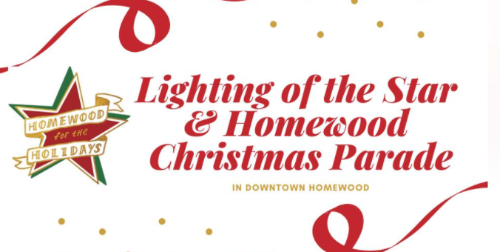 Lighting of the Homewood Star & Christmas Parade
Sun, Dec. 6, 6:30pm
Cost: FREE
At: Downtown Homewood (map)
Join in for the lighting of the historic Homewood Star at the top of 18th Street as the official beginning of the Downtown Homewood Christmas Parade! This Star is so iconic O'Henry's has a coffee blend named after it!  This will be a drive-through parade, to allow for greater safety precautions due to COVID 19. Floats will stay stationary as spectators drive through the parade route in Downtown Homewood! This is a great way to end your weekend on a high note!
Click here for more info.