Weekend Events: Nov. 26-29, 2020
Happy Thanksgiving, everyone!

In 2020 it feels like it is hard to find a lot to be thankful for, but we are forever thankful for the incredible Birmingham community. There are quite a few fun events including some Iron Bowl viewing parties! Be safe this Thanksgiving and wear your mask! We want everyone to stay healthy so you can enjoy all the happenin's around town.
#RUhappenin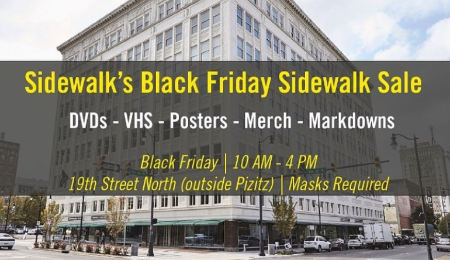 Sidewalk's Black Friday Sidewalk Sale
Fri, Nov. 27, 10am-4pm
Cost: Free to attend
At: Pizitz Food Hall (map)
This Friday, skip the big box stores and support Sidewalk Film Festival and Cinema! They will be set up at the Pizitz Food Hall and will have deals on your favorite Sidewalk merch.  Thanks to a generous donation, they also will be selling a wide variety of of Blu-Ray, DVD, and even some vintage VHS tapes! Oh, and they will have an incredible deal on a membership to Sidewalk Cinema! Who knows what fun films you'll find!
Click here for more info.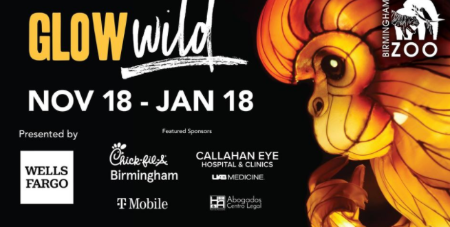 GLOW Wild: Animal Lantern Celebration
Fri-Sun, Nov. 27-29 5-9pm
Cost: $15-$25
At: Bham Zoo (map)
Head over to the Birmingham Zoo on select nights for an event that is sure to be LIT, literally! The zoo will have captivating lantern creations shaped like your favorite animals. Some will be up to 30ft tall! Purchase a wristband and ride the carousel. This is sure to be a holiday favorite this year. Head to the website to book your time to get your glow on!
Click here for more info.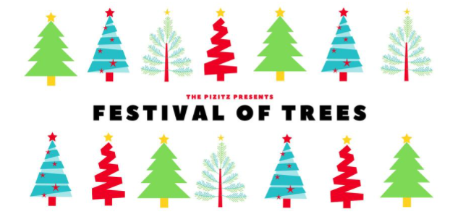 Festival of Trees
Sat, Nov. 28, 11am-3pm
Cost: FREE
At: The Pizitz (map)
The Festival of Trees kicks off this Saturday at The Pizitz! You can enjoy live music from the Rebecca Egeland Band and get a photo taken by our friends at Flash Bar! This will mark the return of the Enchanted Forest. This creative forest will have trees decorated by local artists and will remain up during the holiday season. You'll definitely get into the holiday spirit by attending this event!
Click here for more info.

Charm on 2nd Reopening Party
Sat, Nov. 28, 11am-4pm
Cost: Free
At: Charm on 2nd (map)
Charm on 2nd is BACK! They are celebrating with a Reopening Party this Saturday. Head over to 2nd Ave and shop local vendors while you enjoy snacks, drinks, and more! We always find something at Charm that makes a great Christmas gift. This is a great way to shop local!
Click here for more info.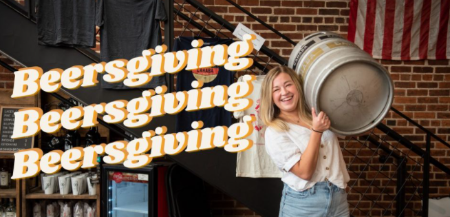 Beersgiving
Sat, Nov. 28, 12pm-10pm
Cost: FREE
At: Cahaba Brewing Co.  (map)
After Thanksgiving get ready to celebrate Beersgiving! Cahaba Brewing Company is going to have some amazing beer specials you can enjoy while watching the Iron Bowl. Both the Milo's and Rendevous food trucks will be onsite with delicious food! They will also have a competitive fundraiser for Hand in Paw. Who can raise more money, Bama or Auburn fans?!
Click here for more info.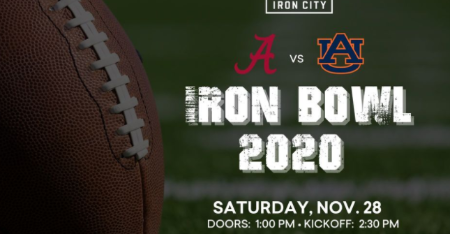 Iron City: Iron Bowl Watch Party
Sat, Nov. 28, 1pm
Cost: FREE
At: Iron City (map)
This is our favorite place to watch the Iron Bowl! Get ready for lights, sounds, and fight songs with every score! Get there early for some fun team swag. You can watch the game on the giant screen. Order some delicious food and drink to enjoy while you watch the game! It's gonna be awesome!
Click here for more info.
Art Battle
Sat, Nov. 28, 6pm
Cost: Donations up to $10
At: Birmingham Oddities and Online (map)
Watch as local artists battle it out creating unique works of art! Each artist begins with the same materials and a theme, but a few curveballs will be thrown in along the way. You can watch at Birmingham Oddities or stream online. The event is free, but donations are encouraged. If you donate $10 you will be entered in to win one of the finished pieces of art!
Click here for more info.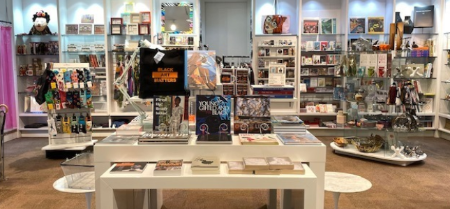 Museum Store Sunday
Sun, Nov. 28, 12-5pm
Cost: Free to attend
At: Bham Museum of Art (map)
Between black Friday and Cyber Monday is Museum Store Sunday! Head to BMA to get great deals from the Museum's shop! They have unique gifts including fun t-shirts and local art! They also have a brand new exhibit by Jacob Lawrence to check out while you are there! Don't miss out!
Click here for more info.