Birmingham Events: July 4th Weekend 2021!
Happy 4th of July Weekend!
It's time to celebrate America's independence! There are plenty of fun activities and events for this holiday weekend! Don't miss Thunder on the Mountain as Birmingham puts on an amazing fireworks show atop Vulcan!
#RUhappenin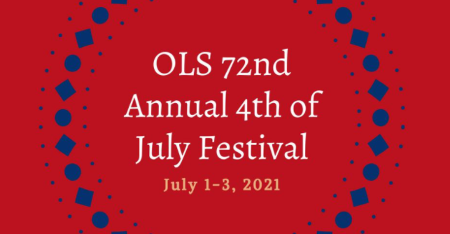 OLS 72nd Annual 4th of July Festival
Thurs-Sat, July 1-3, 11am-5pm
Cost: Free to attend
At: Our Lady of Sorrows (map)
The 72nd Annual OLS 4th of July Festival will be happening this year! July 1-3! This year they will have BBQ available for pick-up/carry out orders.  (The games and rummage sale will return in 2022.) Place your order for delicious Whole Boston Butts, Boneless Turkey Breasts, Chopped Pork, Pork Ribs, Smoked 1/2 Chicken, and sides including Beans / Slaw / Sauce / Bread!  Enjoy great BBQ without the fuss of having to cook!
Click here for more info.
Goulash Comedy Night Showcase
Thurs, July 1, 7:30 & 9:30pm
Cost: FREE
At: Saturn (map)
Celebrate the reopening of Saturn with TWO FREE Comedy Shows in one night! First up is a line-up of 10 amazing Birmingham Comedians who'll each do 10min of jokes! Then hang around for the follow up show, FAME!,  at 9:30. Chris Ivey and Peter Davenport host a comedy storytelling show where comedians and local musicians tell stories about meeting celebrities. This interactive show allows the audience to ask questions after each story. If you love funny stories and impromptu jokes, this is for you!
Click here for more info.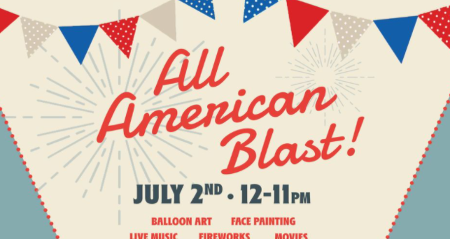 All American Blast!
Fri, July 2, 12pm
Cost: $1--$15
At: Grand River Drive-in (map)
The Backyard, in partnership with The Outlet Shops of Grand River, invites you to an All American Blast to celebrate Independence Day! Join in on July 2nd for live music, face painting & balloon art, great food and drinks, movies and yes, a huge firework show! Home to the newly opened Neighbors Brew & Pies and Saw's BBQ Leeds – guests are encouraged to show up early and enjoy all there is to offer! Festivities kick off at Noon. Live Music begins at 1pm. Fireworks start at 9pm. Single movie to follow immediately after the firework show at the Grand River Drive-In. All ages and pets welcome, so get your tickets early as this event will sell out!
Click here for more info.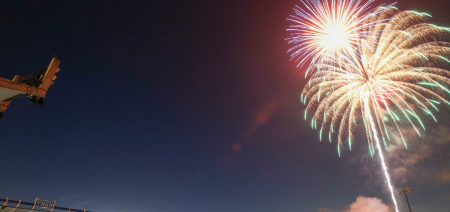 Fireworks at the Hoover Met
Fri, July 2, 9pm
Cost: FREE
At: Hoover Met Parking Lot (map)
The City of Hoover is bringing back their Fireworks show! Head over to the parking lot of the Hoover Met to watch this 15min extravaganza! The music will be broadcast over 87.9 FM. Bring your bag chairs and blankets for this fun, free, fireworks show!
Click here for more info.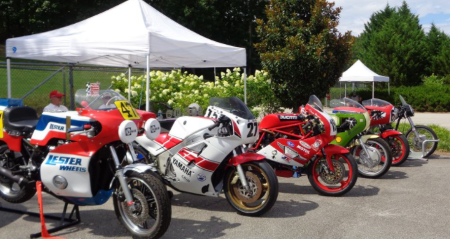 3rd Annual Concours de Competition
Sat-Sun, July 3-4, 7am
Cost: $15/Kids 15 & Under FREE
At: Barber Motor Speedway (map)
If you like excitement, this is a great event! The Concours de Compétition returns to Barber for some great motorcycle racing action! Starting bright and early you can watch as racers test their skills on this challenging track! Bikes will exceed speeds of 150mph on the straight aways! The event will be going on most of the day both Saturday and Sunday. Don't miss out!
Click here for more info.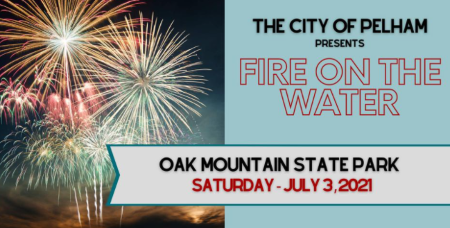 Fire on the Water
Sat, July 3, 5pm
Cost: $15
At: Oak Mtn. State Park (map)
Oak Mountain Park will host this festive event! They'll have a DJ and Food Trucks will be on site as early as 1pm for the lunch crowd and will remain onsite serving until 9pm! (Food trucks will take card payment.) Before the show you can enjoy beach volleyball, basketball courts, the treetop nature trail, playground, and fishing piers in the show's vicinity. Tickets MUST be purchased before July 3rd for the event.
Click here for more info.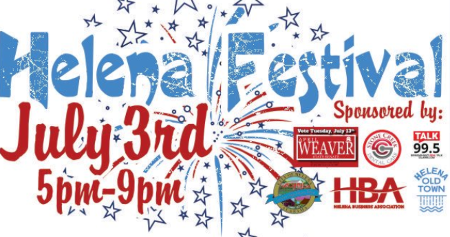 Helena Festival Summer Edition
Sat, July 3, 6pm
Cost: FREE
At: Helena Amphitheater (map)
Don't miss the annual 4th of July celebration in Old Town. The City of Helena will have arts/crafts vendors, food trucks, live music and more! Come early and stay late for the fireworks that start at 9pm! This will be an all day, family friendly event!
Click here for more info.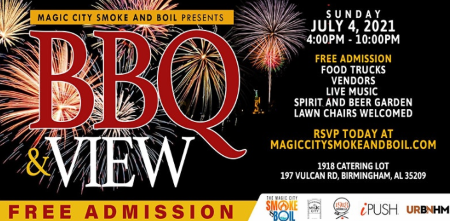 BBQ & View
Sun, July 4, 4-10pm
Cost: FREE
At: 1918 Catering (map)
BBQ and View will once again feature your favorite food trucks with bbq, burgers, chicken, seafood, desserts, frozen treats and so much more! Also featuring a variety of vendors, a beer garden with cocktail bar and live music from one of the areas hottest bands !! It all kicks off at 4pm on Sunday, July 4, 2021 !! Bring your lawn chairs so you can sit and view the annual 4th of July fireworks show from our lot at 9:00pm. Free admission, plenty of free parking, and a good time for all!
Click here for more info.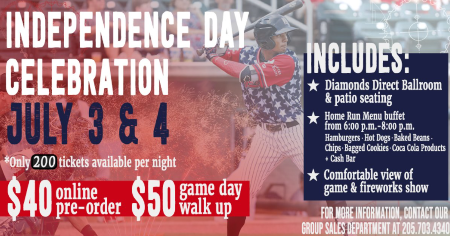 Baron's Independence Day Celebration
Sun, July 4, 6:30pm
Cost: $10/$40
At: Regions Field (map)
The Birmingham Barons will have Saturday night Fireworks as they take on the Chattanooga Lookouts! After the game on Sunday, stay to watch Thunder on the Mountain from the stadium! For $40 you can get access to the ballroom and a hotdog and burger bar! The ticket also allows you to watch the fireworks from the upper deck seating! Two nights packed with patriotic fun!
Click here for more info.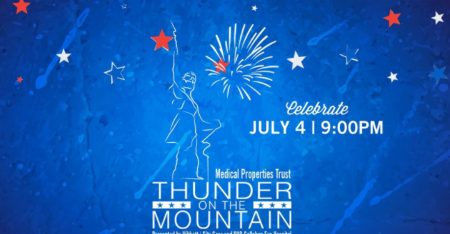 Thunder on the Mountain
Sun, July 4, 9pm
Cost: FREE
At: Anywhere with a view of Vulcan
Thunder on the Mountain is the Grand Finale of July 4th in Birmingham! Gather in your favorite viewing spot with friends and family to watch this spectacular display over Vulcan! We've watched from downtown Homewood, the Green at UAB, Southside, Regions Field, and plenty of other fun locations!  This year's show is also honoring the city of Birmingham's 150th anniversary. Spectators can listen to the soundtrack exclusively on iHeart media radio stations 102.5 The Bull, 103.1 The Vulcan, 103.7 The Q, 104.1 The Beat, Birmingham's ALT 991, B106.5, 105 Hallelujah FM, Magic 96.5, News Radio 960 WERC, News Radio 105.5 WERC and also on La Jefa 98.3.
Click here for more info.