Birmingham Events Weekend Roundup: Dec. 2-5, 2021
It's beginning to look a lot like Christmas!
We hope everyone had an incredible Thanksgiving break! Now we are in full on holiday mode! Check out these festive events including one at Vulcan Park and the Zoo! There will be plenty of ways for you to get into the spirit! Check out the list below!
#RUhappenin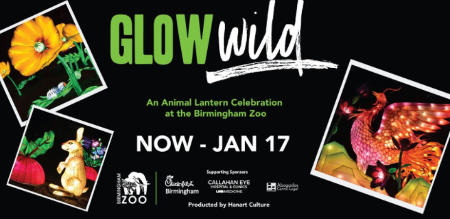 Glow Wild
Wed-Sun, Dec. 1-5, 5-9pm
Cost: $17+
At: Birmingham Zoo (map)
Get ready for the Birmingham Zoo's larger-than-life illuminated experience, Glow Wild: An Animal Lantern Celebration! This extraordinary event will be held on select nights from 5:00 pm until 9:00 pm during the months of November, December, and January. Watch the Zoo come alive with jaw-dropping plant and animal lantern creations brilliantly lighting up the night! Take a wild ride on the Red Diamond Radiant Express Train* or go for a spin on the Protective Life Jingle Bell Carousel*. Spend all winter long with your Birmingham Zoo and GLOW WILD into the new year!
Click here for more info.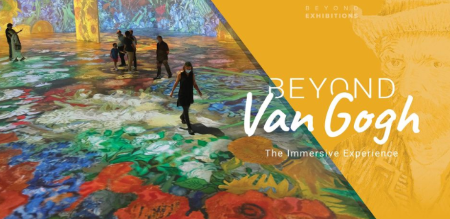 Beyond Van Gogh
Now-Jan 2, 10am-8pm
Cost: $22+
At: BJCC (map)
Immerse yourself in the world of Vincent Van Gogh like you've never experienced before. Beyond Van Gogh is a rich and unique multimedia experience, taking the viewer on a journey through over 300 iconic artworks including instantly-recognizable classics "The Starry Night", "Sunflowers", and "Cafe Terrace at Night", now freed from their frames. Set to a symphonic score and using the artist's own dreams, thoughts, and words to drive the experience as a narrative, Van Gogh's art comes to life by appearing and disappearing, flowing across multiple surfaces and heightening the senses with their immense detail. Guests will leave with a new appreciation of this prolific artist's stunning work.
Click here for more info.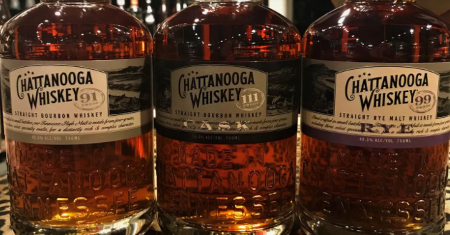 Chattanooga Whiskey Tasting (21+)
Fri, Dec. 3, 5-7pm
Cost: Free to attend
At: LeNell's Beverage Boutique (map)
Drop by LeNell's for a taste of Chattanooga Whiskey's 91 and 111 proof high malt bourbons, plus their rye whiskey that made Whisky Advocate's Top 20 in 2020!  Learn all about the unique mash bills & production practices that give these whiskeys their distinctly complex flavors. Pick some up for yourself, or grab a gift for a friend or loved one. The staff is great at answering any questions and helping you pick out something to get you into the holiday spirit!
Click here for more info.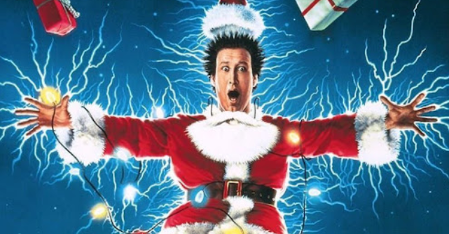 Art After 5: Holiday Throwback!
Fri, Dec. 3, 5-9pm
Cost: FREE
At: Birmingham Museum of Art (map)
Tis' the season for the return of Art after 5! BMA is reminiscing on days of old by decking the halls with retro holiday crafts, throwback art activities, awkward family photos, music and more to give you all the nostalgia you forgot you needed this holiday season. Get in the Mix! // DJ Gina Tollese will set the seasonal vibe with an assortment of soulful tunes all evening long in the Main Lobby. Movie Merrython // at 5:30pm they'll begin with National Lampoon's Christmas Vacation and at 7:10pm you can enjoy the Steven Spielberg classic, Gremlins! Cookie Decorating // Decorate holiday cookies with vivid geometric patterns and vibrant colors to instill mystical curiosity!  Dreidel Making // Upcycle your fall harvest with this art activity where you'll use acorns to create holiday dreidels. Scavenger Hunt // Immerse yourself in a scavenger hunt through the galleries exploring the awkward world of holiday family photos. Ugly Sweater Vibes // Come one, come all, and come ugly! The museum has decided to celebrate the good, bad, and the ugly parts of this year and encourage you to join in by wearing your ugliest holiday sweater.! Special prize for the tackiest sweater of all!
Click here for more info.

Vulcan's Magical Nights Presented by Alabama Power
Fri-Sun, Dec. 3-5, 6-8pm
Cost: $6
At: Vulcan Park & Museum (map)
Vulcan Park and Museum is transforming the park into a magical holiday experience. Come out and the holiday light experience along with food trucks, music, Santa, and so much more. Vulcan and Vesta can't wait to see you atop Red Mountain! Oh, and be sure to check out the gift shop, The Anvil, for some great local Birmingham themed gifts!
Click here for more info.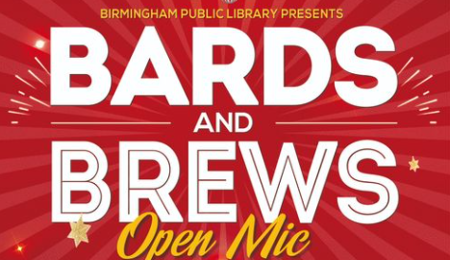 Bards & Brews Open Mic (21+)
Fri, Dec. 3, 6-9pm
Cost: FREE
At: Birmingham Central Library (map)
Join in for Bards & Brews this Friday, December 3, 2021, at the Downtown branch of the Birmingham Public Library. Doors open at 6pm and ALL ARTIST ARE WELCOME. This week's brew feature is Hydration Mobile Bars Unlimited offering samples of their signature holiday beverages. (Must be 21 or older)
Click here for more info.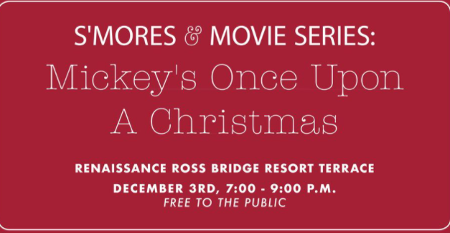 Mickey's Once Upon a Christmas S'mores and Movie Series
Fr-Sat, Dec. 3-4, 7-9pm
Cost: FREE
At: Renaissance Ross Bridge (map)
Catch a movie and make s'mores on Friday and Saturday evenings before Christmas. The festivities are from 7 to 9 p.m. on the outdoor terrace at Renaissance Ross Bridge Resort. These are free events! They will also have guest readings of holiday favorites by local celebrities like James Spann! Check the link for all of the available dates and details!  We have to say that the Ross Bridge S'mores set up is one of the best we've ever seen!
Click here for more info.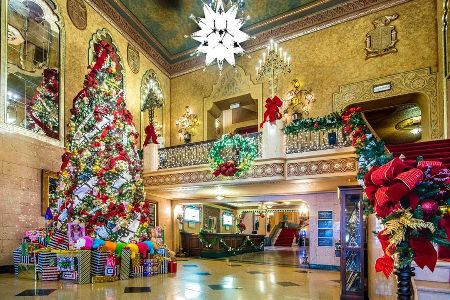 Alabama Theatre Holiday Film Series
Fri-Sun, Dec. 3-5, Times Vary
Cost: $10-$12
At: Alabama Theatre (map)
This beloved tradition returns for 2021! After a year off due to the pandemic, the Alabama Theatre is excited to bring back their holiday film series! Check out some of your favorite Christmas movies in this historic venue! This weekend films are White Christmas, Polar Express (benefiting Kid One Transport), Elf, Miracle on 34th Street, and the fan favorite Christmas Vacation!  These showings sell out fast, so get your tickets now!  Check the link for showtimes and don't forget to arrive early to sing your favorite Christmas Carols along with the Wurlitzer Organ!
Click here for more info.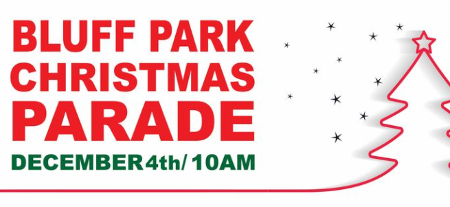 6th Annual Bluff Park Christmas Parade
Sat, Dec. 4, 10am
Cost: FREE
At: Bluff Park (map)
It's time for the 6th Annual Bluff Park Christmas Parade! The parade kicks off at the Shades Cliff pool and will make its way through the neighborhood.  Bring the entire family to enjoy this fun tradition. Come wave at Santa and get the season started off with some festive fun! Check the link for more details!
Click here for more info.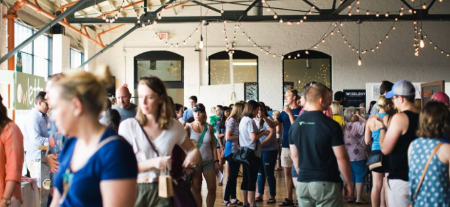 MADE Market
Sat, Dec. 4, 10am-5pm
Cost: FREE
At: HAVEN (map)
The MADE Holiday Market is back this Holiday Season with more makers & shopping! Come shop amazing makers, grab some eats & drinks & enjoy the community of this great city! Made Market is Birmingham's finest curated handmade market, showcasing the best makers from Birmingham and the surrounding region. Join them on Saturday, December 4th from 10-5 at Events at Haven to shop! Bring all your friends & help us support these hard working makers. Parking is free!
Click here for more info.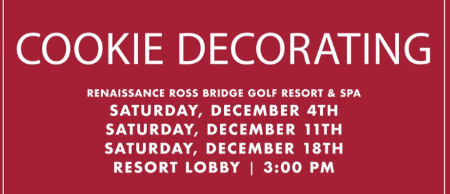 Cookie Decorating at Ross Bridge
Sat, Dec. 4, 3-4:30pm
Cost: FREE
At: Renaissance Ross Bridge (map)
Renaissance Ross Bridge is going all out with their FREE holiday events this year! Head over to the decked out lobby and put your cookie decorating skills to the test! Even if your cookies don't look like they would qualify for the British Bake-Off, you can rest assured that they will taste delicious!  There are a few dates for these classes leading up to Christmas, so check the link and find the one that works best for you!
Click here for more info.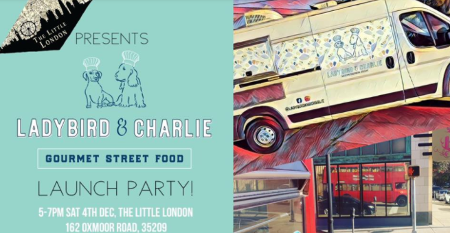 Ladybird & Charlie Launch Party
Sat, Dec. 4, 4-7pm
Cost: FREE to attend
At: Little London Kitchen (map)
Birmingham is getting another delicious food truck! Ladybird & Charlie will be celebrating their grand opening at Little London Kitchen in Homewood this Saturday from 4-7pm.  Come enjoy their delicious menu and welcome them to the Bham food truck scene! We can't wait to try them out! Oh, and be sure to follow them on FB and Instagram!
Click here for more info.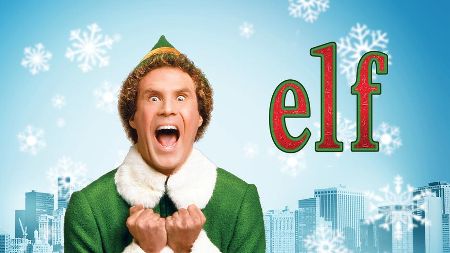 Outdoor Movie Night
Sat, Dec. 4, 6-9pm
Cost: FREE
At: The Pinnacle (map)
Celebrate the holiday season with friends, family, and festive fun at the Pinnacle Center Lawn. Don't forget to bring blankets and lawn chairs. Guests can enjoy the Pinnacle's festive lights along with other holiday-themed activities, including a screening of "Elf," beginning at 7 p.m. Also available will be local food trucks with hot drinks and treats, including Great American Cookie, Naughty But Nice Kettle Corn, Adored Sweets, Tamale Queen, and Travelin' Tom's Coffee Truck. Trussville Fire Department will be providing firetruck tours to attendees, along with holiday-themed festivities and an opportunity to give back to the community through the Trussville Fire Department's Toys for Tots drive. In addition, a free family photo booth will be set up for all to enjoy and capture this memorable moment in a fun and exciting way. There will be something for every family member to take part in at the outdoor movie night.
Click here for more info.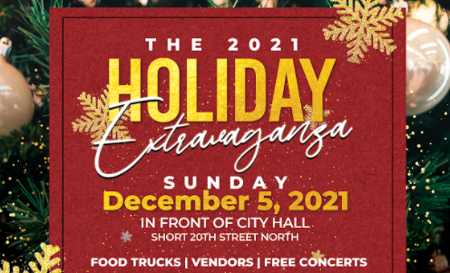 Holiday Extravaganza!
Sun, Dec. 5, 1-8pm
Cost: FREE
At: Birmingham City Hall (map)
Join the City of Birmingham in kicking off the Holiday Season this Sunday! Starting at 1pm Magic City Market Place Vendors will be set up near City Hall. Starting at 3pm there will be 17 food trucks serving up delicious meals! Be sure to hang around for the Tree and Menorah lighting at 6pm.  There will be live music from two different bands as well! Stop into the Birmingham Museum of Art for FREE hot chocolate and FREE treats. You can also get your picture taken with Vulcan "V" and Vesta!
Click here for more info.