Birmingham Events Weekend Roundup: Dec. 9-12, 2021

Holiday Happenin's continue this weekend!
The holiday events just keep coming this weekend! First, we want to congratulate Birmingham Legion FC on making Protective Stadium their new home!  Now, on to events! There are a TON of opportunities to get your holiday shopping done and support local businesses and artists!
#RUhappenin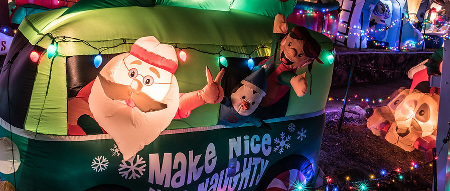 Wacky Tacky Light Tour 2021!
Thurs, Dec. 9, 6-9:45pm
Cost: $45
At: Tropicaleo (map)
Embrace your inner tacky! Wear your tackiest Christmas sweater. See more hot air blow-ups than a room full of politicians! Ride with us to see the best of the worst and the wackiest holiday light displays! Join Fresh Air Family for this anti-Norman Rockwell Christmas tradition. The tour includes Santa's Trailer Park, the Hanukkah House, Dueling Neighbors, Star Wars Christmas and new houses: Saddle Up Santa and Xmas on a Limb. The tour is curated to light up the night with fun and festivity. This is a fundraiser for Fresh Air Family's Gross Out Camp Scholarship Fund. Summer 2020, $54,000 in financial aid was awarded to 170 children to come to camp including children escaping violence and suicide orphans. Your tickets buy these children a summer reprieve where they can focus on learning and being children.
​Click here for more info.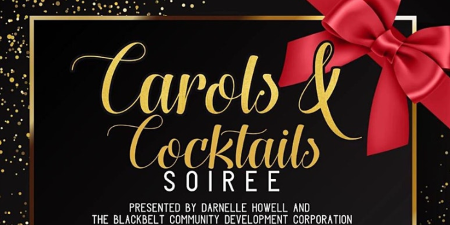 Carols & Cocktails Soiree (Black Tie Attire)
Fri, Dec. 10, 7-11pm
Cost: $100 (Fundraiser for Black Belt Toy Drive)
At: Vulcan Park & Museum (map)
You are cordially invited to join The Black Belt Community Development Corporation for their Inaugural "Carols & Cocktails" Soiree. On Friday December 10th, they welcome you to celebrate the holiday season with an evening of festive drinks, live entertainment and catering by Simone's Kitchen ATL. This is a formal black tie event and all proceeds benefit the Black Belt Toy Drive and Black Belt Corporation. The Black Belt Community Development Corporation are 501(c)(3) non-profit organizations created to support and revitalize communities in the Black Belt especially those that are impoverished, underserved and unskilled laborers.
Click here for more info.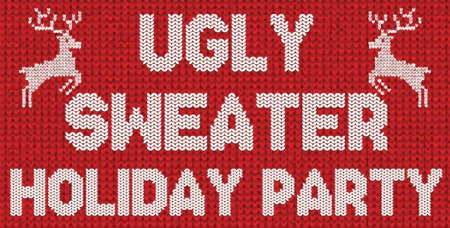 Ugly Sweater Holiday Party
Fri, Dec. 10, 7-10pm
Cost: FREE
At: Hoover Library (map)
Join the Hoover Library after-hours for a fun, fabulous celebration of ugly sweaters! There will be groovy music, "minute to win it" table games (with prizes), a hot cocoa bar, and judging by none other than the Grinch! This will be a fun-tastic adults-only event! If you are looking for a fun, FREE, night out this is the event for you!
Click here for more info.
SIDEWALK Cinema Bad Movie Night: Christmas Edition!
Fri, Dec. 10, 10pm
Cost: FREE
At: Sidewalk Cinema (map)
We can attest that the Sidewalk Cinema staff are experts when it comes to bad Christmas films. We sat through 36hrs of them!  Who knows which one they've picked for Friday night, BUT you can bet it will be hilariously awful. Arrive in your best festive gear prepared to be unpleasantly surprised. There will be bingo as well!  Don't miss out!
Click here for more info.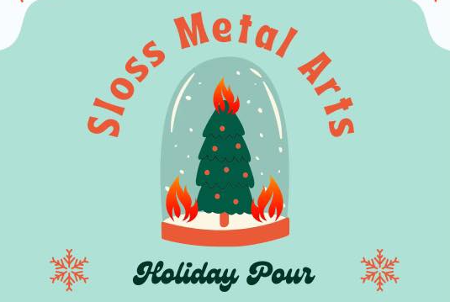 Holiday Pour: Sloss Metal Arts
Sat, Dec. 11, 10am-2pm
Cost: Free to attend
At: Sloss Metal Arts (map)
Come check out the foundry, learn a little about making iron, and design your very own cast iron art at the Sloss Metal Arts Annual Holiday Pour! The event is free and open to the public. Scratch blocks are $15 each and bowl molds are only $45. Their holiday market will showcase original work from the metal artists-perfect for stocking stuffers! We made our own bowl (featuring cats, of course!) and had so much fun! This makes for a great date night!
Click here for more info.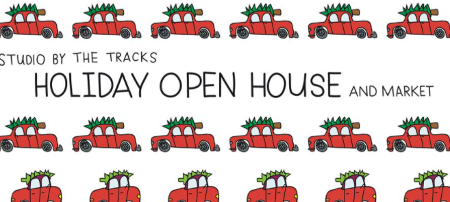 Holiday Open House and Makers Market
Sat, Dec. 11, 10am-2pm
Cost: FREE
At: Studio by the Tracks (map)
On Saturday, December 11th, Studio By The Tracks welcomes you to their location in Irondale to celebrate art, community, neurodiversity, and the gift-giving season. Both the outdoor and indoor markets will be held at the Studio, rain-or-shine. The markets will be open to everyone with no cost of entry. The Holiday Open House at Studio By The Tracks is back, along with their outdoor Holiday Maker's Market! Not only will you find one-of-a-kind artworks by SBTT Studio Artists and lots of great Studio merchandise like t-shirts, prints, pillows, and so much more in the Open House, but you can also shop from over 15 local art and food vendors as part of the outdoor Maker's Market. The Market provides a place for artists on the spectrum to create and showcase their incredible work!
Click here for more info.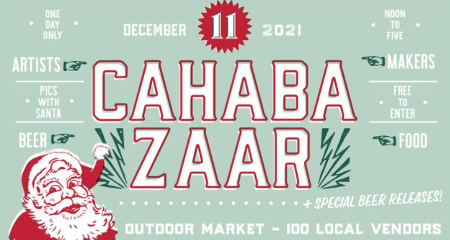 CahaBAZAAR Holiday Market
Sat, Dec. 11, 12-5pm
Cost: FREE
At: Cahaba Brewing (map)
Join in for our CahaBAZAAR Holiday Market with 120+ local artists, makers, and more. Get all your holiday shopping done in one trip while supporting local businesses and enjoying food, craft beer, specialty cocktails, live music, and more! Pictures with Santa in the Barrel Room will be from , 1 - 3pm.  ($15 for the first photo, and $5 for additional.) Paintics Crafts will be there from 12 - 5pm helping you paint your own holiday tote bag! Our friends from Filter Coffee Parlor will be serving Free Hot Chocolate from noon until they run out!  Arrive early and get ready to have fun!
Click here for more info.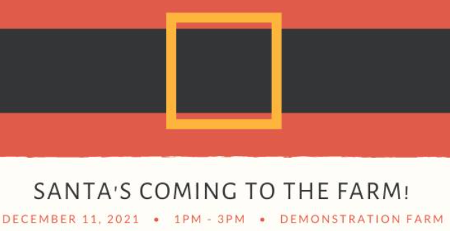 Santa on the Farm
Sat, Dec. 11, 1-3pm
Cost: $5
At: Oak Mountain State Park (map)
Santa is coming to the Oak Mountain Demonstration Farm! Santa is stopping by the barn visiting with good girls and boys from 1pm to 3pm. Come and get your picture with Santa and while you are there be sure to give your warmest "Season's Greetings" to the farm animals! They will have small Christmas ornament crafts for the kids to create and take home!
Click here for more info.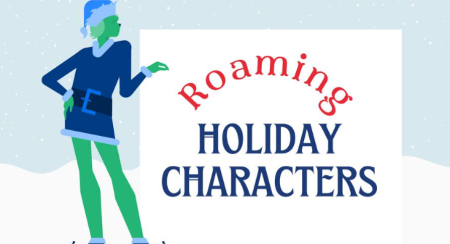 Roaming Holiday Characters
Sat, Dec. 11, 2-6pm
Cost: FREE
At: The Summit (map)
Your favorite holiday characters come to life at The Summit this December! Special guests will be roaming the center, taking pictures and passing out surprises! This Saturday there will be a Snowman and Gingerbread Man walking around between the shops! Bring your kids and get some festive photos throughout the day while you check things off of your shopping list!
Click here for more info.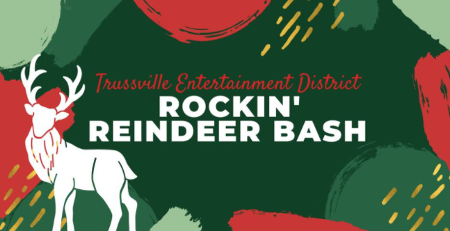 Rockin' Reindeer Bash!
Sat, Dec. 11, 5-10pm
Cost: FREE
At: Ferus Artisan Ales (map)
The Rockin' Reindeer Bash is an event supporting the Big Oak Ranch and Trussville's Fire and Rescue Christmas for Kids Organization. The whole family can come out and have a great time!  There will be performances from Birmingham Academy of Dance, Miss Trussville, Miss Outstanding Teen Trussville, HTHS Jazz Concert Band, Trussville Community Choir, and The Singing Santa! Gift donation boxes will be available at all the shops sponsoring the event. Also, some of these shops are offering discounts when you bring in a donation for the Big Oak Ranch and Trussville's Fire and Rescue Christmas for Kids Organization.
Click here for more info.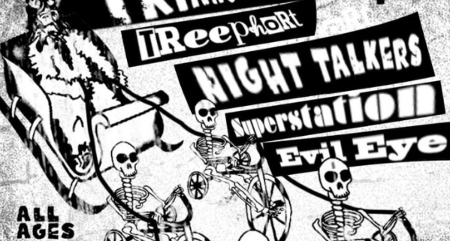 Punk Rock Art Show Vol. 18
Sat, Dec. 11, 6pm
Cost: $10
At: True Story Brewing (map)
Come see five regional bands and check out some amazing local art! Vendors will be set up at True Story Brewing and there will be plenty of punk rock music! This is a great chance to check out this cool tap room and support local artists! Be sure to get one of True Story's delicious hot dogs while you're there!
Click here for more info.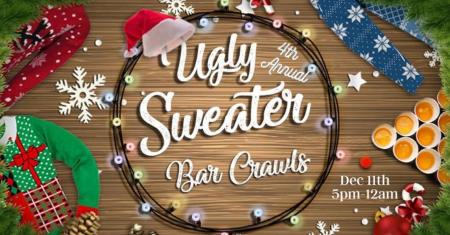 4th Annual Ugly Sweater Bar Crawl (21+)
Sat, Dec. 11, 5pm-12am
Cost: $20
At: Lakeview District (map)
The Ugly Christmas Sweater Bar Crawl is back! Get your tackiest sweater and head to Lakeview for a festive bar crawl. Registration starts at 5pm at Tin Roof. Your ticket gets you admission to multiple bars, drink specials, and access to a trivia game with prizes! Pick up some swag at the end of the night including a tshirt! This event is gonna be lit like a Christmas Tree!
Click here for more info.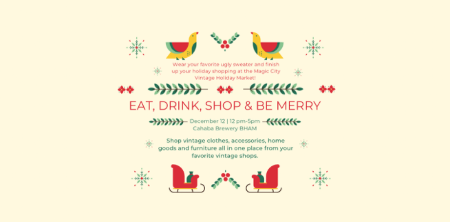 Magic City Vintage Holiday Market
Sun, Dec. 12, 12-5pm
Cost: FREE
At: Cahaba Brewing Co. (map)
Do you have to miss CahaBAZAAR? Well, head over to Cahaba Brewing this Sunday for another chance to shop local! This is a holiday market of some of your favorite local vintage shops! They will have housewares, furniture, accessories, and clothes. Come by and grab those last minute presents and shop second hand! Oh, and be sure to wear a tacky Christmas sweater!
Click here for more info.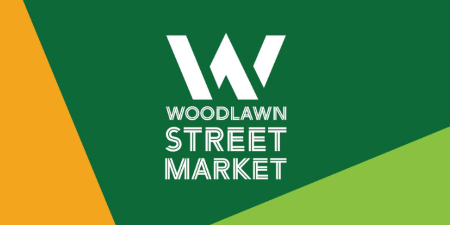 Woodlawn Street Market
Sun, Dec. 12, 12-4pm
Cost: FREE
At: Woodlawn 55th St. S (map)
Woodlawn Street Market is looking forward to closing out this year with a holiday market. Please make plans to meet at the market & support local businesses! As always there will be plenty of delicious food on site as well! We love this market and are so glad they are back this month!
Click here for more info.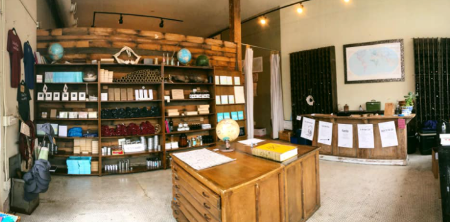 DISCO Holiday Shop
Sun, Dec. 12, 12-4pm
Cost: FREE
At: DISCO (map)
While at Woodlawn Street Market, be sure to walk over to Desert Island Supply Company (DISCO)! They will be having a great sale! DISCO's shelves will be stocked with books, posters, t-shirts, and art supplies. Stop by during the Woodlawn Street Market to buy holiday gifts! The proceeds will help fund DISCO's in-school program, the All City Writers Corps.
Click here for more info.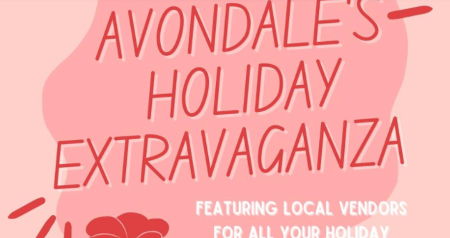 Avondale's Holiday Extravaganza!
Sun, Dec. 12, 1-5pm
Cost: FREE
At: Avondale Brewing Co. (map)
Join in for a little Holiday fun December 12th!! Avondale will have local vendors set up selling all kinds of goodies so come out ready to shop! Santa will be there and he's pet friendly, so let's see those pups!! You can enjoy specialty cocktails as well as hot chocolate too! This event is FREE and sure to be a ton of fun!
Click here for more info.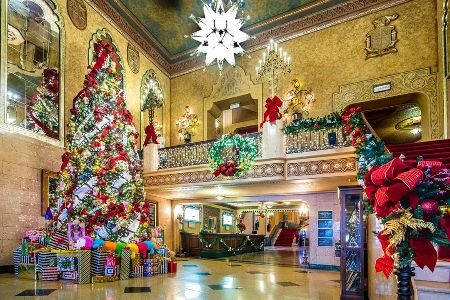 White Christmas (Sing-a-long) / Home Alone
Sun, Dec. 12, 2pm/7pm
Cost: $10
At: Alabama Theatre (map)
We're SO excited that the Alabama Theatre was able to bring back the Holiday Film Series for 2021!  This Sunday you have TWO chances to enjoy a movie! At 2pm there will be a sing-a-long showing of White Christmas! Then at 7pm you can enjoy the holiday classic (man we're old!) Home Alone!  Be sure to arrive early and sing along with the Wurlitzer organ as it plays your favorite Christmas songs! This is a quintessential Bham Christmas tradition!
Click here for more info.