Weekend Events: April 1-4, 2021
Happy Easter!!!
Happy Easter Weekend, everyone! The weather will be cool, but sunny, so let's get out and enjoy some great events! Here are some places that will be hosting some fun activities this weekend! Enjoy!
#RUhappenin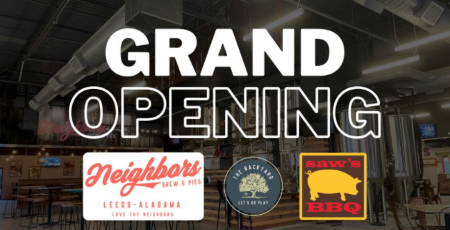 Grand Opening: Saw's BBQ/Neighbors Brews & Pies/The Backyard
Thurs, April 1, 10am-10pm
Cost: FREE
At: Shops at Grand River (map)
Neighbors Brew & Pies and Saw's BBQ is now open at The Backyard in Leeds! Family, friends and even four-legged companions are invited to their Grand Opening celebration taking place on Thursday! Things kick off at 10am with a Ribbon Cutting by Leeds Chamber of Commerce. From 4-8pm you can enjoy live music from Marc Harris & Friends with special guests Holley Malone and Clay Swafford. From 6-8pm there will be a live broadcast of "Oh Brother Radio" brought to you by Birmingham Mountain Radio. Giveaways as well as food and drink specials will be happening all day long, so come out and enjoy the celebrations!
Click here for more info.

Brickology Exhibit
April 1-May8
Cost: $15
At: McWane Center (map)
Brickology will allow visitors to explore and be amazed by science, engineering, art, and math concepts using construction block play. This 5,500 square foot exhibit was designed and constructed by the very talented McWane Exhibits Team and will provide hours of science, learning, and fun for visitors of all ages. McWane Science Center has adjusted this exhibit experience to support current health and safety precautions related to COVID-19, providing the most engaging and worry-free experience possible.
Click here for more info.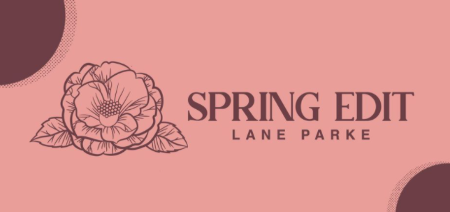 The Spring Edit
Thurs. April 1, 5-7:30pm
Cost: FREE
At: Lane Parke (map)
Lane Parke will be closing off Rele Street for live music, pop-ups, and more! This is a family-friendly event and they encourage you to dine at the local restaurants while you're there! They are celebrating the support of their patrons over the past year. Vendors will include: Doodle's, House Plant Collective, Katie Creative Co., Heezie's, Asher Riley, and Natalie Zoghby Art, just to name a few!
Click here for more info.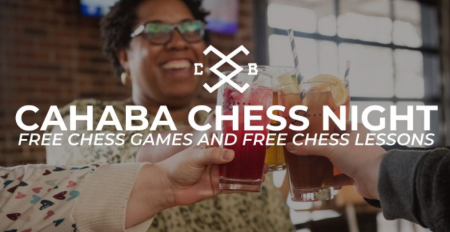 Cahaba Chess Night
Thurs, April 1, 5pm
Cost: FREE
At: Cahaba Brewing Co. (map)
Join in with some friends for a night of beer and chess at Cahaba Brewing Company. This is a free event but donations will be accepted. All proceeds benefit free chess lessons for kids throughout the Birmingham community. New to chess? No problem! They'll have Chessmaster David Harris on-site to show you all the in's and out's of the game.
Click here for more info.
Beer Education Class
Thurs, April 1, 6pm
Cost: $35
At: Ferus Artisan Ales (map)
At this fun event you can learn about brewing ingredients, beer style characteristics, and the basic process of brewing beer. You'll also pick up tasting techniques and tips. This is a great activity for your friend group!
Click here for more info.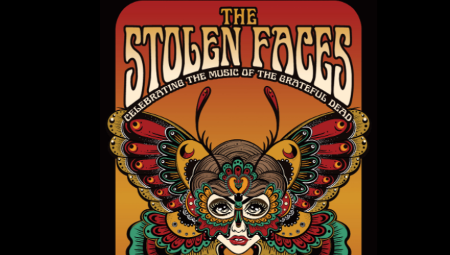 Stolen Faces
Fri, April 2, 8pm
Cost: $15
At: Avondale Brewing Co. (map)
If you're a fan of the Grateful Dead, you will not want to miss this. Stolen Faces is an amazing tribute band that will take you through some of your favorite songs by the Dead. Don't forget to enjoy some local Avondale brews as you enjoy this outdoor show.
Click here for more info.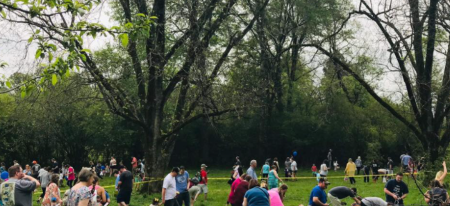 Spring Fling
Sat, April 3, 9am-3pm
Cost: FREE
At: Medders Farm (map)
This event is FREE to enter and FREE to park! Come shop vendors and enjoy food trucks. There will be a FREE egg hunt with times at 10:30am, 12:30pm and 2:30pm. Separated by age for each time. Multiple opportunities to egg hunt! There's a lot of beautiful space to come enjoy! Live music and games for the kiddos to play. You'll be able to shop dozens of local vendors!
Click here for more info.
Easter Eggspress
Sat, April 3, 10am
Cost: $16
At: Heart of Dixie Railroad Museum (map)
All aboard for a 75 minute trip aboard the Easter Eggspress! Aboard the train, Peter Cottontail will personally visit with families and pass out sweet Easter treats! Don't forget your camera! Enjoy your time on the train plus fun family activities on the grounds of the Museum. Play cornhole and putt-putt golf, decorate Easter eggs, purchase a masterfully made balloon creation from MisterTwister or festive face/hand paintings from Missy Twisty, take a basketful of shareable photos at various stations, visit the gift shop to find something special for your favorite little engineers and more!
Click here for more info.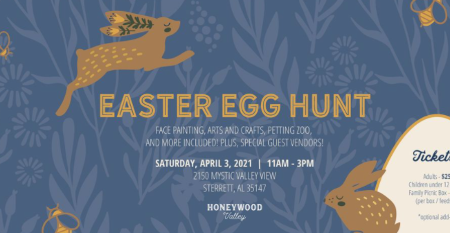 Honeywood Valley Easter Egg Hunt
Sat, April 3, 11am-3pm
Cost: $25+
At: Honeywood Valley Farms (map)
Hunt with the Easter Bunny! Arts & crafts, petting zoo, and so much more are in store! Here comes Peter Cottontail, hopping down the [Honey]trail. Time to dust off the basket and start practicing your egg hunting skills, because Easter's on its way! Honeywood Valley is excited to announce and host its first Easter Egg Hunt on Saturday, April 3rd from 11:00 AM - 3:00 PM.The hunt will officially start at 1:30pm - so come early and enjoy the activities and the great outdoors.
Click here for more info.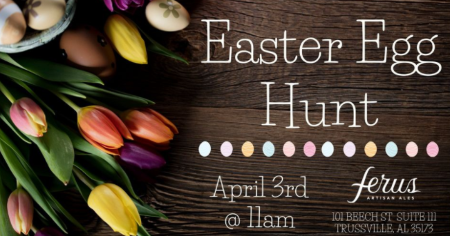 Easter Egg Hunt
Sat, April 3, 11am
Cost: FREE
At: Ferus Artisan Ales (map)
Head to Ferus for a FREE Easter Egg hunt for the kids! There will be three different time slots for various age groups. This will be such a fun venue for an egg hunt. Parents can enjoy food and drink from Ferus while the kids search for eggs.  Get your Easter Baskets ready!
Click here for more info.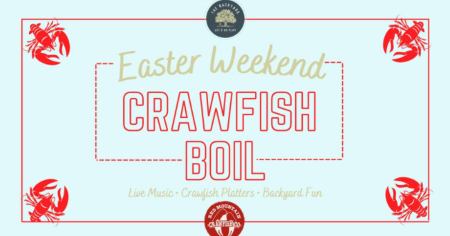 Easter Weekend Crawfish Boil
Sat, April 3, 12-6pm
Cost: Free to attend
At: Shops at Grand River (map)
Start your Easter weekend celebrations off right with a Crawfish Boil & Live Music gathering at The Backyard! All ages & pets welcome! Purchase some crawfish platters brought to you by Birmingham's favorite, Red Mountain Crawfish. There will be live Music by Dave Kurland. Be sure to try some local craft beers and the new Pineapple Saison by Neighbors Brewing Co. on tap with drink specials all day long.
Click here for more info.
Old Town Live
Sat, April 3, 1pm
Cost: FREE
At: Old Town Helena (map)
Welcome Old Town Live!! This FREE kickoff event is to celebrate the new Entertainment District! Grab a tasty beverage from one of the Old Town businesses and join in the fun down at Buck creek to listen to some amazing music and hang with some awesome people.
Click here for more info.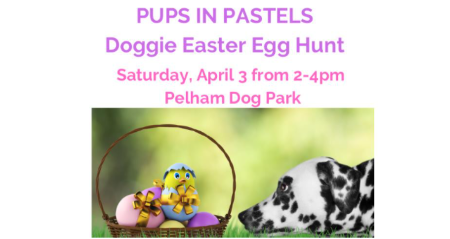 Pups in Pastel-Doggie Easter Egg Hunt
Sat, April 3, 2-4pm
Cost: $5
At: Pelham City Park (map)
Bring your furry friends and a basket to hunt for treat-filled eggs at the Pelham Dog Park, followed by a photo opportunity with the Easter Bunny. There will be music and other family friendly activities followed by a "best dress" costume contest. Dogs must remain leashed and with an adult guardian. You must pre-register online or at the Recreation Center. ($5) if you plan to participate in the Doggie Easter Egg Hunt. Space is limited in the Doggie Easter Egg Hunt- 15 dogs under 25lbs and 15 dogs over 25lbs.
Click here for more info.

HAPPY EASTER SUNDAY!!!