Weekend Events: May 18-21
Do-Dah-Day is back! Get ready for a weekend packed full of exciting fun! You'll see us at 90's Night for the Legion FC match Saturday as well as at the Garden Party on Sunday! It's going to be a fantastic weekend! Check out the list of events below!
#RUhappenin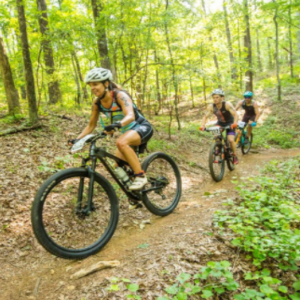 Ales and Trails Bike Fest
Thur, May 18, 4pm-8pm
Cost: Park entrance
At: Oak Mtn State Park (map)
Join in for a celebration of all things mountain bike. Come for a night of free events including easy rides, technical training, music and beer. Hang out and enjoy shuttle rides, short-track races, clinics with biking expert Lon Cullen, beginner-friendly rides, mountain bike skills contests, games, live music by Kudzu, food trucks, and local brews! New to mountain biking or been wanting to try it out? No problem! All are welcome, so come and have some fun on the award-winning trails of Oak Mountain State Park. This event is free, but anyone riding will need to register online or onsite before participating.
Click here for more info.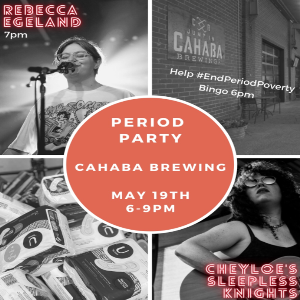 Period Party: Beer, Banks, and Bingo to End Period Poverty
Fri, May 19, 6pm-9pm
Cost: Free to attend party; $10-$35 for 5k
At: Cahaba Brewing Co. (map)
In person 5K Run, Walk, Stroll - May 19th @6pm, Cahaba Brewing/Rotary Trail! Join in for Beer, Bands, and Bingo at Cahaba Brewing! In culmination for the RUN.PERIOD.5K, they will celebrate at Cahaba Brewing to raise awareness for and support ending period poverty. Sign up for the 5K to get a free beer voucher (21+) and run to the party to enjoy the signature event drink, Period Punch! But either way, entrance to the party is FREE!
Click here for more info.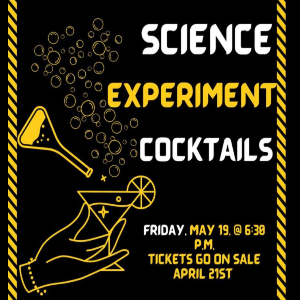 Science Cocktails (21+)
Fri, May 19, 6:30-8pm
Cost: $15
At: Homewood Library (map)
Learn how to craft science-themed cocktails with bartender and owner Rylie Hightower of The Lumbar! This is a 21+ event and will make for a great evening out with friends! Rylie will be sharing some of her mixology tips and tricks during the event. Tickets are $15 and include two adult beverages and light refreshments.
Click here for more info.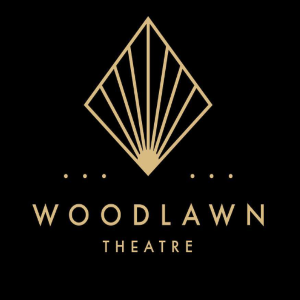 Grand Opening of Woodlawn Theatre (21+)
Fri-Sat, May 19-20
Cost: FREE
At: Woodlawn Theatre (map)
Woodlawn Theatre is set to open their doors this weekend! They are celebrating with a two day Grand Opening event this Friday and Saturday! Free to the public with RSVP required. Friday will feature Suaze, Red Harp, and Dan Wylder. Saturday's line-up will feature DJ Supreme, Null, and Coyote Legs! We can't wait for this venue to open!
Click here for more info.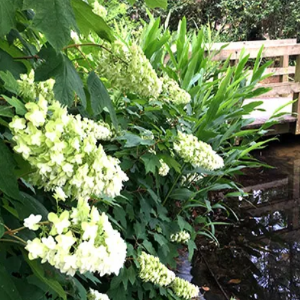 Hydrangea Propagation Workshop
Sat, May 20, 8:30am-10:30am
Cost: $20 members / $25 non-members
At: Aldridge Gardens (map)
This hands-on workshop will show you how to root fresh hydrangea cuttings. Come and learn how to propagate hydrangeas for yourself. And you'll get to take them home too! Learn more about it. During this "Make and Take" workshop, David Doggett will show you how to take soft-wood cuttings from up to 3 hydrangeas and will help you create a mini-greenhouse to house these precious future plants. Plus, Willie Edmiston will tell you how to propagate from Oak Leaf Hydrangea seeds. Please bring a CLEAR, empty, 2 liter plastic soda bottle, your pruners, and a pair of scissors for trimming leaves. Then stroll through the Gardens.
Click here for more info.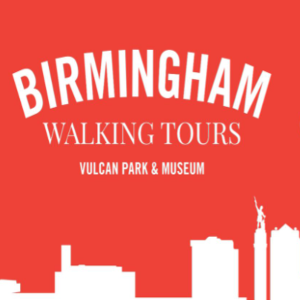 Birmingham Walking Tour: City Walk | Linn Park
Sat, May 20, 9:30am-11:30am
Cost: $20 members / $30 non-members
At: Linn Park (map)
Join David Fleming, REV Birmingham, and Cheryl Morgan, FAIA, Emerita Director of Auburn Urban Studio, as you explore the downtown's new City Walk and our historic Linn Park. They'll not only talk about the history of the "civic heart of our city" but also about the design process, place making, and the new vision for Linn Park which includes the Jefferson County Memorial Project.
Click here for more info.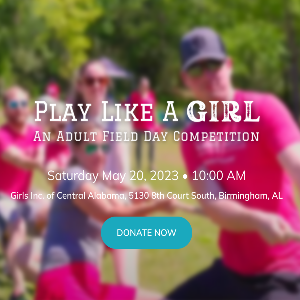 Play Like a Girl
Sat, May 20, 10am - 2pm
Cost: Free to attend
At: Girls' Inc (map)
Join in for the annual Play Like A Girl event, an Adult Field Day Competition, benefiting Girls Inc. of Central Alabama. Play Like A Girl is a throwback to grade school, built with adults in mind. They've got classic events like tug of war and relay races- plus some crazy new games. Teams of 5 will earn points in each event to add up to their total for the day while enjoying local food trucks, refreshments, and live music.They've also added a Kids' Zone this year to give the entire family an opportunity to play! Will your team have what it takes to take home the Ruler of the field title? Grab some friends, start your team, and get ready to play like a girl! Spectators are welcome to attend and watch the fun unfold for FREE but teams must register online in order to compete.
Click here for more info.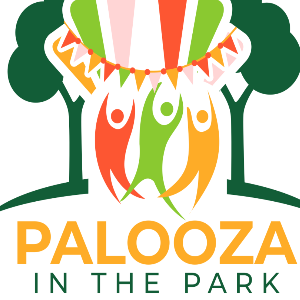 Pelham Palooza
Sat, May 20, 10am-3pm
Cost: Free to attend
At: Pelham Rec Center Trail (map)
Join in and kick off summer with live music, shopping, food trucks, and kidzapalooza all along the trail system at the Pelham Recreation Center. The palooza offers live local music throughout the event and dozens of local vendors and food trucks will be on site. Shade tents and dog water bowls are available. Bring a chair and enjoy the entertainment!
Click here for more info.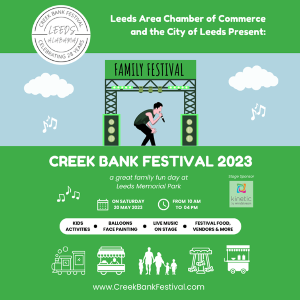 Leeds Creek Bank Festival
Sat, May 20, 10am-4pm
Cost: Free
At: Leeds Memorial Park (map)
This is a free event with free parking so plan to enjoy every minute with hula hoop contests, balloon artists, face painting, arts, crafts, specialty vendors from all over the southeast, food trucks, Cruising the Creek Bank Charity Car Show and much more! And be sure to bring Fido to compete in the Dog Pageant! And the 2nd annual Rubber Ducky Race!
Click here for more info.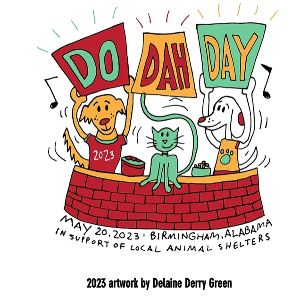 Do Dah Day
Sat, May 20, 11:01am-6:01pm
Cost: $8 in adv
At: Cahaba Brewing Co. (map)
Join in for a great day of fun with live music, dance performances, adorable animals, and more! This year's event will include a parade, music by four different bands, and a kids' area for family-friendly fun. Proceeds from the event support local animal charities! This year's art is by Delaine Derry Green!
2023 Band/Entertainment Lineup:
11:30AM - Magic City Disco
12:00PM-2PM - Best Men Band
2:30PM-3:30PM - DJRJ
4:00PM-6:00PM - Murph Band
Click here for more info.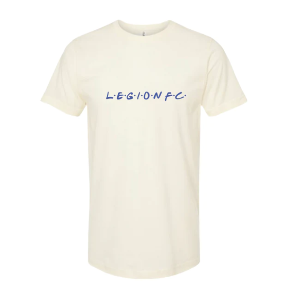 Legion FC 90s Night
Sat, May 20, 6:30pm
Cost: $10+
At: Protective Stadium (map)
Presented by Children's of Alabama. If you're there for Children's, Legion is there for you! Come enjoy 90's Night and Support Children's of Alabama! Tickets are just $10, BUT you can get the "Friends" package for $35 that includes a Limited Edition "Friends" inspired shirt that supports Children's of Alabama AND includes your ticket! There will be activities beforehand that include a video game truck, giant connect four and jenga, corn hole, and the usual food trucks!
Click here for more info.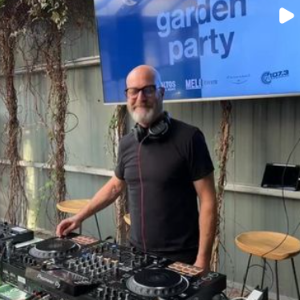 Garden Party
Sun, May 21, 2pm-9pm
Cost: Free to attend
At: Carrigan's Beer Garden (map)
Get ready for some chill vibes during the Garden Party this Sunday at Carrigan's Beer Garden! DJ Tony Rodeo, DJ Coco, and others will be playing some great House Music. The party kicks off at 2pm and goes until 9pm! Grab some food and drinks and dance or just relax in the shade. It's going to be a great time!
Click here for more info.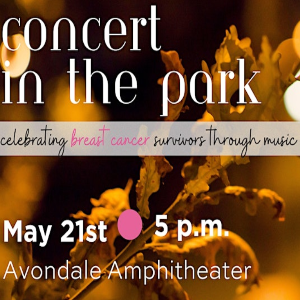 Spring Concert in the Park
Sun, May 21, 5pm
Cost: FREE
At: Avondale Park (map)
Forge Breast Cancer Survivor Center brings you a free concert in the park, featuring a string quartet of volunteer musicians from the Alabama Symphony Orchestra. The musicians will play classical and contemporary songs, with the music interspersed by readings of poems and essays written by Spanish- and English-speaking Forge breast cancer survivor volunteers and clients. Concert begins at 5 p.m. at the Avondale Amphitheater. The concert is open to the entire community. Consider joining in with your friends and family for this meaningful and moving night celebrating and honoring all those who have been impacted by breast cancer.
Click here for more info.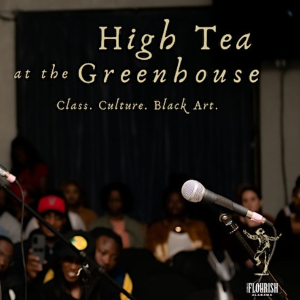 High Tea at the Greenhouse
Sun, May 21, 7pm
Cost: $15+
At: The Greenhouse (map)
High Tea is everything you want for an intimate night of music, good vibes, and culture. Each show features two up and coming artists followed by an open mic. Find your new favorite artist, share your work at the open mic, or meet a group of people invested in supporting the arts in their communities. This month High Tea will feature Meadow Maraj and Women of the World Poetry Slam Champion Ebony Stewart.
Click here for more info.