Weekend Events Roundup: Sept. 29-Oct. 2
Fall into some fun events!
It's now "officially" Fall, so let's celebrate with some fun events! This Sunday we'll be judging the Cahaba River Frydown, but before then there are plenty of events to keep you entertained throughout the weekend! The Bluff Park Art Show returns, but has moved to the Hoover Met!  Check the list below for all the details!
#RUhappenin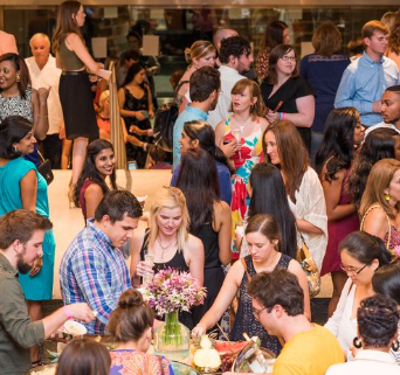 Season Opening: The [Fall] ReFRAME Party
Thurs, Sept 29,
Cost: FREE
At: Birmingham Museum of Art (map)
Be sure not to miss out on The ReFRAME, an immersive celebration with a fresh perspective, inspired by art and culture from around the world. As the seasons change, so do the BMA galleries. Come see what's new at the BMA as they enliven their art-filled spaces with music, performances, and curator-led gallery talks. Inspired by our current exhibition, Light Play, this evening will celebrate the role of LIGHT in art and cultures across the globe. Check the link for an extensive list of all the activities that will take place!
Click here for more info.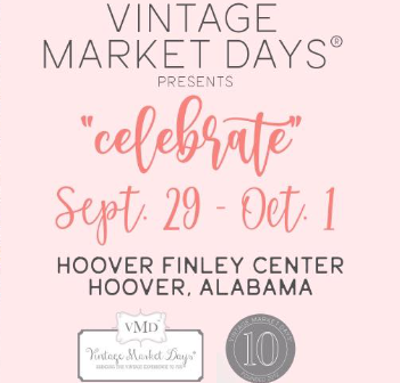 Vintage Market Days of Birmingham
Sept 29 - Oct 1
Cost: $12- $17
At: Finley Center (map)
This 3 day event, celebrating 10yrs of Vintage Market days,  will be returning to the beautiful Finley Center at the Hoover Met (all indoors and climate controlled) bringing vendors from across the country with their very best true vintage, holiday decor, boutique clothing, handmade treasures, antiques, original art, home decor, children's clothing, jewelry, seasonal plantings, yummy treats, and SO MUCH MORE! Get ready and be watching for all the fun and all the surprises ahead including expanded hours on Thursday so that everyone can get in on the celebration!
Click here for more info.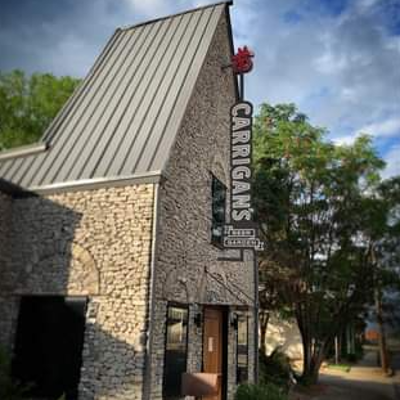 Oktoberfest 2022
Sept 27 - Oct 2
Cost: FREE to attend
At: Carrigan's Beer Garden (map)
Come celebrate Oktoberfest at Birmingham's premier Biergarten with 10 Oktoberfest beers on tap, nightly stein hoistings, and fabulous prizes! Competitors in all games will be entered into a raffle drawing for a YETI cooler! There will be daily events, but Saturday is especially packed full of fun! You'll be able to enjoy a Keg Rolling Race, Stein Relay, Stein Hoisting, Chicken Dance Contest, OOMPAHCALYPSE, Herr und Frau Oktoberfest, and the Raffle Drawing!
Click here for more info.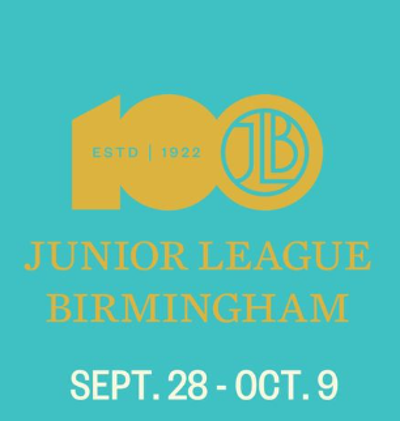 Shop Save & Share 2022
Sept 28 – Oct 9
Cost: $40 for a card
At:Various Retailers
This is an annual event we always look forward to! Save 20% at more than 250 retailers while helping Junior League of Birmingham to Build a Better Birmingham! Start your holiday shopping early, or renew your membership at the Birmingham Zoo for a discount! Check out the link for the full list of participating retailers and organizations!
Click here for more info.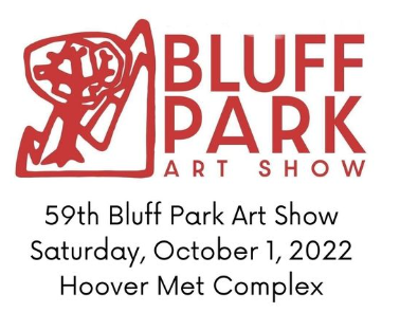 Bluff Park Art Show
Sat, Oct 1, 9am - 5pm
Cost: FREE
At: Hoover Met Complex (map)
Always the first Saturday in October, the Bluff Park Art Show will feature 130 artists across various mediums. Shop, explore, and find what moves you at the Bluff Park Art Show. Help welcome all the artists to the 2022 Bluff Park Art Show. This is the 59th show, and the event has moved to the Hoover Metropolitan Complex! This is a free event to attend!
Click here for more info.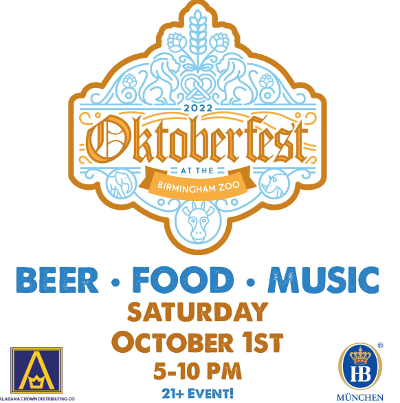 Oktoberfest
Sat, Oct 1, 5pm - 10pm
Cost: $48 ($40 for members)
At: Birmingham Zoo (map)
Join in for the Inaugural Birmingham Zoo Oktoberfest on Saturday, October 1st from 5:00 pm to 10:00 pm, featuring seasonal autumn brews, live music, and German food favorites! Beer lovers will enjoy a huge selection of authentic German beverages from the finest German breweries, including Hofbrau. Perfect for adults 21 and up! Attendees will delight in tasty food selections from local food trucks, our Nourish 205 restaurant will be hosting build-your-own Brats, and Wild Burger will be serving Oktoberfest-themed snacks and small bites - all for an additional charge. We can't wait to see you for a one-of-a-kind evening at the Zoo!
Click here for more info.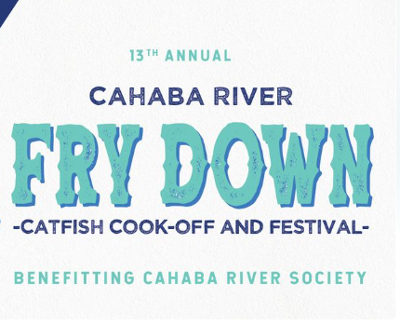 Cahaba River Fry-Down
Sun, Oct 2, 12pm - 4pm
Cost: $20, 12 under free
At: Cahaba Brewing Co (map)
The Cahaba River Fry-Down is a competitive cook-off and festival celebrating the Cahaba River and benefiting Cahaba River Society. Tickets are $20 and include food from Fry Teams. Kids 12 & under get in for free, and all activities are included with admission. This event has become another staple in Birmingham's dynamic food scene as culinary masters, old and new, battle it out for the top catfish cooking prizes. The proceeds from this event allow Cahaba River Society to continue its work to restore and protect the Cahaba, the river's watershed, and its rich diversity of life. This event features activities and fun for all ages with a carnival-like atmosphere that includes live music and entertainment, amazing food, hula-hoopers and dancers, educational games, prizes, the Cahaba River Adventure Experience, a climbing wall, craft beers and cocktails and so much more!
Click here for more info.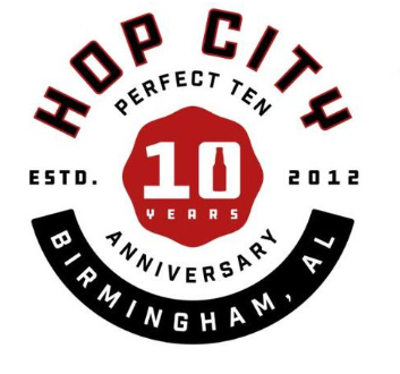 Hop City 10th Anniversary Party
Sun, Oct 2, 12pm - 7pm
Cost: $10
At: Hop City Bham (map)
This Sunday, Hop City celebrates 10 amazing years in the Magic City! They will have 60+ options of rare & special craft beers to enjoy - the likes of which many of you have never seen or tasted before! Throw in some of Birmingham's best music bands, food trucks and an artist's market - what's not to love? Join in  from 12:00 - 7:00 pm for a festive afternoon of great friends, great tunes and great brews. Headlining music for the day will be supergroup, The Blips, along with Dirty Lungs and Cheyloe & Her Sleepless Knights. Food options for everyone will be available with trucks from Fat Charles BBQ, THICC Burger, Not Ya Average Leaf, and Krazy Good BBQ/Catering. $10 gets you in the door along with a special souvenir glass with the proceeds benefit the Magic City Acceptance Center!
Click here for more info.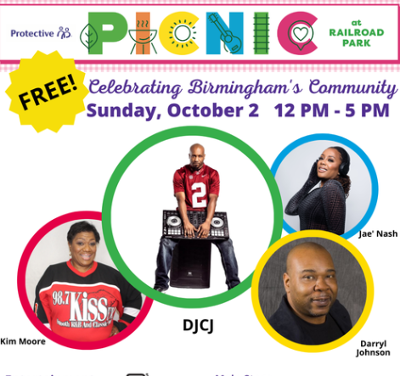 Picnic at Railroad Park
Sun, Oct 2, 12pm - 5pm
Cost: FREE to attend
At: Railroad Park (map)
Protective Life presents Picnic at Railroad Park returns on October 2 from 12 PM - 5 PM. This FREE community event features music, food, children's activities and more! This is a great way to get out and enjoy the cooler temperatures!
Click here for more info.