Weekend Events: Sept. 8-11, 2022
Can we go ahead and say it's Fall?
It's officially College Football season, leaves are already falling, and the temps are finally starting to cool just a bit. We think it's officially Fall Event Season!  That means all kinds of festivals are coming up! Kick things off with Art Walk 2022 on 20th Street this weekend! We can't wait to see all the incredible artists this year!  Check out the details, along with other fun events, below!
#RUhappenin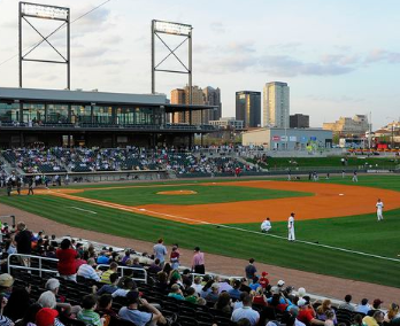 FINAL Barons Homestand of the Season
Now - Sun, Sept 8-11
Cost: $10
At: Regions Field (map)
It's your LAST CHANCE to see the Birmingham Barons play this season! They are closing out against the Chattanooga Lookouts.  The promotions this week include Wet Nose Wednesday, Thirsty Thursday, Fireworks, Family Day, and more!  Let's root for the home team one last time in 2022!
Click here for more info.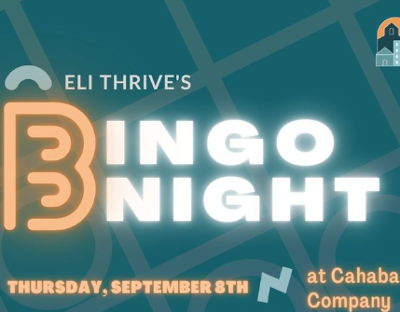 BINGO
Thurs, Sept 8, 7-9pm
Cost: FREE
At: Cahaba Brewing Co (map)
Want a super easy way to support ELI Thrive? Come play Bingo at Cahaba Brewing Company this Thursday from 7-9pm. All you have to do is donate to play bingo, win prizes, grab a drink, and eat from yummy food trucks! A portion of the evening's sales will go to ELI Thrive.
Click here for more info.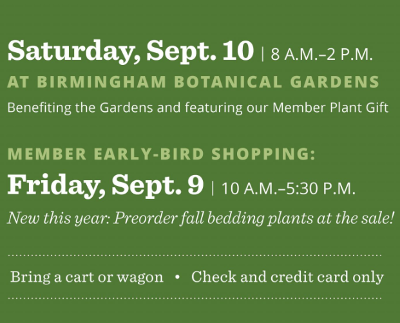 Fall Plant Sale
Fri-Sat, Sept. 9-10, Check for times
Cost: Free to attend
At: Birmingham Botanical Gardens (map)
The nonprofit Friends of Birmingham Botanical Gardens will host its annual Fall Plant Sale on Saturday, September 10, in person at Birmingham Botanical Gardens. Hundreds of plants—many of which have been nurtured at the Gardens by the Friends' dedicated volunteer growing groups—will be available for purchase. Proceeds from the sale will support the Friends' mission: to protect, nurture, and share the wonders of Birmingham Botanical Gardens. The sale will be held from 8 a.m. to 2 p.m. outdoors in the Gardens' Formal Lawn and Hill Garden. Members of the Friends will enjoy first dibs on plant offerings through the Member Early-Bird Shopping (10 a.m.–5:30 p.m. on Friday, September 9).
Click here for more info.
Party on the Porch
Fri, Sept 9, 6pm-8pm
Cost: FREE
At: Alabama Outdoors Hwd (map)
Party on the Porch brings together local musicians, breweries, food trucks, and artisans for an evening you do not want to miss. This is a family-friendly event, with activities for kids, a dog-friendly atmosphere, corn hole, giveaways, and loads of fun! Attendance is free, but they ask that of-age attendees donate (not required) $10 for a wristband and a souvenir cup with your donation going to a local non-profit organization at the event. Net proceeds from your donations at our September event go to the Junior League of Birmingham!
Click here for more info.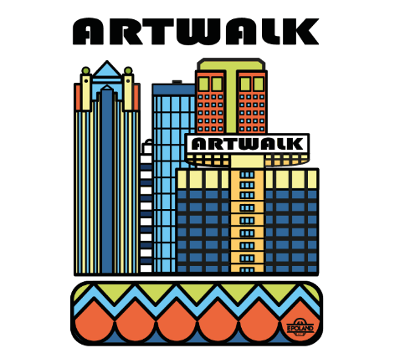 Birmingham Artwalk
Fri-Sat, Sept. 9-10, 5-10pm/10am-6pm
Cost: FREE
At: 20th St Downtown (map)
We always look forward to seeing so many incredible artists take over 20th Street downtown! This is the 20th Anniversary of Birmingham Artwalk! This is a wonderful opportunity to support local artists and find gifts for friends and family! There will also be music, food trucks, and other festivities! We can't wait to see everyone!
Click here for more info.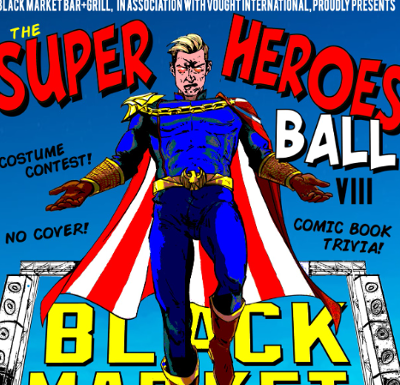 Superhero Ball VIII
Fri, Sept. 9, 8pm
Cost: FREE
At: Black Market Bar 5pts (map)
Break out your capes and masks because it's time for the 8th annual Superhero Ball! Dress as your favorite hero or villain because there will be a costume contest with prizes from Sanctum Comics, drink specials, and comic book trivia. Only at Black Market Bar & Grill in Five Points South!
Click here for more info.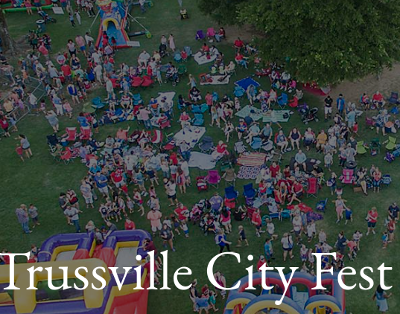 Trussville City Fest
Sat, Sept 10, 8am-11pm
Cost: FREE
At: TED (map)
This fun festival will be set up all throughout Trussville. Starting near the new entertainment district and ending at Veterans Park. You can expect everything from live music, a merchants walk, a Farmer's Market, a kid zone, a food area, and TONS more! This is an ALL DAY event, so feel free to come and go but we think you'll want to hang around!
Click here for more info.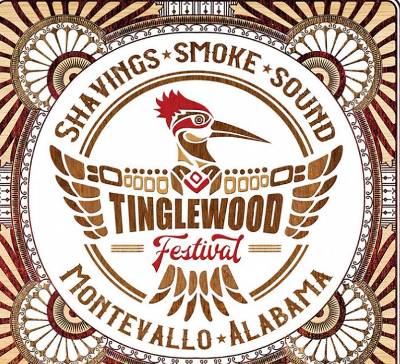 Tinglewood Festival
Sat, Sept 10, 9am - 5pm
Cost: FREE
At: Orr Park (Montevallo)
If you have spent any amount of time in Montevallo, (PV!) you probably know about the unique and fascinating tree carvings in Orr Park! The city is celebrating these carvings with a wood carving festival! There will be chainsaw carving, a whittling contest, a car show, live music, and more! There will be something for everyone to enjoy.  Bring the family and explore this quaint college town.
Click here for more info.
Dogfest Alabama
Sat, Sept 10, 10am-2pm
Cost: FREE
At: Railroad Park (map)
Celebrate the community of people and dogs that make it possible for Canine Companions to show that the most advanced technology capable of transforming the lives of people with disabilities has a cold nose and a warm heart. Furry friends and families are invited for a day of fun activities, inspiring speakers, dog demonstrations, entertainment and more! Registration is free. Fundraising is encouraged.
Click here for more info.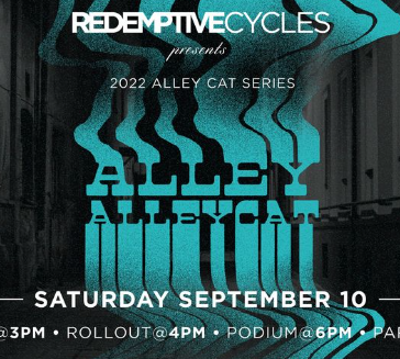 The Alley Alley Cat
Sat, Sept. 10, 4pm
Cost: $10
At: Redemptive Cycles (map)
This is a fun fundraiser for sure! Grab your bike and get ready for a self-paced scavenger hunt! Registration starts at 3pm and the ride begins at 4pm.  All you have to do is to stop at the predetermined locations, in ANY order, to qualify to win some fun prizes! Stick around for an after party starting at 6pm.  Redemptive Cycles does a lot of great things for the Birmingham community and this event a great example!
Click here for more info.
2022 Annual Moon Viewing Festival
Sat, Sept 10, 6pm-8:30pm
Cost: FREE
At: Birmingham Museum of Art (map)
The Moon Viewing Festival honors the harvest moon, which is the full moon nearest the autumn equinox that is traditionally celebrated across Asian cultures. Join BMA's Asian Art Society for a celebration open to all ages of the mid-autumn harvest moon. This celebration includes traditional music, performances, art-making activities, and delicious mooncakes!
Click here for more info.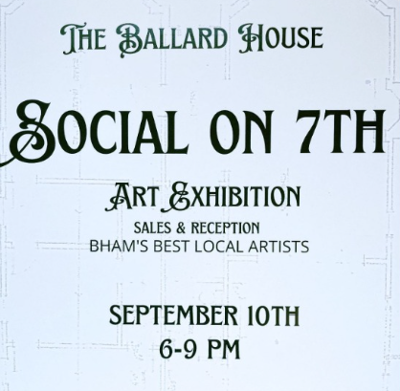 Social on 7th Art Exhibition
Sat, Sept 10, 6pm-9pm
Cost: $20
At: The Ballard House (map)
The Ballard House Project is excited to host "SOCIAL ON 7TH," a dynamic series of creative, cultural and historic, social gatherings, highlighting the essence of Birmingham's community spirit. ENJOY: An evening of art, music, tastes & drinks ENGAGE: Seven local artists & purchase pieces from their collectionsEntry ticket with RSVP registration required: $20. Art sold separately. Showcasing emerging and established local talent, this art exhibition & reception highlights a cross-section of BHAMs CREATIVE BEST!
Click here for more info.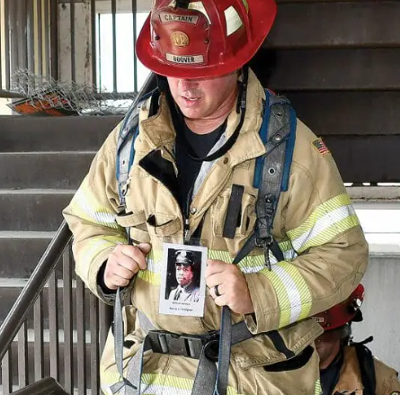 Patriot Day 2022
Sun, Sept. 11, 8:30am
Cost:Free
At: Vestavia City Hall (map)
It's the time of year when we honor the heroes of 9/11 and our first responders. The Patriot Day Ceremony rotates between Hoover, Homewood, and Vestavia. This year's speaker is Michael Williams, a retired special agent in charge for the Birmingham field office of the U.S. Secret Service, and will be held at Vestavia City Hall.
Click here for more info.