Weekend Roundup: April 14-17, 2022

Happy Easter!
Easter is here and we've got some events to keep you hoppin'!  This weekend marks the arrival of the Birmingham Stallions USFL games! Don't miss out on these great events and we hope everyone has a wonderful Easter weekend!
#RUhappenin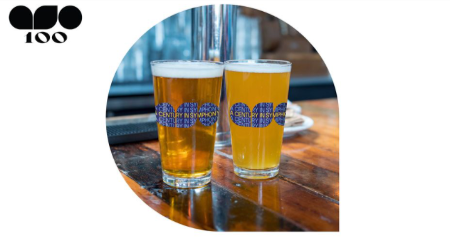 ASO Tap Takeover!
Thurs, April 14, 5-8pm
Cost: $20
At: TrimTab Brewing (map)
The Alabama Symphony Orchestra and friends takeover TrimTab Brewing Company for the unveiling of a brand-new beer in honor of the ASO's 100th anniversary! To celebrate the Orchestra's commitment to the cultural landscape of our state, the evening will feature pop-up performances by ASO musicians, Opera Birmingham, Red Mountain Theatre, and more! Tickets are $20 and include entry to the event, access to all of the performances, the opportunity to meet ASO musicians, an artist demonstration, and light snacks. TrimTab's full selection of to-go and draft beer will be available for purchase (including the new release). A food truck will also be available on site for purchases. This event is limited to ages 21 & over.
Click here for more info.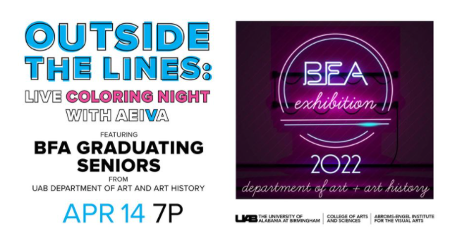 Outside the Lines
Thurs, April 14, 7-8pm
Cost: FREE
At: AEIVA (map)
Join in for a night to decompress and color, while enjoying a great conversation and Q&A with the UAB Department of Art and Art History graduating Bachelor of Fine Art Seniors. Work on your own favorite coloring page, or use one of the ones created by the artists. This is a great way to have a relaxing Thursday night.
Click here for more info.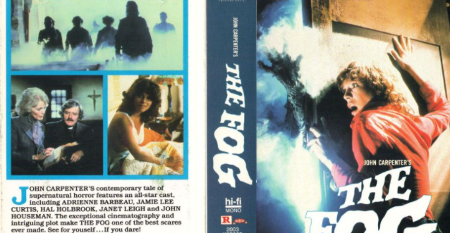 TVs of Terror presents: The Fog
Thurs, April 14, 8-10pm
Cost: FREE
At: Saturn Bham (map)
Bolt your doors. Lock your windows. There's something in Saturn Birmingham! It's TVs of Terror's eighth anniversary spooky screening engagement! They are proud to present one of the best early '80s horror movies, and one of the best ghost stories put to film - John Carpenter's The Fog. For those unfamiliar with the tale, The Fog concerns the small coastal California town of Antonio Bay which, on the 100th anniversary of its founding, is besieged by a band of ghostly sailors shrouded in the titular fog. Who are the murderous sailors? Why have they come to Antonio Bay? What do they want? We haven't the foggiest! In collaboration with the Saturn venue council, this screening is FREE OF CHARGE. They will have their usual festive treats - snacks, popcorn, and pizza - available to the public FREE OF CHARGE.  They'll also have a drink themed for the occasion available for purchase!
Click here for more info.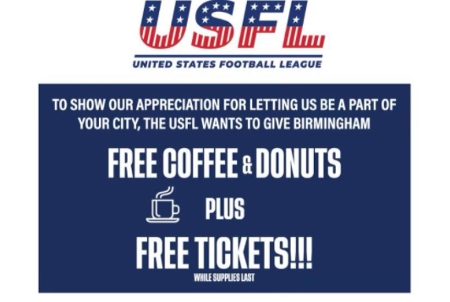 FREE Donuts & Coffee with Bham Stallions
Fri, April 15th, 7-10am
Cost: FREE
At: Heavenly Donut Co. &  Hero Doughnuts
Come meet the Stallions players, coaches, cheerleaders, and mascot this Friday morning at Heavenly Donuts and Hero Doughnuts locations!  They will have FREE coffee and donuts as well as free tickets while supplies last! This is a fantastic opportunity to meet the team before the opening game this weekend!  You do-NUT want to miss this!
Click here for more info.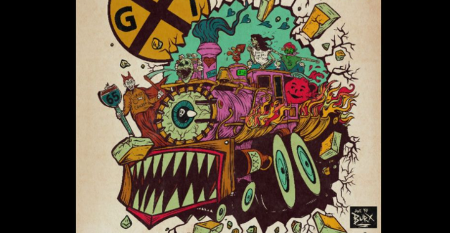 Punk Rock Art Show #21: Two Days 20+ Bands
Fri-Sat, April 15-16,
Cost: $20-$50
At: Ghost Train on 1st South (map)
Punk Rock Art Show #21 Featuring Salvo Headlining Day 1! The first 2 day Punk Rock Art Show to celebrate 21 shows! And it's going to be the biggest one yet cause it's at the awesome new Ghost Train Brewing Company location! Featuring 20+Bands, Artists, Vendors, Performers, food trucks, and more, this event is presented by Art by Burx and Ghost Train Brewing Company. One day tickets are just $20, 2 Day Passes $30, and 2 Day VIP Passes $50 (2 Day Pass, 30 Minute early Entry, Event T-shirt, and Punk Rock Art Swag Bag)!
Click here for more info.
Bad Movie Night
Fri, April 15, 8:30pm
Cost: FREE
At: Sidewalk Cinema (map)
Bad Movie Night returns this week at Sidewalk Cinema! This is a FREE event, so if you're searching for some Friday fun on the cheap, this is it! They will pick a random "bad movie" to show. Bring some friends and laugh at some terrible acting. Be sure to get some food and snacks from the concession stand that has a full bar! Speaking of bad movies…Don't forget that Russell is participating in the Bad Movie Marathon this month to help raise money for the amazing educational programs put on by Sidewalk Film! You can help him by sponsoring a nap, blanket, caffeine, or food HERE!
Click here for more info.
Party for the Planet/ Farm Day
Sat, April 16, 9am-4pm
Cost: Included with Zoo Admission
At: Birmingham Zoo (map)
Join your Birmingham Zoo on Saturday, April 16 from 9:00 am until 4:00 pm for Party for the Planet and Farm Day! Celebrate the Earth's biodiversity, and learn how you can take action to make a difference. This will be an all-day Bioblitz to find and record local wildlife as a citizen scientist. You'll learn more about how the Zoo is helping conserve pollinators like monarch butterflies and what you can do at home. It's also Farm Day! Learn about how the Zoo cares for the farm animals and conserves our local, native wildlife. Community organizations are on-site starting at 10:00 am-2:00 pm with hands-on activities and demonstrations like sheep shearing and spinning wool!
Click here for more info.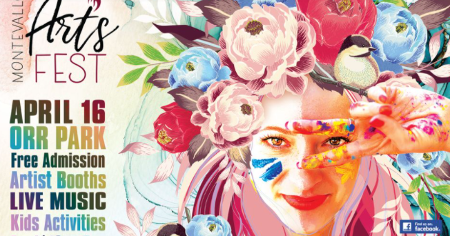 Montevallo Arts Fest
Sat, April 16, 10am-5pm
Cost: FREE
At: Orr Park (map)
Make your way down the road to the beautiful town of Montevallo for their Arts Fest! This is an all day event that takes place in Orr Park. (Be sure to check out the tree carvings while there!) You can enjoy live music, kids activities, and plenty of artists and vendors! Everything from pottery to woodcrafts, printmaking to painting, and jewelry to glass will be available for purchase at this once-a-year Festival. This will be a relaxing way to spend your Saturday! We also highly recommend getting a bite to eat at Main Street Tavern!
Click here for more info.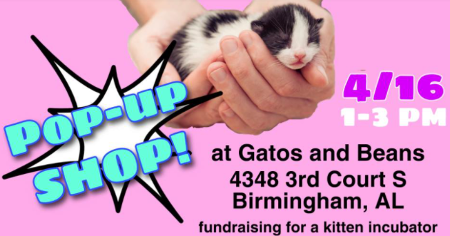 Pop-Up Shop: Incubator Fundraiser
Sat, April 16, 11am-3pm
Cost: Free to attend
At: Gatos & Beans (map)
Help Kitty Kat Haven and Rescue raise funds to purchase a kitten incubator. Their goal is a modest $1,200. The incubator will help KKH save more kittens who are sick or orphaned. Their volunteers have made cat toys, tote bags, rice socks, decals, carrier sized blankets, and other items for your feline friends. Gatos and Beans, Birmingham's only cat café, is hosting the event. Make a reservation to visit the cat room and pet the cats, or simply stop in for a cup of coffee or tea and show your support! Additional entertainment will be provided by Geni Skendo and his flute.
Click here for more info.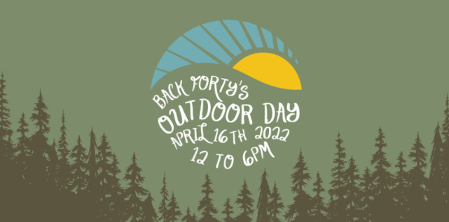 Outdoor Day
Sat, April 16, 12-6pm
Cost: FREE
At: Back Forty (map)
Come out to Back Forty Saturday for Outdoor Day festivities! This event includes a free concert featuring Early James and Zach Austin, a climbing wall, games, local vendors, bike courses, and B40s Chef Russ Bodner's famous Open Fire Menu! This is always such a fun event and it's FREE!
Click here for more info.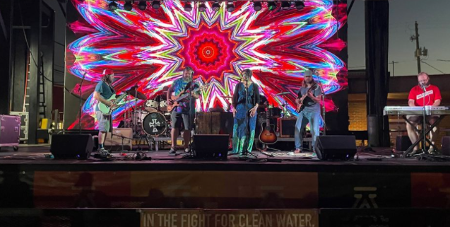 Earthbound's Earthfest 2022
Sat, April 16, 2-8pm
Cost: Suggested $5 donation
At: Avondale Brewing Co. (map)
Earthbound headlines Earthbound's Earthfest, the rock band's annual outdoor concert at Avondale Brewery this Saturday! The event raises awareness for Earth Day and benefits Black Warrior Riverkeeper, a nonprofit clean water advocacy organization protecting Alabama's Black Warrior River watershed. In 2022, the event also celebrates the 50th Anniversary of the Clean Water Act! The family-friendly outdoor event is open to pets and people of all ages, although guests under 21 must be accompanied by a parent or guardian. Suggested $5 donations at the door will support Black Warrior Riverkeeper, as will the proceeds from merchandise, art, beer, and food trucks.
Click here for more info.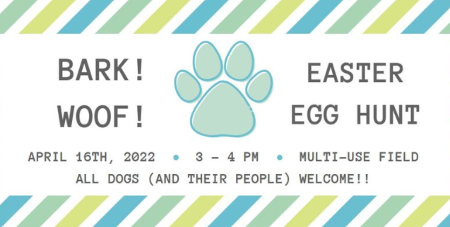 Doggie Easter Egg Hunt
Sat, April 16, 3-4pm
Cost: Included with park admission
At: Oak Mountain State Park (map)
Come enjoy three egg hunts for dogs only! Oak Mountain will have plastic eggs filled with small treats for each baby to find! (Eggs are non-edible but the treats inside are puppa-licious! They are all natural roasted beef tips.) Get a picture of your dog with the Easter Bunny! After All, who couldn't use another 50+ pictures of their pups on their phone?! (No Charge for pictures with the Easter Bunny) Hollywood Feed is joining in again this year as the Dog Egg Hunt Sponsor to make sure your pups are covered!  All Dogs Welcome but must remain on a leash at all times. There are three hunts divided into small, medium, and large dog sizes!
Click here for more info.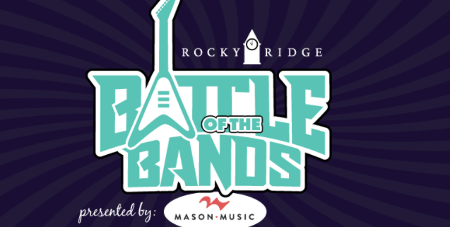 2022 Battle of the Bands
Sat, April 16, 4:30-
Cost: FREE
At: Rocky Ridge Plaza (map)
The 2022 Battle of the Bands sponsored by Mason Music features middle school and high school bands competing for cash prizes for the best band. A part of this year's Dogwood Festival series of signature events, this year will prove to be as much family fun as previous battles. Enjoy food and goods from merchants in the area and come out and support these future rock stars!
Click here for more info.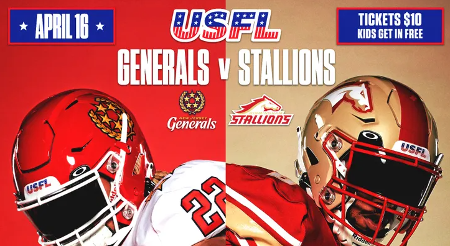 Birmingham Stallions Opening Game!
Sat, April 16, 6pm
Cost: $10+
At: Protective Stadium (map)
Pack Protective and cheer on Birmingham's newest sports team! The Stallions will take on the Generals in the USFL season opener!  This will be such a fantastic game! There's a tailgate before the game as well! We're looking forward to many fun USFL games this season!
Click here for more info.
SUNDAY