Weekend Roundup: April 22-25, 2021
It's Magic City Art Connection Weekend!
We are so excited that Magic City Art Connection is back! That also means Corks & Chefs is back as well! Oh, and if you love crawfish there are plenty of crawfish boils to choose from! Check the list and plan your weekend!
#RUhappenin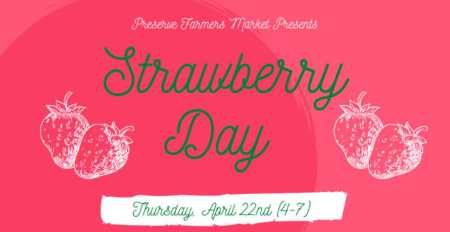 Strawberry Day!
Thurs, April 22, 4-7pm
Cost: FREE
At: The Preserve Farmers Market (map)
This is shaping up to be a BERRY fun event! Head over to the Preserve and celebrate Strawberry Day! You can fill up with some delicious food from these food trucks - Eugene's, Bendy's, Urban Pops, Corn Cab, Taco Boy's, & Who Dat Snoballs! Get some fresh produce (Strawberries!) and listen to some live music from Erin Black! It will be a great way to relax on a Thursday night.
Click here for more info.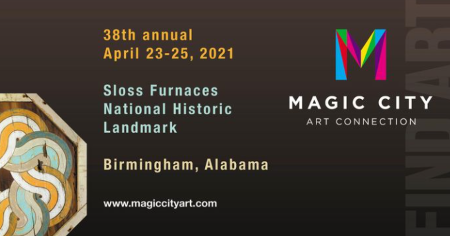 38th Annual Magic City Art Connection
Fri-Sun, April 23-25
Cost: $10adv/$12 day of/ 15&under FREE
At: Sloss Furnace (map)
The 38th year of the festival will spotlight 150 juried, fine artists from the region and around the country! We are so happy that it's back for 2021! The event has moved from Linn Park to Sloss Furnace. This is the best chance for you to find that perfect piece of art for your home! While at the festival, be sure to check out MCAC's 2021 Special Exhibition "Within Reach: Celebrated Black Alabama Artists''. This curated exhibition gives tribute to the invaluable accomplishments by these artists that are creating a solid arts legacy for our community. Get some friends and head to Sloss!
Click here for more info.

Birmingham Bulls vs Knoxville Ice Bears
Fri, April 24, :307pm
Cost: $18
At: Pelham Civic Complex (map)
Cheer on the Birmingham Bulls as they take on the Knoxville Ice Bears this Friday night! These games always make for a great night out with friends! It's gonna get rowdy, so prepare to get loud! Kick of your weekend right and support our local hockey team!
Click here for more info.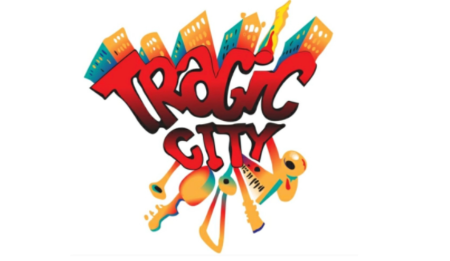 Tragic City at The Nick (21+)
Fri, April 23, 9pm
Cost: $10adv/$15 door
At: The Nick (map)
The band Tragic City always puts on a great show! It's great having live shows to attend, so head over to The Nick for a night of great fun! This band is heavy on the brass and sounds amazing! If you haven't seen them yet, this is your chance! The show is 21 & up!
Click here for more info.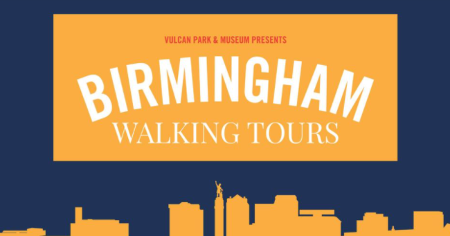 Birmingham Walking Tour Series: 5pts. South
Sat, April 24, 9-11am
Cost: $40/$25 for Vulcan Members
At: 5pts South (map)
One of the most diverse places in the state, Five Points South is truly a walkable neighborhood that focuses on livability. The Five Points Alliance has worked to create a family-friendly atmosphere while highlighting the neighborhood's history and charm. The Saturday tour begins at 9:00 a.m. Registration is $25 for Vulcan Park and Museum members and $40 for non-members. Space is limited and advanced registration is required.
Click here for more info.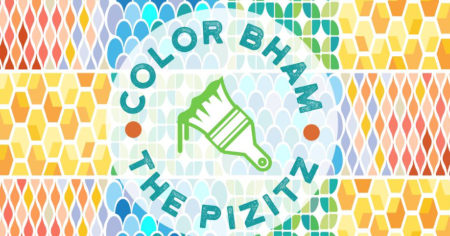 Color Bham Community Mural
RESCHEDULED to MAY 1st
Cost: FREE
At: The Pizitz (map)
Mark your calendars! Join in and help install the new courtyard community mural, in partnership with Color Bham & local Bham mural artist Marcus Fetch! If you participated in the ColorWall with us, you know how much fun this is! Everything you need to participate will be provided at the event and you can also enjoy, Eat In The Streets from 12-8 PM with pop ups from Nola Ice, Piper & Leaf, Edolyn's Pie, + Sidewalk! *Covid-19 safety precautions will be in place including mask wearing, social distancing, and the cleaning of tools between users.
Click here for more info.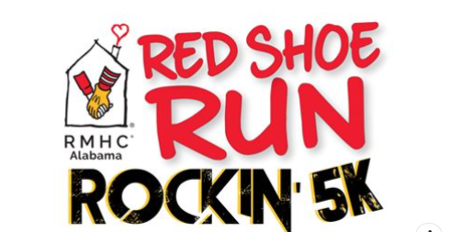 Red Shoe Run: Rockin' 5k
Sat, April 24, 8am
Cost: $30-$35
At: Homewood, AL (map)
Now in its 17th year, Red Shoe Run is going new distances to make a difference for Ronald McDonald House Charities of Alabama! Red Shoe Run will be held Saturday, April 24, 2021 in Homewood, AL! This Birmingham favorite will look different this year with a socially distanced start line for our in-person 5K and 1-mile fun run, a virtual 5K and 1-mile option, and a Red Shoe Snoozer option to sleep in on race day and still support a great cause. This will be topped off with an awards ceremony! They encourage runners to wear a fun Rock n Roll themed costume! All money raised through the Red Shoe Run stays at the Ronald McDonald House in Birmingham to keep families together at a time when it's needed most. This has been a challenging year for so many and they are thankful for your continued support of their mission.
Click here for more info.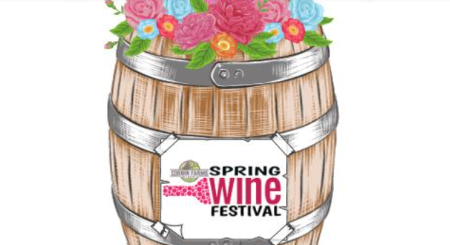 Spring Wine Festival
Sat, April 24, 11am-8pm
Cost: $7-$25
At: Corbin Farms (map)
This event was rescheduled and is now this weekend! Get ready for an all day event packed with fun! Corbin Farms will have grape stomping, live music, local vendors, wine specials, and more! They will be open from 11-8, and it will be a come-and-go style event. Festival Admission- will include entry, 1 drink ticket, 1 grape stomp ticket, $5 Corbin Cash(to be used towards any purchase made with Corbin Farms Winery 04/24/21), 10% off bottle purchase coupon, and a Corbin Farms Winery sticker! Festival Admission tickets are $13! These tickets are for 21+ only; guests will be asked to show identification upon arrival.
Click here for more info.

Corks & Chefs
Sat-Sun, April 24-25, 11am-3pm
Cost: $30 adv./$40 at door
At: Sloss Furnace (map)
Corks & Chefs, now in its 24th year, is "A Taste of Birmingham" and the place where the culinary arts are paired with wine, craft beer, spirits and cocktails at the 38th Magic City Art Connection festival, which will be presented at Sloss Furnaces National Historic Landmark in 2021. This popular tasting event is an exploration and appreciation of local flavors, and was the first of its kind to hit the Birmingham scene. Since then, it's been teeming with patrons eager to sample mouth-watering creations from many of Birmingham's favorite restaurants. At C&C's Reserved Edition, there will be a few changes from previous years. A reduced price $30 Advance Ticket will offer guests entry into one of two hour and a tasting, two half long tasting sessions each day with a 150 maximum capacity. 4 Birmingham restaurants will be showcased each day alongside vintners, brewers, distillers, and bartenders we all love.
Click here for more info.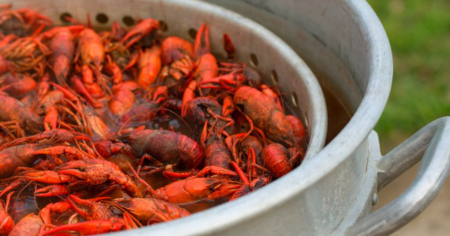 Ghost Train Crawfish Boil
Sat, April 24, 12-4pm
Cost: Free to attend
At: Ghost Train Brewing (map)
Chef Nick and Tuff Love Provisions have you covered this crawfish season! Crawfish fanatics will be sucking craw heads and drinking some delicious brews and cocktails all day!! Come hungry and don't forget to bring your friends! This is a pet friendly event! Get there early and grab a great spot in the shipping containers!
Click here for more info.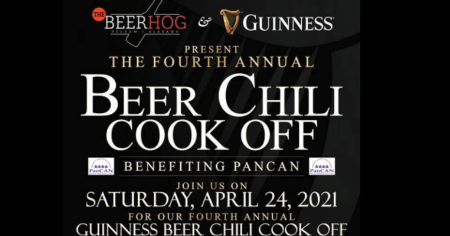 Guinness Chili Cook Off
POSTPONED DUE TO INCLEMENT WEATHER
Cost: FREE
At: The Beer Hog (map)
Eat some delicious chili and raise awareness about Pancreatic Cancer! Beer Hog is hosting the 4th annual Chili Cook Off at their NEW location! Of course, the not so secret ingredient in everyone's chili has to be Guinness! Tastings for the public start at 12pm. Grab one of the many delicious brews and cast your vote!
Click here for more info.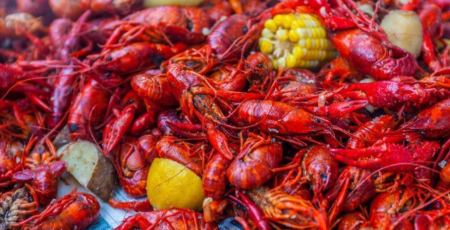 2021 Mudbugs and Music
Sat, April 24, 1-6pm
Cost: $25 (includes plate of crawfish & sides)
At: Cahaba Brewing Co. (map)
The 16th Annual Mudbugs & Music comes back to Birmingham at Cahaba Brewing Company with crawfish, silent auction, and great live music. Turn up the heat to beat arthritis, the nation's leading cause of disability. Proceeds from Mudbugs & Music support the Arthritis Foundation's mission to conquer and cure arthritis. Since it started during 2005, Mudbugs & Music has helped fund the pediatric rheumatology program at Children's of Alabama and UAB that has changed the course of treatment for thousands of children with juvenile arthritis. Get to Cahaba and enjoy crawfish for a great cause!
Click here for more info.
Hope for Autumn Crawfish Boil
Sat, April 24, 3-9m
Cost: $10+
At: Ross Bridge (map)
It's the 14th annual Hope for Autumn Foundation Crawfish Boil, one of the area's most popular family events! With your ticket you can enjoy all you can eat crawfish prepared by Louisiana native John Hein, hamburgers, hot dogs and all the fixings, Pepsi products, tons of kids activities including bounce houses, balloon animals, face painting, a kids' DJ dance party, live music by Tuckahoe Travelers and OPOV band. Proceeds from the event benefit families battling childhood cancer in Alabama and fund local childhood cancer research.
Click here for more info.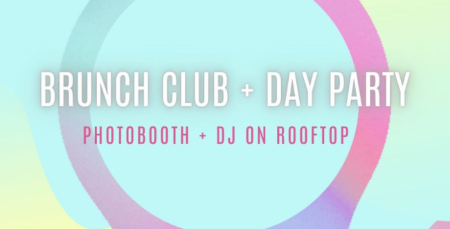 Brunch Club + Day Party
Sun, April 25, 11am-4pm
Cost: Free to attend
At: The Hive (map)
The Hive has delicious food, especially at brunch! Head to 5pts South and enjoy this new event space! In addition to brunch, there will be a party on the rooftop! It will include a DJ and a free photo booth! Plus, you can take in a great view of 5pts! Roundup your friends and make brunch plans for this Sunday at The Hive!
Click here for more info.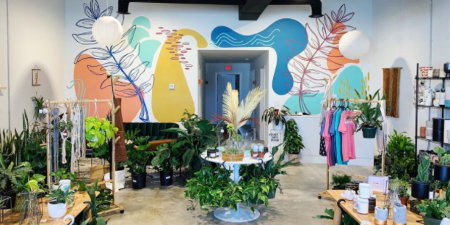 Plant Swap at HPC
Sun, April 25, 2pm
Cost: FREE
At: House Plant Collective  (map)
HPC Plant Swaps are back! With their new space, we are able to offer a socially-distance swap in the front parking lot. Gather for the April plant swap to meet with other plant enthusiasts - trade plants, cuttings, and the love for plants. Bring pest- and disease-free plants that you are willing to part with. Cuttings, bare-root, or in a pot – all are welcome! All cuttings must have roots. You will receive one voucher for each plant you bring that you can swap in for another plant. Green tickets for common/small & blue tickets for uncommon/large. So bring one plant or as many as you like! You are also welcome to openly swap your plants for those with larger, more rare plants! All are welcome and be sure to check out the amazing items that HPC has for sale!
Click here for more info.