Weekend Roundup: Aug. 19-22, 2021
Restaurant Week Continues…
This weekend, Birmingham Restaurant Week continues, Beer Bands & Bullies returns, and Sidewalk Film Festival is NEXT WEEK!!!! Check the list below and start planning your weekend fun! It is definitely a food heavy weekend which is always a plus!
Note: With the extreme spike in cases of Covid19 due to the Delta Variant, we encourage everyone who's able to get vaccinated. Be sure to check the mask policies for individual events and venues and be respectful of them. Most importantly, if you are sick PLEASE stay home.
#RUhappenin
Birmingham Restaurant Week 2021
Now-Aug 29
Cost: $5-$50
At: Bham Restaurants
Bham Restaurant Week is now an 18 day event and so far we've loved every place we have been to! Check out the link for details since there's no way we can list all the incredible participating restaurants here. This is the perfect way to try new restaurants or revisit your favorites.  The prix-fixe menus range from $5 lunch specials to $50 dinners, so there's something for everyone!
Click here for more info.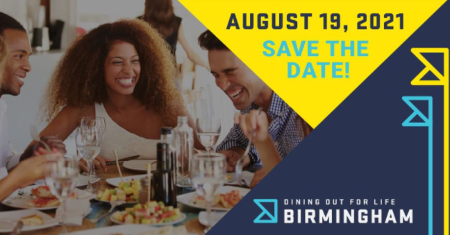 Dining out for Life
Thurs, Aug. 19
Cost: Varies
At: Bham Restaurants
Join AIDS Alabama and Birmingham's best restaurants for the 12th annual Dining Out For Life® event on Thursday, August 19th! Help raise funds and awareness for HIV services by simply dining at a participating restaurant. There's never been an easier (or tasty!) way to make an impact on your community. Dine Out. Give Back. Check the link for a list of participating restaurants!
Click here for more info.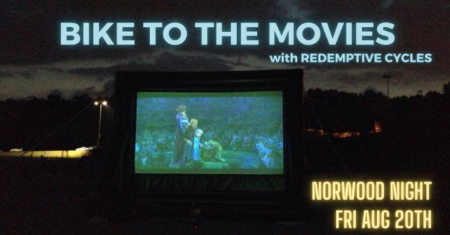 Bike to the Movies w/Redemptive Cycles
Fri, Aug. 20, 6pm
Cost: FREE
At: Redemptive Cycles (map)
Norwood Neighborhood is hosting a Movie night and party. You can roll over there on your bike and hang out with them! There will be a food truck there, but bring a beverage to enjoy during the movie if you like. Bring a blanket or chair if you want to as well. Movie selection TBD. Meet up at the Redemptive at 6pm and rollout at 6:30!
Click here for more info.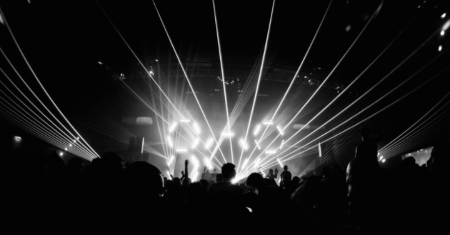 Manic Vision
Fri, Aug. 20, 7pm
Cost: $10
At: Avondale Brewing Co. (map)
Manic Vision is a southern rock/jam band which originated in Tuscaloosa, AL. Forming in 2018, the band quickly began drawing crowds throughout Tuscaloosa with their blend of southern/blues rock and improvisation. Manic Vision now resides in Birmingham and is prepared to continue expanding throughout the southeast. Head to Avondale this Friday and check them out for just $10!
Click here for more info.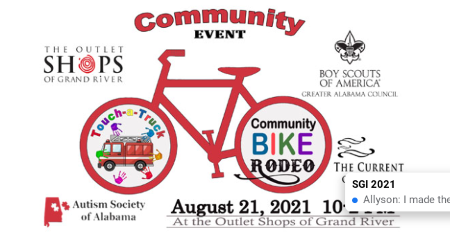 Bike Rodeo / Touch a Truck
Sat, Aug. 21, 10am-2pm
Cost: FREE
At: Shops of Grand River (map)
Two great events in one location! The Three Rivers District along with The Outlet Shops of Grand River, and the Autism Society of Alabama have partnered to bring to our community a fun filled event that focuses on the safety of children. Several local communities are coming together to help make this happen. Local fire fighters, police departments, emergency response teams, utility companies, hospitals, merchants and special interest groups. There will be two events together - The Touch-a-Truck and the Bike Rodeo. Both Events are FREE, and open to the public. The Bike Rodeo will teach bike safety to kids 6-13. Touch a Truck is an event with lots of different types of vehicles (huge ones) that children can come see, touch, ask questions, take a photo with the vehicle and perhaps sit behind the wheel!
Click here for more info.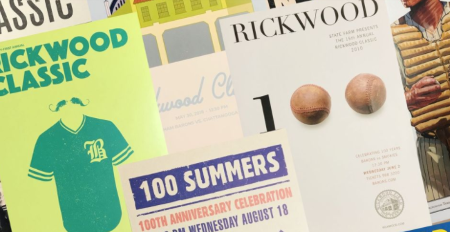 Rickwood's 111th Birthday Bash
Sat, Aug. 21, 10am-1pm
Cost: FREE
At: Rickwood Field (map)
On Saturday, August 21, at 10:00 a.m., the Friends of Rickwood and the AWSCC will dedicate the NVWT marker at Rickwood Field in downtown Birmingham. On August 18, 1915, the Birmingham Barons and the Alabama Equal Suffrage Association sponsored a "Suffrage Day" at Rickwood Field to help gain support for a statewide suffrage amendment. Come enjoy an open house, as Rickwood Field will allow visitors to play on its field.
Click here for more info.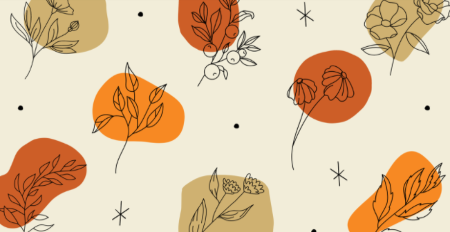 Magic City Vintage Market
Sat, Aug. 21, 12-5pm
Cost: FREE
At: Cahaba Brewing Co. (map)
Join forty of the finest local vintage shops for a market filled with treasures a plenty. This is a family friendly event. The taps will be running with yummy Cahaba brews and they will have food trucks on site!
Click here for more info.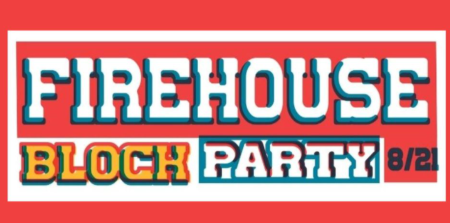 Firehouse Block Party
Sat, Aug. 21, 3-9pm
Cost: $10adv/$12 at door
At: Firehouse Community Art Center (map)
Kick off the new school year at the Firehouse! Come check out their new teaching facility, and enjoy some great food, music, and artistic workshops! Shaheed and DJ Supreme present Knowledge Rhythm & Understanding at 3pm. Yellowhammer Creative will be hanging out all day with their screen printing wagon! They'll have food from Eugene's Hot Chicken and Simply Sonequa Pound Cakes, and Beverage provided by Ono Ice and Cahaba Brewery! And of course—music! Enjoy performances by Heather and Hay, Jackels, Sarah Lee Langford, Post Consumer Waste, Brint Story, The Boquets, Dommel Mosel, and the Kickback!
Click here for more info.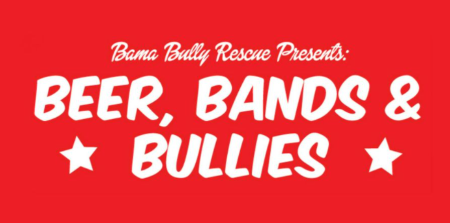 Beer Bands & Bullies 2021
Sat, Aug. 21, 4-9pm
Cost: Free to attend
At: Ferus Artisan Ales (map)
Join Bama Bully Rescue for the 10th Annual Beer Bands & Bullies music festival at Ferus Artisan Ales & the Trussville Entertainment District! Enjoy a brew with your pooch, meet some of the adorable adopt-a-bulls and check out the silent auction. Check the link for a full lineup of the musical acts performing. Friendly, leashed dogs are welcomed and encouraged. All proceeds, including a percentage of beer sales, benefit Bama Bully Rescue!
Click here for more info.
Cahaba Casino Night
Sat, Aug. 21, 6-9pm
Cost: $30
At: Cahaba Brewing (map)
Feeling lucky?! Join in a fun celebration of Birmingham Restaurant Week with a Cahaba Casino Night! You'll be playing Blackjack, Roulette, Craps, Poker, and War for chances to win gift cards to your favorite LOCAL restaurants. This event is casual and will take place outdoors on Cahaba's spacious covered patio! Check the link for details!
Click here for more info.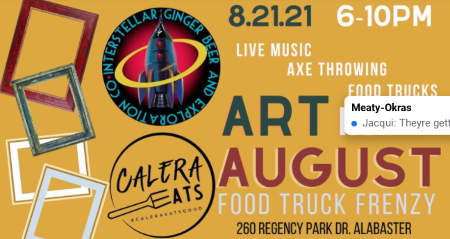 Arts in August Food Truck Frenzy
Sat, Aug. 21, 6-10pm
Cost: Free to attend
At: Interstellar Brewing (map)
Join Interstellar, Calera Eats, and local artisans for Arts in August! Local food trucks, Beer, Bands, Art Booths, and Axe Throwing! This is set to be an exciting event! Be sure to try some of their famous Ginger Beer while you're there! Check the link for a full list of vendors and activities!
Click here for more info.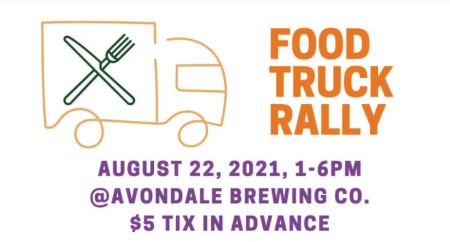 Food Truck Rally
Sun, Aug. 21, 1-6pm
Cost: $5/$10 day of
At: Avondale Brewing Co. (map)
Bring an appetite and join in for a Food Truck Rally Sunday, August 22nd from 1-6! Loads of amazing food- you can see the full list via the link below! This event is limited capacity so make sure to get your tickets now. $5 in advance dnd $10 the day of. BONUS: This is a family friendly event!
Click here for more info.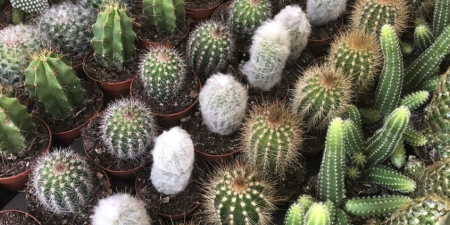 Botanica Plant Bar
Sun, Aug. 21, 1-2:30pm & 3-4:30pm
Cost: $30
At: Monday Night Brewing (map)
Two classes to choose from! Join Botanica for a fun afternoon of potting plants while you enjoy food and drinks from the kitchen at Monday Night Brewing! The tickets are $30 per person and will include one drink and all potting supplies needed for the class (3 plants, a pot, paint pen, and personal instruction). Bring your friends, but space is limited, so register now at the link below!
Click here for more info.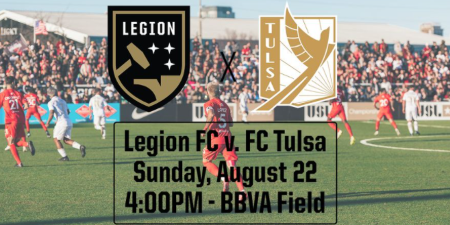 Legion FC vs FC Tulsa
Sun, Aug. 21, 4pm
Cost: $15
At: BBVA Field (map)
The Birmingham Legion FC is taking on Tulsa this Sunday afternoon! We have had so much fun attending the matches this season. We are over halfway through the season, so be sure to attend a home game while you can! These games are action packed and family friendly!
Click here for more info.
BONUS!!!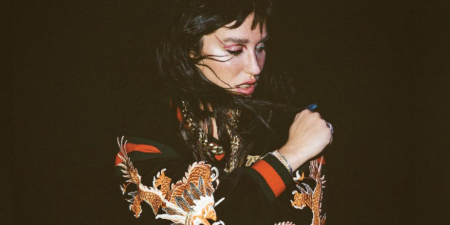 Kesha w/special guest Betty Who
Mon, Aug. 23, 7pm
Cost: $55+
At: Avondale Brewing Co. (map)
Normally we wouldn't share a big concert like this, but we are so excited! Get ready to go insane, go insane, throw some glitter, make it rain! This is going to be so much fun! We are going all out with outfits for this show! Russell may or may not have a spacecat romper. (Romphim??? lol) Anyway, we just hope to see a lot of your smiling faces there at Avondale! Heads up that a negative Covid19 test OR a vaccination card must be presented upon arrival.  Let's have fun, but try to stay safe!
Click here for more info.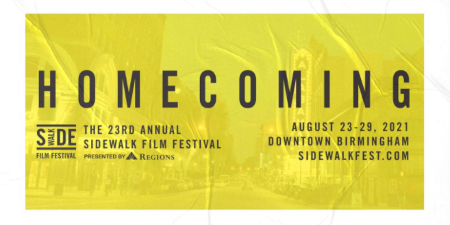 23rd Annual Sidewalk Film Festival!!!
Aug. 23-29
Cost: $35+
At: Downtown Bham (map)
We like to say we don't play favorites in Bham, BUT we can't deny that Sidewalk is our absolute favorite Birmingham Festival! We are so happy that it is back downtown this year! They have such an incredible lineup of films and events spanning most of the week! We could go on and on about why you should attend, but just take our word for it and click the link to get your passes! They have day/weekend/VIP passes available!
Click here for more info.