Weekend Roundup: Feb. 3-6, 2022
World of Wheels Returns for it's 51st Year!
There're quite a few fun events this weekend, but it's definitely a great weekend for auto lovers! Check out all the cool cars at the BJCC along with special guests, characters, and more. Saturday is also Ice Cream for Breakfast Day and two local shops are celebrating! Find out about these and other fun events below!
#RUhappenin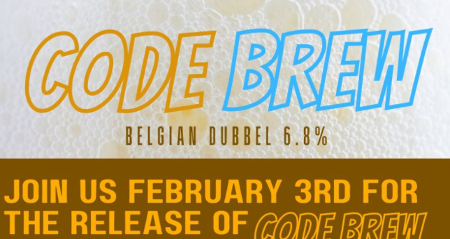 Code Brew Beer Release
Thurs, Feb. 3, 12pm
Cost: Free to attend
At: Avondale Brewing (map)
Join Avondale Brewing  for the release of Code Brew! This 6.8% Belgian Dubbel is dedicated to the UAB Emergency department. $1 from each pint will be donated to the Firehouse Shelter! This is a great chance to have a pint for a great cause!
Click here for more info.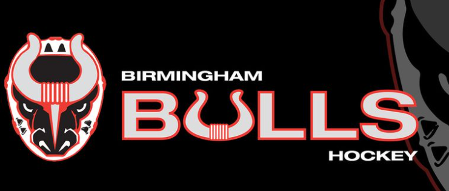 Birmingham Bulls vs Knoxville
Thurs, Feb. 3, 7:30pm
Cost: $15+
At: Pelham Civic Complex (map)
It's Thirsty Thursday at the Bulls Hockey game! Come cheer them on as they play Knoxville. There will be $3 Coors Light and Coors Banquet and college students get in for $10 with their student ID!  This game is sure to be an exciting one! Spend your Thursday night having a blast with your friends!
Click here for more info.

51st Annual World of Wheels
Fri-Sun, Feb 4-6, Times Vary
Cost: $5-$20/Kids 5 & under FREE
At: BJCC (map)
This event has a bit of everything! Back for its 51st year, the World of Wheels will be at the BJCC this weekend! See amazing custom cars and trucks including the DeLorean from Back to the Future, Ricky Bobby's Race Car, and more! There will be daily Hot Wheels races for the kids, and characters from your favorite shows and movies like Transformers! This is an event you don't want to miss!
Click here for more info.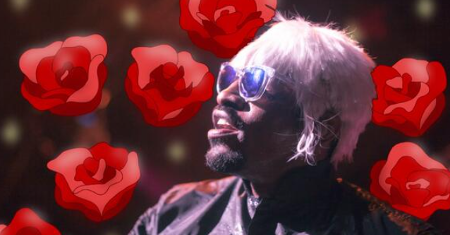 Art After 5: The Love Below // Southern Works of HeART
Fri, Feb. 11, 5:30-9pm
Cost: FREE
At: Birmingham Museum of Art (map)
Stop by the BMA after-hours for a night of art, music, maker activities, and more. DJ Dolly will help celebrate the Love Below with an OutKast inspired DJ set. Snap a Polaroid picture to capture all the love around you. (Shake it!) Enjoy a complimentary wine tasting and complimentary mini cupcakes and chocolate dipped strawberries from K&Js Elegant Pastries! They will also be screening "The Bodyguard."  We LOVE Art After 5!!!
Click here for more info.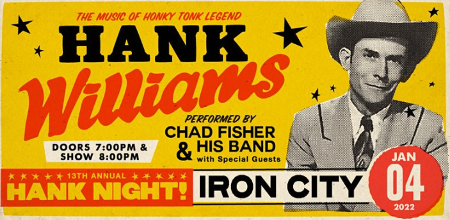 13th Annual Hank Night: Feat. Chad Fisher & His Band
Fri, Feb. 4, 8pm
Cost: $17+
At: Iron City (map)
This event was rescheduled last month, but is happening this week! Iron City is celebrating the legendary Hank Williams Chad Fisher & His Band will be playing Hank Williams songs throughout the night.  Iron City is the perfect venue for some honky tonk fun! Tickets start out at just $17.
Click here for more info.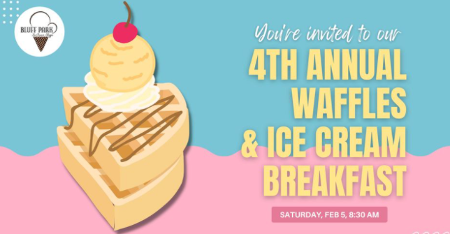 4th Annual Waffles & Ice Cream Breakfast
Sat, Feb. 5, 8-10:30am
Cost: Free to attend
At: Bluff Park Ice Cream Shoppe (map)
You're invited to the 4th ANNUAL WAFFLES & ICE CREAM BREAKFAST in Bluff Park! Roll the family out of bed and come on down to Bluff Park Ice Cream Shoppe for the best day ever--National Ice Cream for Breakfast Day! They can't pass that up and will have waffles on the menu for a fun and delicious breakfast. Breakfast will be served from 8:30 - 10:30 am. We usually see lots of kids (and some parents) in PJs at this event!
Click here for more info.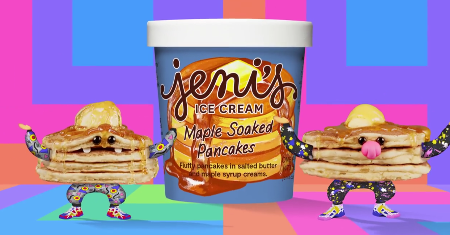 Jeni's Ice Cream for Breakfast
Sat, Feb. 5, 9am
Cost: Free to attend
At: Jeni's Splendid Ice Cream/Online (map)
This Ice Cream for Breakfast Day, Jeni's wants to SET THE WORLD RECORD FOR MOST PEOPLE EATING ICE CREAM FOR BREAKFAST—and they need your help! All you have to do is snap a pic or video of yourself eating ice cream—any ice cream—and share it on your favorite social channel using the hashtag #IceCreamIsBreakfast between 9 a.m. and noon (wherever you live!) on Saturday, Feb. 5. Don't have your fave flavor at home? The Jeni's scoop shops will be open nationwide from 9 a.m. to noon and they will have MAPLE SOAKED PANCAKES ICE CREAM! You can find us at Pepper Place this Saturday morning participating in this delicious event!
Click here for more info.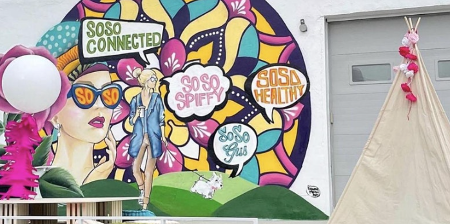 True 40 Pop-Up Workout
Sat, Feb. 5 9-10am
Cost: FREE
At: Oh So Spiffy (map)
True40 is one of Bham's favorite workout studios and they will be doing a pop up at So So Spiffy before the Shopping Shindig on Saturday February 5th at 9am! Bring a yoga mat and a bottle of water and come ready to enjoy a unique mixture of cardio bursts, controlled movements, and dynamic stretching. Then after the workout,  shop So So Spiffy's once a month warehouse sale of their curated home furniture collections. Everything from sofas, rugs, chairs, art and more!
Click here for more info.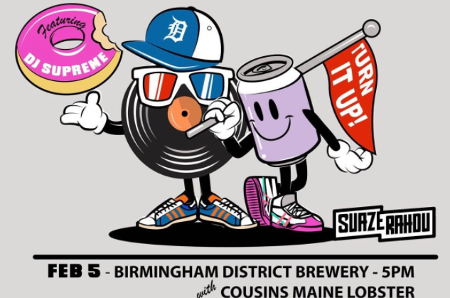 Rhythm & Brews
Sat, Feb. 5, 5-9pm
Cost: FREE
At: Birmingham District Brewing (map)
Head over to Birmingham District Brewing and mix it up with the Shure Shot DJs, DJ Rahdu and DJ Suaze! Cousin's Maine Lobster will be onsite starting at 4pm! This is a fun and FREE event that will be a great opportunity to hangout with your friends and enjoy a few drinks or a flight!
Click here for more info.