Weekend Roundup: Jan. 22-26, 2020
"Boats, boats, boats!"
The Birmingham Boat Show returns this weekend! There's also a Magic Show AND a Cat Show! Check out these fun and sometimes funky events as you plan out your Bham Weekend!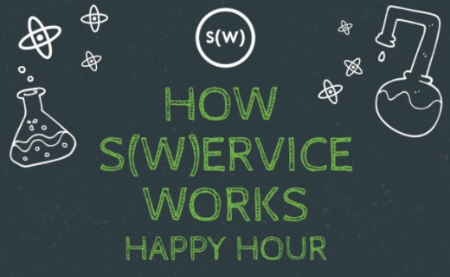 S(w)ervice Happy Hour
Wed, Jan. 22, 5-7pm
Cost: FREE
At: Lumbar (map)
Come enjoy a happy hour on Wednesday sponsored by S(w)ervice! Learn about how S(w)ervice works from the experts during this extended happy hour. This is a local company that provides a much needed service for those who are disabled.  Support local business one drink at a time! Did we mention that it's hosted by our friend, Jermaine Funnymaine Johnson ?!  It's going to be so much fun!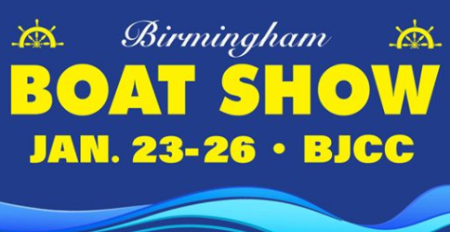 Birmingham Boat Show
Thurs-Sun, Jan. 23-26
Cost: $10/kids FREE
At: BJCC (map)
The Birmingham Boat Show was the first public event ever held at the Birmingham Jefferson Civic Center in 1972. The show is now the Oldest and largest in the State of Alabama. With over 250,000 square feet, the Show highlights the latest in Boats, Motors, Fishing gear, Guides, Outfitters and related outdoor gear. Kids get in FREE and will love seeing all the cool boats and gear! Check the link below for additional discounts!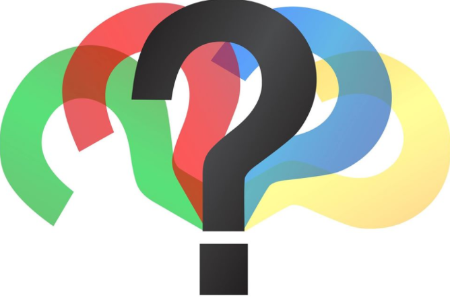 2010's Trivia Night
Thrus, Jan. 23, 7-8:30pm
Cost: FREE
At: Hoover Library (map)
It's a new decade, but how much do you remember about the last one? Bring your friends and compete for fun prizes as you try to recall people, events, and pop culture from the 2010's! It gets competitive so bring your A game!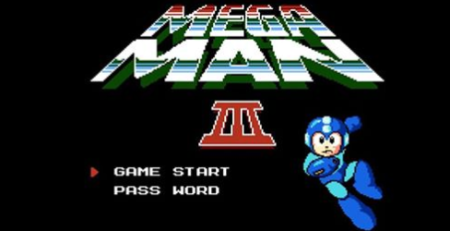 Bit Brigade Plays Mega Man III
Thurs, Jan. 23, 8pm
Cost: $12
At: Saturn (map)
Come check out this live play-through of Mega Man 3 as the score is played live along with the game! Noah McCarthy, takes on the final boss and risks his video game life under the threat of intense peer scorn (or the reward of night-long glory and a credits score). No matter the outcome, Bit Brigade must play on until the deed is done - which it always is - on the first (and last) try.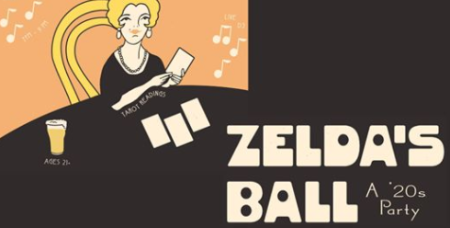 Zelda's Ball (21+)
Fri, Jan. 24, 7-9pm
Cost: FREE
At: Emmet O'Neal Library (map)
Don your flapper gear and pinstripes to celebrate Alabama's favorite wild child and the start of 2020 with a '20s theme party. Find your way through the door hidden behind a bookcase into a roaring speakeasy....shhhhhhhhhhhhhh. We will have live music, dancing, snacks & Straight to Ale beer, a photobooth powered by PhotoBomb, tarot readings, and exhibits about the 1920s to make it somewhat educational!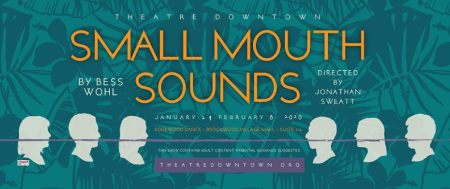 Small Mouth Sounds
Jan. 24-Feb. 8, Times Vary
Cost: $22
At: Edgewood Dance (map)
The sounds of silence. Theatre Downtown presents the Alabama premier of the compassionate comedy Small Mouth Sounds at their temporary new location Edgewood Dance on the first floor of Brookwood Village.  In the overwhelming quiet of the woods, six runaways from city life embark on a silent retreat. As these strangers confront internal demons both profound and absurd, their vows of silence collide with the achingly human need to connect. Filled with awkward humor, Small Mouth Sounds speaks to how we address life's biggest questions when words fail us.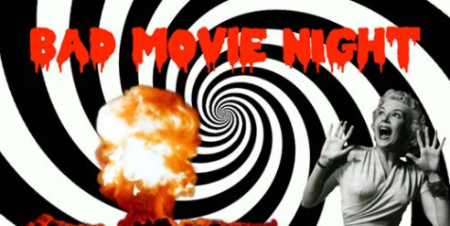 Bad Movie Night
Fri, Jan. 24, 8:30pm
Cost: FREE
At: Sidewalk Cinema (map)
All we can tell you is that it's a movie and it's bad. Join Sidewalk for their monthly celebration of bad cinema. Surprises + Fun and it's free! You never know what's going to be shown, but it will be terribly fun! Bring friends and RSVP via the link below. (Oh, and it's NOT "CATS," but that's on it's way…)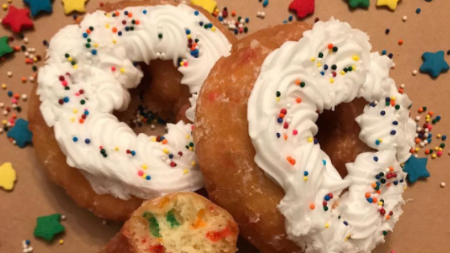 7yr Anniversary at Heavenly Donut Co.
Sat, Jan. 25, 7am-11pm
Cost: FREE to attend
At: Heavenly Donut Co. (map)
Celebrate 7yrs of our friends at Heavenly Donut Co.! Get a FREE Glazed donut with any coffee drink purchase! Kids and adults can enjoy Face Painting and Balloon Creations from 8-10am! Entry to win prizes with any purchase! Star Wars Trivia Night kicks off from 7-9:30pm. (tickets available on their website) Bring family and friends to grab a box of donuts, your favorite coffee drink, or to compete in Trivia Night!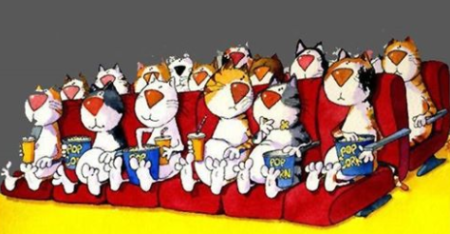 Birmingham Cat Show
Sat-SUn, Jan. 25-26, 9am-5pm
Cost: $9
At: Zamora Shrine (map)
It's the annual cat show at the Zamora Shrine. Come see up to 225 purebred and household pet cats compete for top cat in 8 different judging rings throughout the day. Meet Devon Rex, Sphynx, Bengals, Maine Coon Cats, Persians, Siamese, Ocicat, Tonkinese and as many as 30 more breeds. You can sit and watch cats on the judging table, or walk around and visit with the cats between judging. No matter what time you arrive you're bound to see your favorite breed being judged. There will be lots vendors with cat-related items for sale. Local rescue and humane organizations will have cats and kittens available for adoption.

Salamander Festival
Sat, Jan. 25, 2-5pm
Cost: FREE
At: Shades Valley Church (map)
The 2020 Salamander Festival is an indoor event starting at 3pm, but there's an outdoor hike that takes place at 2pm. See real salamanders, frogs, turtles and other critters, make arts and crafts, Rob Angus and his band, Over The Hillbillies, dancing with Edgewood Dancing company, special snacks, microscopes, the salamander story, and much more!.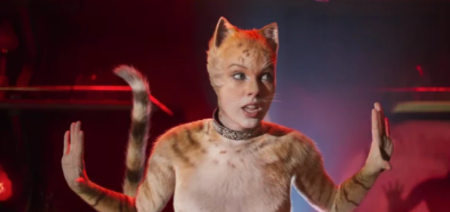 Cats
Jan. 25-29, Times Vary
Cost: $7.75
At: Sidewalk Cinema (map)
Is CATS the worst film of 2019 or the work of insane genius? Come see the likely-to-become-a-cult-classic musical explosion and be the judge. Beware, heckling encouraged. Sorry (not sorry). A tribe of cats called the Jellicles must decide yearly which one will ascend to the Heaviside Layer and come back to a new Jellicle life. Show up and prepare to heckle!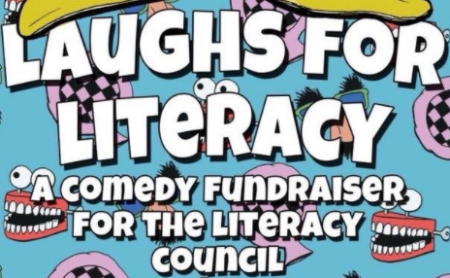 Laughs for Literacy
Sat, Jan. 25, 8-11pm
Cost: $15 in adv.
At: Saturn (map)
Laughs for Literacy: A Fundraiser To Support The Literacy Council at Saturn Birmingham! Goulash Comedy is teaming with The Literacy Council of Central/North Alabama for a comedy benefit show to help the council raise money for the upcoming year. The comedy show is called Book Report! Comedians are assigned a book they have never read and then give a report on the book. There will be a panel of "teachers" who grade each comedian's book report. The winner takes home a prize!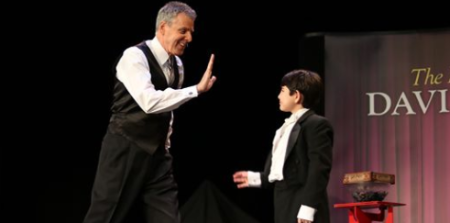 Magic Moments Magic Show
Sun, Jan. 26, 2-5pm
Cost: $30/$25 kids
At: Lyric Theatre (map)
The 2nd annual Magic Moments Magic Show will take place this Sunday at the historic Lyric Theatre in Downtown Birmingham. Get ready for a fun-filled family night where you'll watch the magic come to life! Magician David Garrard will be joined by several previous magic moment recipients on stage for a night you'll never forget. You'll start your evening in the lobby of the historic Lyric Theatre for the family pre-party from 2 - 3 p.m. They'll have children's activities including a photo booth, face painting, balloon art and more! We went last year and had an AMAZING time!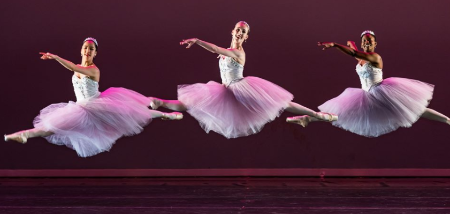 Alabama Dance Festival Showcase
Sun, Jan. 26, 2:30-4:30pm
Cost: Free to attend
At: Dorothy Jemmison Day ASFA (map)
This Dance Showcase rounds out an entire Festival weekend. Come watch performances by schools, studios, companies and colleges across the region. They will be showcasing what they've learned. Don't miss out!