Weekend Roundup: July 4th Weekend 2022
Happy 4th of July, Birmingham!
We can't believe it's already July 4th Weekend!  Before the World Games descend on Birmingham, let's take a long weekend to celebrate our country's independence!  Here are a few fun and festive events happening this weekend, culminating in the annual Thunder on the Mountain Fireworks display on Monday night!  Check out all the fun below! We hope you have a safe and fun 4th of July weekend!
#RUhappenin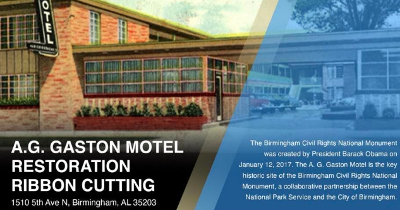 A.G. Gaston Motel Ribbon Cutting
Thurs, June 30th, 10am
Cost: FREE
At: A.G. Gaston Motel (map)
Join the Birmingham community this Thursday at 10am for the ribbon cutting of the A.G. Gaston Motel! This motel was a  key historic site of the Birmingham Civil Rights Movement! It was established as a national landmark in 2017 and is part of the larger Civil Rights Monument in Birmingham dedicated by the National Park Service. Don't miss this historic day as the motel unveils its restoration!
Click here for more info.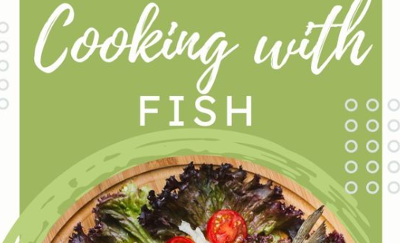 Cooking with Fish
Thurs, June 30, 6pm
Cost: FREE
At: Hoover Library (map)
"In the hands of an able cook, fish can become an inexhaustible source of perpetual delight." Learn tricks-of-the-trade in cooking and serving delicious fish dishes at home! Chef Pamela Louden will give a presentation on the many ways you can liven up your dinner table with seafood.
Click here for more info.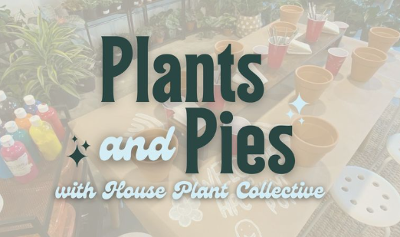 Plants & Pies
Thurs, June 30, 7pm-9pm
Cost: $35
At: Post Office Pies Mtn Brook (map)
Join in on June 30th for the first-ever Plants + Pies! Thursday night at 7 PM you can paint a terracotta pot and pot a new tropical plant at Post Office Pies!  The class includes: 4" houseplant, a 4" terracotta pot, potting material, paint supplies, 10% off purchase coupon to House Plant Collective, and a FREE beverage from Post Office Pies!
Click here for more info.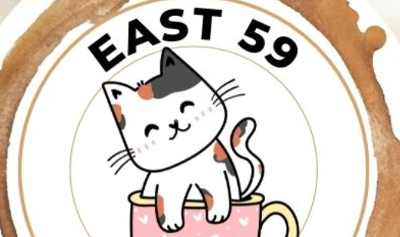 Story Time at Lee Branch
Fri, June 30th, 10:30am
Cost: FREE
At: East 59 Cafe (map)
Hang with Ms. Alyssa and enjoy stories & songs for all ages at East 59's Lee Branch location! This is a great event for kids!  Be sure to grab some delicious food and a cup of coffee while you are there. It's going to be a fun, family friendly, time for sure.
Click here for more info.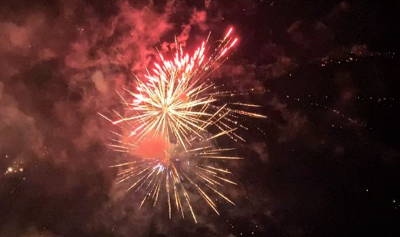 July 1st Friday & Fireworks
Fri, June 30th, 5pm
Cost: FREE
At: Main St. Calera (map)
Head on down to downtown Calera for July's First Friday and Fireworks Extravaganza! Brought to you by the merchants and sponsors of Main Street and Calera Parks and Recreation, this event is sure to explode with great vendors, food, music, kids activities, and fun for the whole family! First Friday normally wraps up at 8PM, but for July, you are invited to stay late! Bring a chair and get comfortable in or around the Calera Courtyard for an exciting fireworks display beginning shortly after the sun fully sets.
Click here for more info.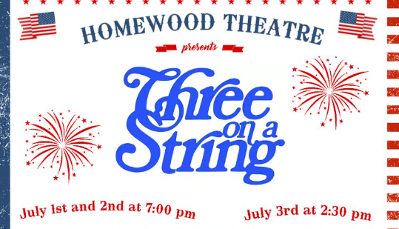 Three on a String
Fri-Sun, June 30-July 3, time vary
Cost: $20
At: Homewood Theatre (map)
Three on a String is coming back to Homewood Theatre in Homewood, Alabama! These guys sold out 2 shows at Homewood Theatre in April. And now they're back! They play bluegrass and folk music... and keep you laughing while they do it! Jerry Ryan, Bobby Horton, Brad Ryan, and Andy Meginniss, provide "Good, Clean, Hilarious Entertainment." Four entertaining guys who have learned their craft and enjoy sharing their talents with each new audience.
Click here for more info.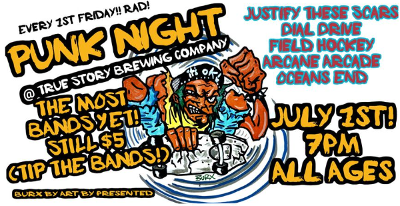 First Friday Punk Night
Fri, June 30th, 7pm
Cost: $5
At: True Story Brewing (map)
1st Friday Punk Night at True Story Brewing is bigger than ever with 5 bands! This is an ALL AGES show and is just five bucks! Be sure to enjoy some food and drinks from True Story while you are there! A Punk Night wouldn't be complete without some great local artists!  Shop for unique works of art as you rock out to some punk music!
Click here for more info.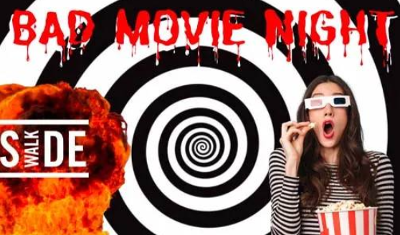 Bad Movie Night
Fri, June 30th , 8:30pm-10pm
Cost: FREE
At: Sidewalk Cinema (map)
All we can tell you is that it's a movie and it's bad. Join our friends at Sidewalk Cinema  for this monthly celebration of bad cinema! As always there will be both surprises and fun in store! It's FREE and at one of the coolest venues in town! Be sure to get some concessions and take advantage of the cinemas full bar! Heckling is encouraged!
Click here for more info.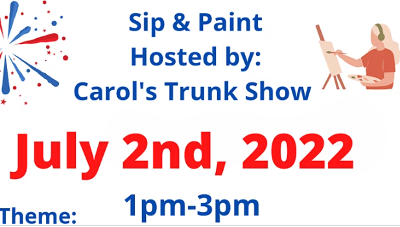 Fourth of July Weekend Sip & Paint
Sat, July 2nd, 1-3pm
Cost: $25 (includes supplies & 1 drink) 21+
At: Bham District Brewing Co. (map)
Wear your red, white, & blue and paint a patriotic masterpiece this Saturday at District Brewing Co. ! The admission includes all of your supplies and a drink if you're 21+! The patio area at District is so cool.  This is a great event to attend with friends!
Click here for more info.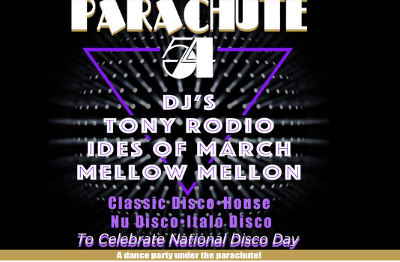 Parachute 54:Disco Dance Party
Sat, July 1st, 9pm
Cost: $5
At: Saturn (map)
In honor of National Disco Day on July 2nd, you can burn up the dancefloor at Saturn with a dance party under the parachute! They'll be playing Classic Disco, Nu Disco, Italo Disco and Disco House. Join DJs Tony Rodio, Ides of March and Mellow Mellon, and shake your groove thang and whatever else you got to shake...
Click here for more info.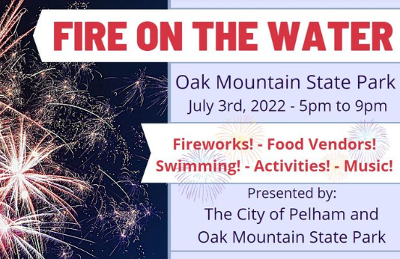 Oak Mountain Fire on the Water
Sun, July 3rd, 7am-9pm
Cost: $5-$15
At: Oak Mtn State Park (map)
Join in on Sunday for the City of Pelham's Annual Fireworks Show at Oak Mountain State Park! *RAIN OR SHINE* Gates open at 7:00 am! Spend the day hanging at the beach and grab a good spot as you wait for the show to start! Both gates will CLOSE to the public at 7:00 pm SHARP. Please plan accordingly! Fireworks go off at 9:00 pm Sharp! Flip Side Watersports Is joining us again this year for more jaw-dropping wake boarding entertainment from 5pm to 8pm! They will hit the water at 5pm and their show is always a crowd pleaser! From 4pm to 7pm admission is $15 per vehicle (Pelham residents will only be charged $10). Carpool and save!
Click here for more info.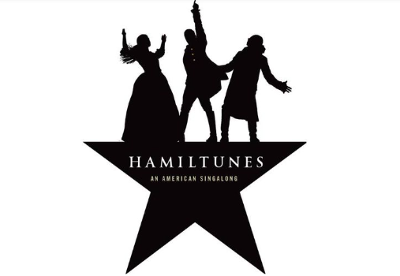 Hamiltunes Singalong
Sun, July 3, 6pm-9pm
Cost: $10
At: Wild Roast (map)
The creators of Hamilton (winner of 11 Tony Awards) have given Wild Roast permission to host a singalong in an effort to spread the good word of theatre even farther, and as a token of appreciation of their fans. Outside beverages will be allowed. When you arrive you'll be able to sign up to sing specific parts onstage! Don't waste your shot to shine!
Click here for more info.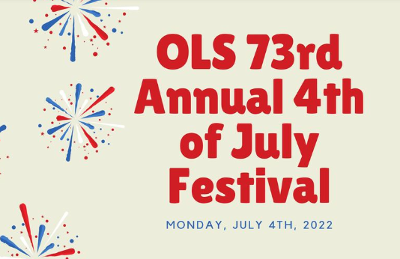 OLS 73rd Annual 4th of July Celebration
Mon, July 4th, 8am-3pm
Cost: FREE
At: Our Lady of Sorrows (map)
The 73rd Annual 4th of July Festival is here! It's also the return of the Trash and Treasure rummage sale! There will be  raffle tickets, plates of food, games, and more! BBQ plates are just $10!  This event has become an annual tradition for so many families in our community!
Click here for more info.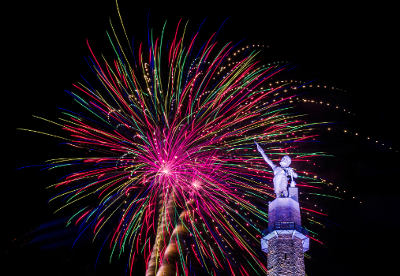 Thunder on the Mountain
Mon, July 4th,
Cost: FREE
At: Anywhere with a great view of Vulcan
It wouldn't be July 4th without a spectacular Fireworks display atop Red Mountain! Watch as Vulcan is illuminated in the glow of a dazzling array of colors! It seems like everyone has a favorite spot to view from, but some of the popular ones are downtown Homewood, the UAB Green, and 5pts South!  Bring your chairs and tune in on the radio to listen to a patriotic medley of music that syncs up to the fireworks!  This event brings together our entire community!
Click here for more info.