Weekend Roundup: Nov. 12-15, 2020
Friday the 13th is here!
This weekend brings us another Friday the 13th! This one is special though, since 11yrs ago, Amber and I met on Friday, November 13th! Needless to say, we consider it SUPER lucky! Check your superstitions at the door and have some fun this weekend at these great events!
#RUhappenin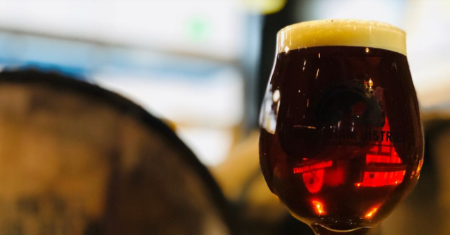 District Brewing 2yr Anniversary Party
Now-Sat, Nov. 12-14, Times Vary
Cost: Free to attend
At: Birmingham District Brewing Co. (map)
We can't believe Birmingham District Brewing Co. is already celebrating 2yrs! They've been having a weeklong party and want you to join in! Check their schedule for "Friends" trivia, special beer releases, and more! Some of the new brews include "Imperial Gilded Lady" and "Imperial Black Flower!"  Enjoy them with your friends on the patio!
Click here for more info.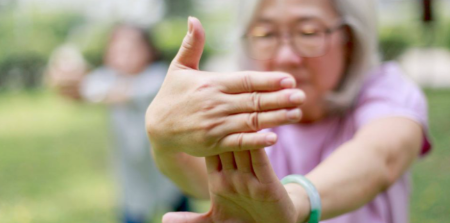 T'ai Chi in the Gardens
Thurs, Nov. 12, 4pm
Cost: $10
At: Bham Botanical Gardens (map)
Need to relax a bit and get some fresh air? Join in and explore this art of well-being. T'ai Chi is the slow motion martial art originating in China. In this course, teacher Stephen Guesman will convey the profound physical, mental and spiritual benefits that result from regular practice of disciplines such as T'ai Chi. The weather should be great, so don't miss out!
Click here for more info.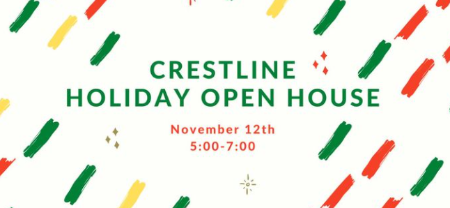 Crestline Holiday Open House
Thurs, Nov. 12, 5pm
Cost: FREE
At: Crestline (map)
Shop local at the Crestline Holiday Open House! This is an annual event sponsored by the Mountain Brook Chamber to help promote local businesses! You'll be able to check some items off of your Christmas list while supporting local businesses who've been struggling during the pandemic.  It's a win/win!
Click here for more info.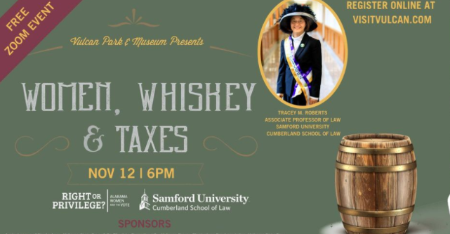 Women, Whiskey, & Taxes
Thurs, Nov. 12, 6pm
Cost: FREE
At: Online
Join Tracey Roberts, Samford University Law Professor, as she tells the complex and interlocking history of women, whiskey and taxes! Before they became the most famous pair of advocates in the U.S. women's suffrage movement, Susan B. Anthony and Elizabeth Cady Stanton were temperance activists! This is a FREE event you can Zoom from anywhere! So pour yourself a couple of fingers of whiskey and get ready to learn some fun historical facts!
Click here for more info.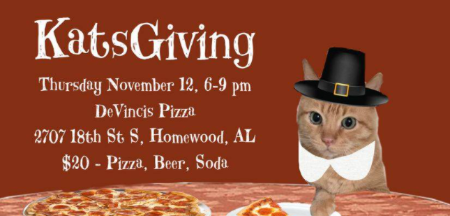 Katsgiving
Thurs, Nov. 12, 6pm
Cost: $20
At: DeVinci's Pizza (map)
Join Kitty Kat Haven for Pizza, Beer, Soda and Fun! Buy your ticket and enjoy Pizza and Beer, while you browse the Marketplace and bid on items in the silent auction! This is all happening at DeVinci's Pizza in Homewood! Your ticket fee will go 100% towards helping Kitty Kat Haven & Rescue continue to save more lives! What a fun and delicious way to help these adorable cats!
Click here for more info.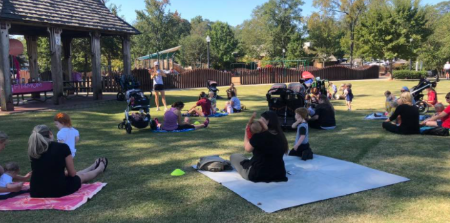 Storytime, Activities, & Coffee
Fri, Nov. 13, 10:45am
Cost: FREE
At: Central Park Homewood (map)
This Friday morning get the kids out and about at Central Park in Homewood! They are hosting storytime and activities for kids while having coffee for parents! This is a great way to keep your kids engaged. This is a FREE event and kicks off at 10:45am! (You should probably get some Hero Donuts beforehand, though!)
Click here for more info.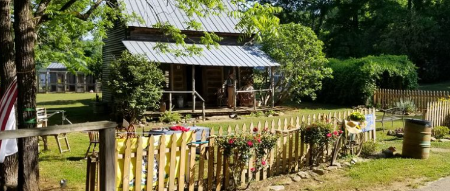 Christmas in the Hollow
Fri-Sun, Nov. 13-15
Cost: $8
At: Homestead Hollow (map)
Enjoy Christmas in the Hollow this weekend just up the road in Springville! You can take wagon rides, shop for arts and crafts, get a photo made with Santa, and enjoy some funnel cakes!  This should definitely get everyone into the Christmas spirit! Check the link for all the details!
Click here for more info.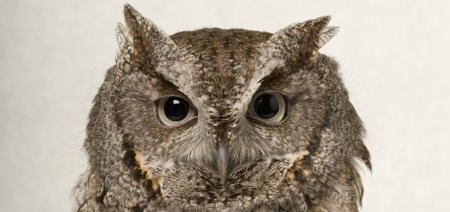 Wildlife Meet & Greet
Sat, Nov. 14, 12-12:45pm
Cost: FREE
At: Ruffner Mtn. (map)
This event is sure to be a hoot! Join Ruffner Mountain and their Animal Ambassadors for a wildlife meet & greet. Learn about native animals that live in our forests and rivers and discuss adaptations that help them survive. Pre-register here to guarantee your spot as capacity will be limited to enforce social distancing guidelines. Kids go wild over seeing these cool native animals!
Click here for more info.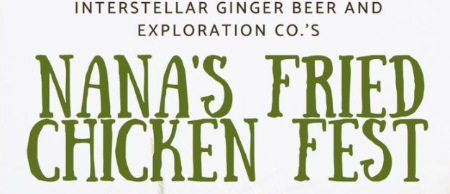 Interstellar Harvest/Nanna's Fried Chicken Festival
Sat, Nov. 14, 2-9pm
Cost: $1
At: Interstellar Ginger Beer Co. (map)
Join Interstellar for the 3rd Annual Interstellar Harvest Festival and Nana's Fried Chicken Fest on November 14th! They will have crafts and vendor booths set up from 2:00 to 6:00, with a fried chicken festival at 2:00! Come out and do some local Christmas shopping and enjoy a delicious ginger beer too!
Click here for more info.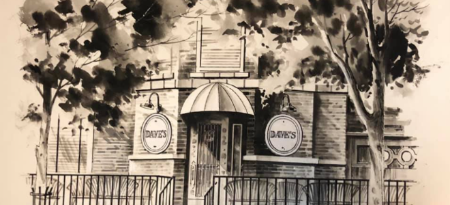 Dave's 25th Anniversary!
Sat-Sun, Nov. 14-15
Cost: Free to attend
At: Dave's Pub (map)
Can you believe Dave's Pub has been in Bham for 25yrs?! Come celebrate this fixture of 5 Points this Saturday and Sunday! Enjoy drink specials and fellowship with friends as you share your fondest, or haziest, memories of Dave's!  We wish them many more years to come!
Click here for more info.

Cars & Tacos Meetup
Sun, Nov. 13, 2pm
Cost: FREE
At: Sol Azteca Vestavia (map)
Cars and Tacos is back! This weekend you can head over to Sol Azteca in Vestavia to hangout with some car enthusiasts and check out some cool custom rides! Be sure to bring some friends and grab some tacos while you're there! This also makes for a great father/son outing!
Click here for more info.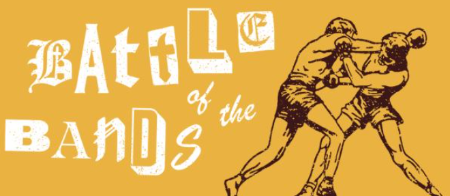 Battle of the Bands
Sun, Nov. 15, 3pm
Cost: $5
At: Avondale Brewing Co. (map)
Don't miss the Rock Band League bands take the stage at Avondale Brewing Company on Sunday to compete in our Fall 2020 Battle of the Bands, presented by Browning Trail Cameras. Doors open at 2:30pm and the performance begins at 3:00pm. There is a $5 entrance fee to the event, which goes directly to support our host venue. Rock Band League (RBL) is the best way for musicians ages 10 and up to get plugged in to some serious training and performing opportunities in Birmingham, AL. Bands practice over the course of 12 weeks with professional coaches from Mason Music and then perform both well-known and original music at major music venues around town.
Click here for more info.