Sidewalk Film Bad Movie Marathon!
Bad Movies for a Great Cause!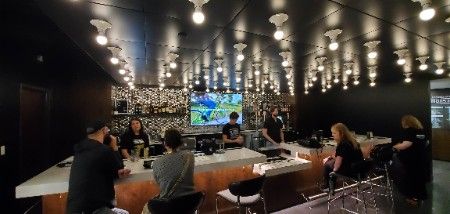 "May the odds be ever in our favor!"
At least that's our mantra heading into the Sidewalk Bad Movie Marathon on December 4th!  We will be competing against friends and fellow Sidewalk Film enthusiasts to see who can last the longest in a Bad Movie Marathon.
This event will take place at the Sidewalk Cinema and is a fundraiser for Sidewalk Film Festival! We have personally pledged to raise $5k through individual and corporate sponsorship ! Some of our most cherished Birmingham memories involve volunteering, attending, and covering Sidewalk Film Fest!  
Sidewalk got hit with a triple whammy because of Covid-19. The festival had to be modified, seating in cinemas is limited, and nonprofits in general are struggling to raise funds. This is a fun way to help save Sidewalk!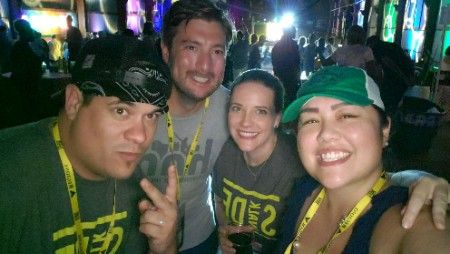 How does it work
Between now and December 4th, we will be using our platforms to help raise $5k for Sidewalk Film Festival! You can make a contribution to team Russell & Amber (aka Team Happenin's) HERE! (Be sure to use the drop down to select "Amber & Russell" so we can track who donated to our team!)  We will also be searching for corporate sponsors!  Donations are Tax Deductible!!!
The twist is that we will also have "Hunger Games" style sponsorship opportunities coming up! These will include nap breaks, veto power over films, caffeinated beverages, and even control of the thermostat in the theater!  Each of these will provide us with an edge over the competition. We hope to win, but the main winners will be Sidewalk Film Festival, Sidewalk Cinema, and all of you who'll get to enjoy the amazing things our Sidewalk Fam has planned!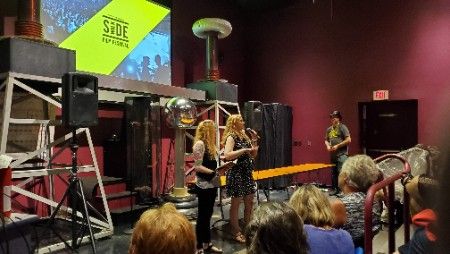 More than just movies!
We're all familiar with Sidewalk Film Festival and the Sidewalk Cinema, but they do SO much more than that!
"Sidewalk Film works in the Birmingham metro area to help filmmakers of all ages and levels of experience learn valuable new skills, hone their craft and make meaningful connections to further their careers and to build media literate, knowledgeable audiences who appreciate the art of cinema.
This is achieved through numerous free and low cost education and outreach programs like the Sidewalk Youth Board, SHOUT About Youth summer program, the Black Lens Filmmaker Grant and Membership program, Sidewalk Salon, Sidewalk EDU virtual workshops, Screentalk Documentary Film Series, Book + Film Club, and many more!"
Specifically, the Sidewalk Youth Board is a program that brings together high school students from across the Birmingham area to learn about film making with hands-on experience and guidance from industry professionals. The students write, produce, film, and edit their very own short film that premieres at the Sidewalk Film Festival every year!




"How can I help?"

We mentioned earlier that you can make a direct donation to Team Amber & Russell by clicking on the link HERE.  If you'd like to be a corporate sponsor, shoot us an email at info@happeninsintheham.com with the subject line "Sidewalk Sponsorship!"  We'll be giving shout outs to our corporate sponsors and to friends and followers who donate to our team!
If you think you can outlast us, you can participate yourself, but there are limited spots available. Find out more about doing a "half marathon" to raise $2.5k or a "whole marathon" to raise $5k HERE.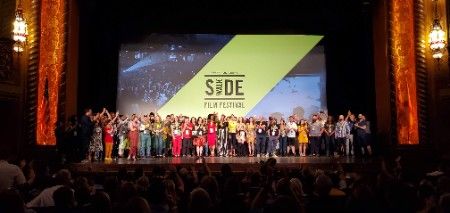 To our Sidewalk Family!
Y'all are amazing! Both the full time Sidewalk staff and volunteers have worked tirelessly to keep Sidewalk going in the face of all 2020 has thrown our way! They successfully pulled off a modified Drive-In Style Festival and have ensured that the Sidewalk Cinema is a safe environment during the pandemic! Their creativity and dedication never ceases to amaze us! A HUGE THANK YOU to all of them!  We love y'all, and have no doubt that our followers, friends, and family will show their love by helping us meet and surpass our goal of $5k!
We've already had people donating on our behalf and we look forward to sharing this endeavor with you!

HAPPY SIDEWALK!!!
-Russell & Amber H.