Weekend Roundup: Nov. 5-8, 2020
Remember, remember, the 5th of November…
November is already here and it just so happens to be Guy Fawkes Day this Thursday! We have some great events to cover this weekend that you will not want to miss! It's still Fall, but the Christmas season is now in full swing! Check out the events below!
#RUhappenin
Dia de los Muertos
Now-Nov.8, 5-9pm
Cost: FREE
At: Pepper Place (map)
Join Bare Hands and help celebrate life at the Día de los Muertos Festival Numero 18 for a whole week at Pepper Place! This is ongoing and open daily from 5-9pm. They are honoring the heart of the festival this year by offering the altar installation for free to the community. They will not have the traditional large festival in the streets, but invite you to come by and join in as everyone will celebrate the lives of those that came before and those that are still with us with the memorial roll call, a nightly food vendor, and most importantly the altars erected to those we have loved, including the featured altars, public and pet altars.
Click here for more info.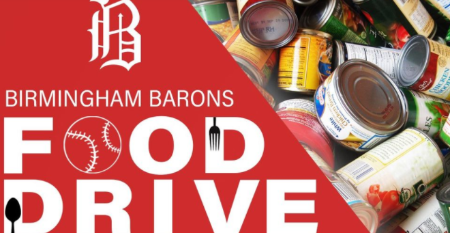 Birmingham Barons Food Drive
Mon-Fri, Now-Nov. 20, 10am-4pm
Cost: Free
At: Regions Field (map)
The Barons are joining forces with the Community Food Bank of Central Alabama to help bring food to over 60,000 children, veterans, seniors, and neighbors at risk of hunger in Alabama. Join in the fight by participating in the Barons canned food drive. Drop off items at the Barons Sports Depot Monday-Friday from 10am-4pm and follow the drive on social media for chances to win prizes!
Click here for more info.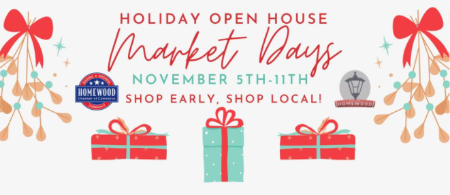 Homewood Holiday Open House
Nov. 5th-11th,
Cost: FREE
At: Downtown Homewood (map)
Kick off the holiday shopping season with the Homewood Chamber of Commerce and Downtown Homewood's Market Days! While the pandemic has shifted the ability to host a traditional Holiday Open House, you can experience the fun of the Holidays over a series of days shopping in Homewood. There will be live performances each day on 18th Street at 3PM! If you send 3 receipts from Homewood businesses to the Homewood Chamber you will be entered to win a Homewood gift card every day during Market Days!
Click here for more info.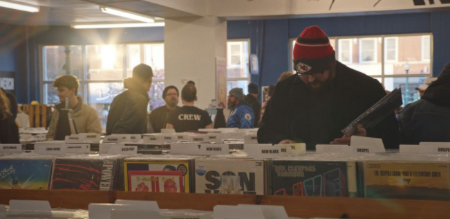 Vinyl Nation
Thurs, Nov. 5, 5pm/6pm/7:30pm
Cost: $9-$10.75
At: Sidewalk Cinema (map)
With the popularity of record stores here in Birmingham, like Seasick Records, this film is very relevant to our city! Vinyl Nation is a documentary which digs into the resurgence of vinyl records, the diversification of vinyl fans, and what this all means for America today. Enjoy a great, socially distanced, screening at the Sidewalk Cinema just below the Pizitz Food Hall!  There are three showtimes, but tickets are limited and selling fast! Don't miss out!
Click here for more info.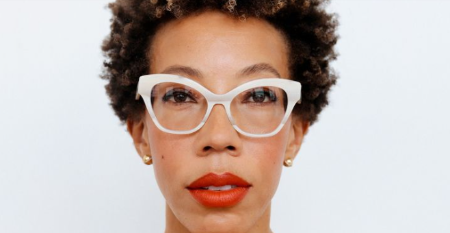 Amy Sherald: In Conversation
Thurs, Nov. 5, 5-6pm
Cost: FREE
At: Online
The BMA is pleased to welcome American painter Amy Sherald as the speaker of its Annual Chenoweth Lecture. Join in for a virtual conversation with Sherald led by Curator of Contemporary Art Hallie Ringle and the BMA Manager of Public Programs, Carey Fountain. Be a part of the conversation as they discuss Amy's work, studio practice, her iconic portraits ,and her piece All Things Bright and Beautiful, which is currently on view in the BMA Pizitz Gallery as a part of the All Things Bright and Beautiful exhibition. When you register for the talk you will have the opportunity to shape the discussion by submitting a question! Questions will be compiled and included in the talk with the iconic portrait artist.
Click here for more info.
Outside the Lines ft. Margaret Morrison
Thurs, Nov. 4, 7-8pm
Cost: FREE
At: Online
Prepare for a night to decompress and color, while enjoying a great conversation and Q&A with guest artist Margaret Morrison, whose work is featured in the Fall 2020 AEIVA exhibition "A La Carte". Work on your own favorite coloring page, or use one of the ones created from the work of Margaret Morrison. This is relaxing fun you can have from the comfort of your home! A link for Zoom and coloring pages will be provided upon completion of the registration form and an email confirmation will be sent the day of the event.
Click here for more info.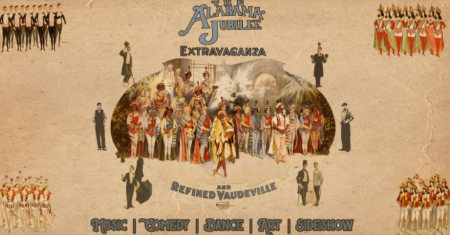 Alabama Jubilee Vol. 5
Thurs, Nov. 5, 7pm
Cost: FREE
At: TrimTab Brewing (map)
The Alabama Jubilee returns with the fifth installment of the show hosted, as always, by Steel City Jug Slammers at Trimtab! Enjoy live music by Steel City Jug Slammers and Bumpingums. Watch some belly dancing with Hannah Ali! Laugh with comedians Alice Whatley and Mario Carreras!  You can also shop local art by Acrylic Anomalies and Art By Burx! Don't forget to try a refreshing draft from the tap while you're there!
Click here for more info.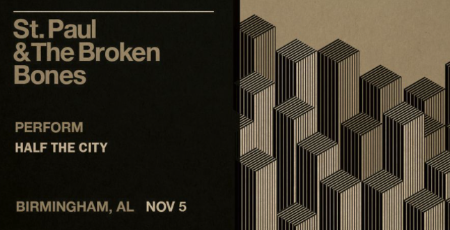 An Evening with St. Paul & the Broken Bones
Thurs, Nov. 5, 8-11pm
Cost: $39+
At: Avondale Brewing Co. (map)
The insanely famous St. Paul & the Broken Bones return to their hometown for a night of musical celebration! They will be at Avondale Brewing performing their hit album "Half the City!"  These guys always put on an incredible show! Tickets will be limited due to Covid19 protocols, so get them while you can! If you haven't see these guys live, this is your chance!
Click here for more info.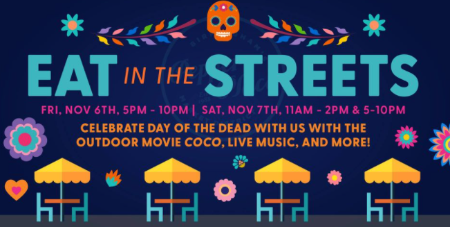 Eat in the Streets
Fri-Sat, Nov. 6-7, 5-10pm/11am-2pm
Cost: Free to attend
At: Pepper Place (map)
Eat in the Streets is celebrating Dia de los Muertos in Pepper Place! Grab a table in the blocked off street and be sure to eat some of the delicious food that will be available!  Sip a cocktail or two from The Lumbar as you enjoy live music! This event is located right near the Dia de los Muertos celebration!
Click here for more info.
Bark in the Park
Sat, Nov. 7, 9am-2pm
Cost: FREE
At: Veteran's Park Alabaster (map)
Shelby Humane is happy to present the 2020 Bark in the Park! The event is a Veterans Park in Alabaster and will feature a lot of fun activities! Dine on some delicious food from the Food Trucks that will be onsite. Shop some local vendors and enter your pet into the Pet Costume Contest! Santa will also make an appearance and there will be a Kid's Zone as well as Adoptable Pets looking for their fur-ever home!
Click here for more info.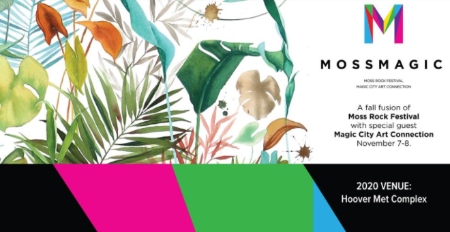 "Moss Magic"
Moss Rock Festival + Magic City Art Connection
Sat-Sun, Nov. 7-8, 10am-5pm
Cost: $10 per day or $15 weekend pass
At: Hoover Met Complex (map)
MOSS MAGIC will bring together artists from two of Birmingham's favorite outdoor festivals for a record collaborative year featuring over 125+ juried exhibiting artists. Many works of art to be shown are inspired or influenced by nature and use recycled, upcycled, or repurposed items, among other works featuring natural materials like wood, clay or glass.  In addition to the vendors there will be food, music, giveaways, and much more! Oh, and don't forget about the famous Beer Garden!  We always look forward to this event!
Click here for more info.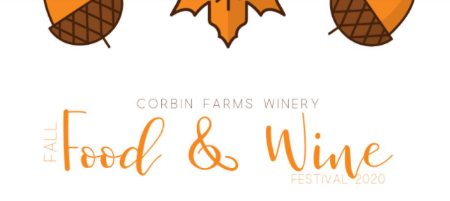 Fall Food & Wine Festival
Sat, Nov. 7, 11am-7:30pm
Cost: $15
At: Corbin Farms Winery (map)
It's back! The much anticipated annual Fall Food & Wine Festival is this Saturday! This year it will be packed with loads of fun! They will have local vendors, food trucks, live music, great food and wine from CFW, and some great gear to help kick off fall in the South! The winery will be open only for this event, and you must have a ticket. Due to social distancing, pre-purchased tickets are highly encouraged!
Click here for more info.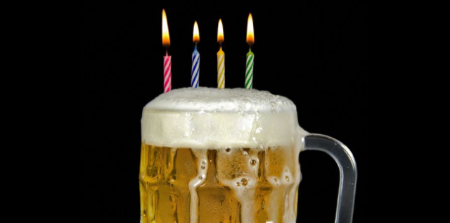 Ghost Train 4yr Anniversary Throwdown
Sat, Nov. 7, 12pm-12am
Cost: FREE
At: Ghost Train Brewery (map)
Help Ghost Train celebrate turning four! They keep getting better with every passing year. Head to the brewery to enjoy over 15 one-off beer releases, new specialty bottle releases, great food, live music, and an overall good time! It's going to be awesome!
Click here for more info.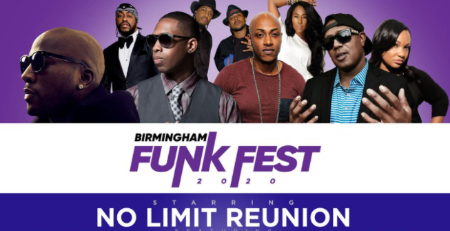 Funk Fest Birmingham 2020
Sat, Nov. 7, 1pm
Cost: $45+
At: Legion Field (map)
Funk Fest returns to Birmingham! Legion Field will play host to this funky music festival. This year's headliner is No Limit Reunion and there will be plenty of other artists bringing their talents to the stage! Get your tickets in advance and get ready to get down!
Click here for more info.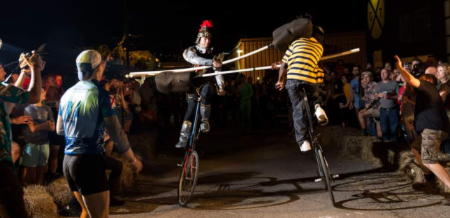 Tall Bike Joust VIII
Sat, Nov. 7, 7-10pm
Cost: FREE
At: Online
Help support Redemptive Cycles! Tall Bike Joust back for its 8th year, and this time you can watch it for free from wherever you wish! 16 fearless jousters, nay, warriors on tall bikes will battle it out for your entertainment, and ultimate bragging rights. Got a favorite Jouster? Show them your support through their donation page!  Check the link for the 4 watch party locations around town!  This will be EPIC!
Click here for more info.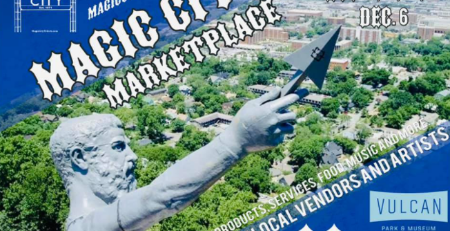 Magic City Marketplace
Sun, Nov. 8, 1-5pm
Cost: $4-$6
At: Vulcan Park & Museum (map)
Enjoy the Magic City Marketplace with an incredible view of the Magic City! Head to Vulcan and shop local vendors. Be sure to check out the museum and ride, or climb, up to the top of Vulcan for an amazing vista of Birmingham! This is a great way to relax on your Sunday afternoon!
Click here for more info.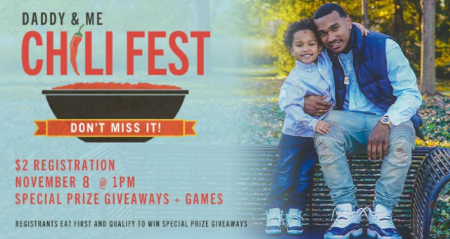 Daddy & Me Chilifest
Sun, Nov. 8, 1-3pm
Cost: $2
At: Avondale Park (map)
Calling all fathers! Gather your children and come out to join a group of men aiming for the same thing as you, being a better and stronger father. Pastor Damon and SimpleFolk Network have planned this special day for men to connect with their children in a safe environment while meeting other fathers. Come and eat good, play hard, and receive the encouragement that every father needs from time to time. Some attendees will even walk away with $50 gift cards!  Don't miss this uplifting experience. It is a great way to spend Sunday afternoon with the kids!
Click here for more info.