Weekend Roundup: Oct. 15-18, 2020
There's a lot in store for this beautiful Fall weekend!
The weather this weekend looks like it will be "perfectly splendid" (I'm watching a lot of "Haunting of Bly Manor"! lol) for the events which are scheduled! There are two that focus on female leaders in the local food and beverage industry and some spooktacular Halloween events to check out!  See which one's you'd like to attend!
#RUhappenin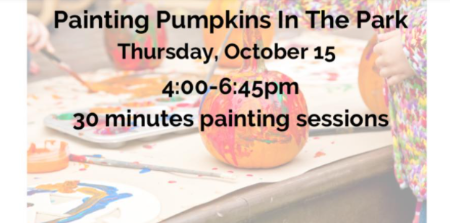 Painting Pumpkins in the Park
Thurs, Oct. 15, 4-6:45pm
Cost: $2
At: Pelham City Park (map)
Get the kids and get ready to create! For just $2 they can pick out a pumpkin to paint and decorate! This event is for ages 5-12yrs old. All children must be supervised by an adult. This is a great chance for them to enjoy a Halloween themed event and have something fun to take home with them!  We are sure they will love it!
Click here for more info.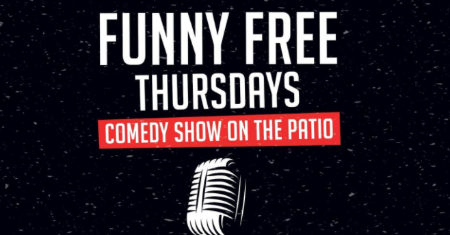 Funny Free Thursdays
Thurs, Oct. 15, 7-9pm
Cost: FREE
At: Tin Roof (map)
Once a month Tin Roof hosts this hilarious comedic event! Enjoy some brews on the spacious patio as both local and regional comedians share jokes! This is a great way to start your weekend a bit early. Enjoy some laughs amongst friends and take in the great evening weather!
Click here for more info.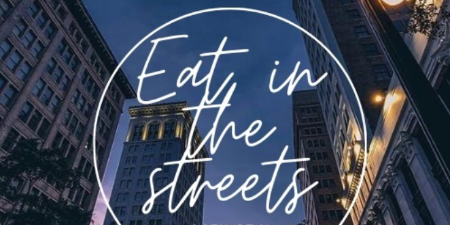 Eat in the Streets
Fri & Sat , Oct. 16-17, 4-9pm
Cost: Free to attend
At: 20th St. (map)
After a weather delay last week, Eat in the Streets is back!!! This Friday AND Saturday, the event returns to 20th Street between 1st and 2nd Ave N.. There will be live music and tables set up in the road. This is a free event to attend, but you'll definitely want to purchase some delicious food from one of the restaurants on that block! We had Paramount last time and it was SO good!  There will be wine and beer available as well!  Call your friends and head downtown!
Click here for more info.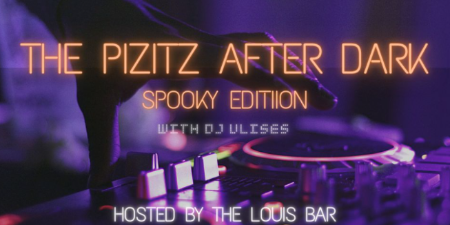 Pizitz After Dark: Spooky Edition
Fri, Oct.16, 7-11pm
Cost: FREE
At: Pizitz Food Hall (map)
This month's Pizitz After Dark is getting Spooky!  Get ready for some tunes from DJ Ulises. The Food Hall lights will be turned down and the Louis Bar will be lit up! Sip on your favorite cocktail and socialize with friends! Wear your mask, scary or otherwise, and have a great time.  There's free parking available for 2hrs in the Pizitz deck.
Click here for more info.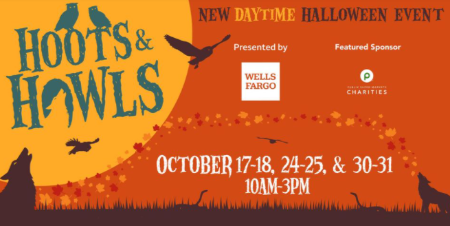 Hoots & Howls
Weekends in Oct, 10am-3pm
Cost: $10 after entry
At: Bham Zoo (map)
Don't miss this ALL NEW daytime Halloween event at the Birmingham Zoo! After you arrive in the Zoo you can purchase a wristband for various activities. These will include the Candy Cave and the Cobweb Carousel! Kids are encouraged to wear their costumes! This will be a fun and memorable experience happening each weekend leading up to Halloween! Check the Birmingham Zoo website for all the details!
Click here for more info.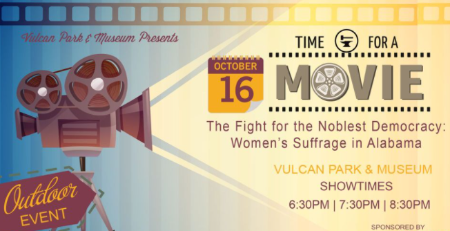 The Fight for the Noblest Democracy: Women's Suffrage in Alabama
Fri, Oct. 16, 6:30-7pm
Cost: $5
At: Vulcan Park & Museum (map)
Choose from three different showtimes! Enjoy an evening of food, drinks, and fun while watching "The Fight for the Noblest Democracy: Women's Suffrage in Alabama" from the lawn of Vulcan Park and Museum. This is a short film by Jenna M. Bedsole that briefly reviews the national suffrage movement and then turns its focus to the suffrage movement in Alabama.  It features the leaders who advocated for women's right to vote – their triumphs and their disappointments.  The film also includes those who opposed the expansion of women's right to vote, why they fought against it, and their tactics to stop the effort. Be sure to visit the Anvil Giftshop and explore the museum after the film!
Click here for more info.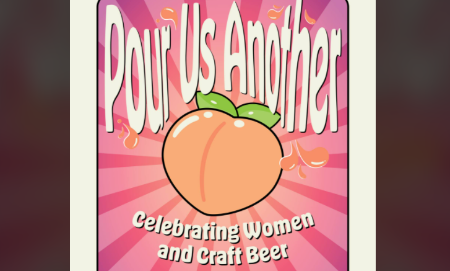 Pour us Another
Sat, Oct. 17, 12-10pm
Cost: Free to Attend
At: Cahaba Brewing Co. (map)
Celebrate the women behind Bham's amazing beer scene this Saturday at Cahaba Brewing Co.! There will be two special releases, a Peach Rosé Sour and a Hazy IPA! There will be food trucks, vendors, and live music on site! Special guests will include women from Hop City, Lumbar, and Fancy's on 5th all talking all about beer!  Of course, this event will be hosted by Ashley Monroe (Brewed Black Girl) who helped create the two new beers which will be released!  Don't miss out!
Click here for more info.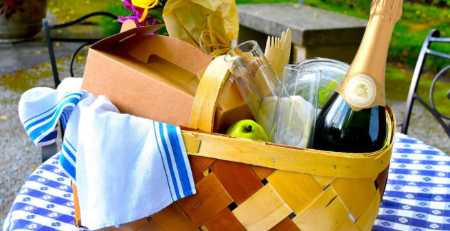 Champagne and Fried Chicken Drive Thru
Sun, Oct. 18, 3pm
Cost: Varies depending on purchase
At: Pepper Place (map)
The  Les Dames d'Escoffier Southern Soirée fundraiser will look a little different this year, but will be just as delicious! They are hosting a drive-through to pick up a picnic dinner basket for 2! This organization is composed of the female leaders in our local food and beverage industry. We attended last year's event and had a phenomenal time! Be sure to check the website for raffles and to bid on incredible prizes! This fundraiser is both fun and yummy !
Click here for more info.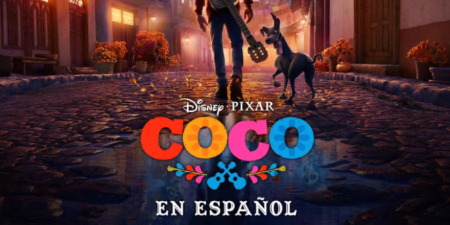 Fiesta Movies En Español: Disney's Coco
Sun, Oct. 18, 5-9pm
Cost: $25 per carload
At: Grand River Drive-in (map)
Come and sing along and practice your favorite Coco's songs in Español! Fiesta BHAM, ends #HispanicHeritage Month Celebration with Disney's Pixar Coco. The movie will be presented in Spanish with subtitles in English. "This is a great opportunity for families to watch a classic and practice their Spanish with their kids." says our good friend Teresa Zuniga-Odom. The event will be held at the Grand River Drive In, Sunday, October 18th. A special Hispanic menu will be offered by the Drive In, including Tacos and Popcorn with Valentina Sauce.
Click here for more info.