Weekend Roundup: Oct. 8-11, 2020
Railroad Park turns 10 this week!

Among the great events scheduled for this weekend is a virtual celebration of the tenth anniversary of Railroad Park! We got engaged in the park, so we are excited to help them celebrate!  There's also a great event at Vulcan Park, Farmers Markets, and some other great activities! Check them out below!
#RUhappenin

Preserve Farmers Market
Thurs, Oct. 8, 4-7pm
Cost: FREE
At: The Preserve (map)
Join in at the Preserve for a traditional style market that supports local farmers, artisans, & more! Please follow the safety precautions that are instructed at the market in order to keep yourself & the community safe. There will be six food trucks and live music from Jordan Beam!  Celebrate your "almost Friday" right!
Click here for more info.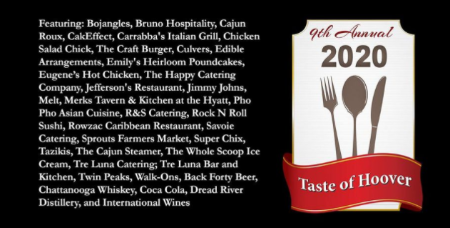 Taste of Hoover 2020
Thurs. Oct 8, 5pm
Cost: $50
At: Aldridge Gardens (map)
We LOVE Taste of Hoover and are so glad they are able to host it this year! It will be socially distanced at Aldridge Gardens, but you will still have 30 food vendors to choose from! Your admission covers unlimited samples and you will be able to try some beer and wine tastings as well.  Stroll the park at sunset as you sample the best food Hoover has to offer!  Come hungry!
Click here for more info.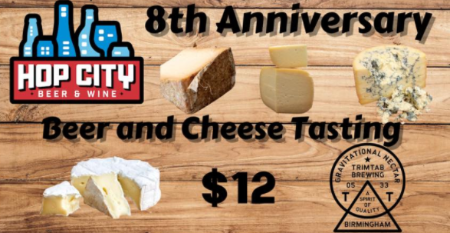 8th Anniversary Beer & Cheese Tasting
Thurs, Oct. 8, 5pm
Cost: $12 or $40 for a table of 4
At: Hop City (map)
Help celebrate the 8th Anniversary of Hop City with a beer and cheese tasting! They will be featuring exclusive brews from our friends at Trim Tab Brewing expertly paired with an incredible selection of artisanal cheeses including a cloth-bound cheddar, sheep's milk Gouda, cave-aged blue, and a triple cream soft-ripened cheese. This is a socially distanced event. Tickets are $12 per individual or $40 per table of 4 and can be purchased in-store or reserved by phone. There will be two available time slots with the first at 5pm and the second at 6pm.
Click here for more info.

Dancing with the Stars of The Magic City
Thurs, Oct. 8, 6:30pm
Cost: $25
At: Virtual
This event benefits First Light and has become a Birmingham favorite! Watch some of your favorite Birmingham personalities dance along with professional dance partners! Will Lochamy took home the prize last year, but everyone who attended was a winner because of how much fun they had.  This year's event is virtual, but you can still enjoy watching people bust some moves for a great cause! We know you'll see some familiar faces!
Click here for more info.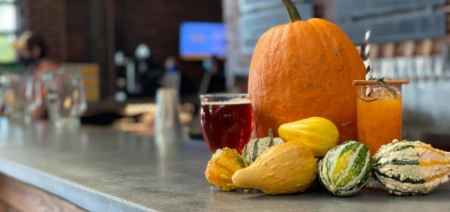 Cahaba Pumpkin Patch
Sat, Oct. 10, 12-6pm
Cost: Free to attend
At: Cahaba Brewing Co. (map)
Pumpkin season is here and you can pick out your pumpkin at the Cahaba Pumpkin Patch. Swing by the Taproom for live music, food trucks, and to decorate your own personal pumpkin! (Prices vary per pumpkin) They'll have a limited amount of supplies available to decorate pumpkins, so arrive early or bring your own supplies! This event is RAIN or SHINE. If the weather does not permit pumpkins in the parking lot, the event will move into the socially distanced Barrel Room and Patio!
Click here for more info.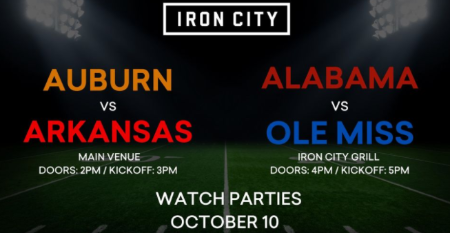 UA & AU Football Watch Party
Sat, Oct. 10, 2pm
Cost: Free to attend
At: Iron City Bham (map)
Cheer on your favorite team in the main venue at Iron City! Arrive early  for Auburn vs Arkansas (doors 2pm, kickoff at 3PM) or head into the Iron City Grill for Alabama vs Ole Miss (doors 4pm, kickoff 5pm). Entry is FREE and for ALL ages! Iron City Grill will be opened from 2PM - 9PM.
Click here for more info.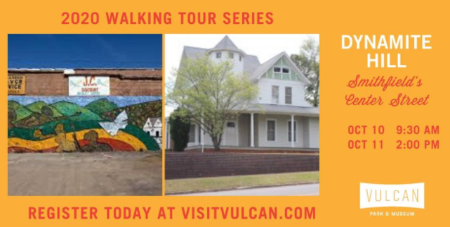 Dynamite Hill Walking Tour
Sun, Oct. 11, 2-4pm
Cost: $12
At: Vulcan Park & Museum (map)
Walking up Center St, which came to be known as "Dynamite Hill" in the 1950s, you'll be guided by people who grew up in the neighborhood and lived its history. From them, you'll get to know the people, the effects of red-lining, and the conditions that changed both the neighborhood and the future of Birmingham. Officially designated a part of the Civil Rights Trail, the tour will illuminate a significant time and place in Birmingham's history. This walking tour offers participants a fun, invigorating way to experience the history and architectural beauty of Birmingham's neighborhoods and cultural districts.
Click here for more info.
Sensory Awareness Day
Sun, Oct. 11, 2pm
Cost: $5
At: Nightmare at 3008 (map)
This event is geared towards kids that might not be able to attend a regular halloween attraction. The $5 admission includes a snack bag & trick-or-treating with haunt characters. The haunt lights will be on, no music, no strobe lights, and no scares. All characters will be wearing masks and socially distancing themselves. If you are looking for an inclusive Halloween event, this one is for you!
Click here for more info.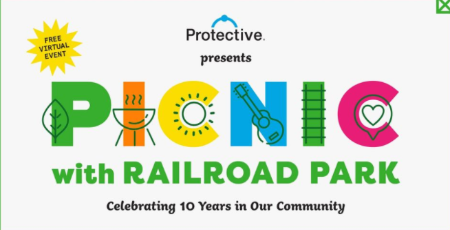 Picnic with Railroad Park!
Sun, Oct. 11, 4-5pm
Cost: Free to attend
At: Virtual
Join in for a virtual picnic to celebrate our 10 year anniversary! In honor of a decade of Railroad Park, this FREE virtual event will include music, trivia, children's activities, a digital scrapbook showing and more. We got engaged in Railroad Park, so it will forever hold a special place in our hearts!  Whether you decide to tune in for free, make a donation, purchase a picnic, or host a party, you're invited to join us in celebrating. The program begins at 4:00 p.m. on October 11, so make plans to join in on the fun! Register for free via the link below. See you there!
Click here for more info.