Weekend Roundup: Sept. 16-19, 2021
Food, Yoga, Oktoberfest, and more!
Let's get right into the weekend! There are so many fun events to choose from! Be sure not to miss Oktoberfest! There is definitely something for everyone as we continue to dive into Fall event season! Check it all out below and start planning your weekend fun!
#RUhappenin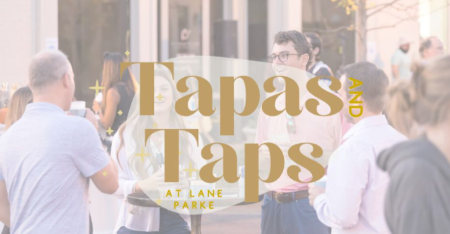 Tapas & Taps
Thurs, Sept. 16, 6-9pm
Cost: $35
At: Lane Parke (map)
Tapas and Taps is a local event that will benefit Magic Moments! Head over to Lane Parke for local brews, small plates, music, and auctions that will also be benefiting Magic Moments! This will be a fun fundraiser for such a great organization!
Click here for more info.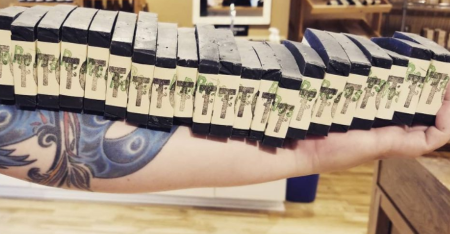 Soap Making Class
Thurs, Sept. 16, 6:30
Cost: $15
At: Left Hand Soap (map)
Come out to Left Hand Soap Co. at 6:30pm on the Third Thursday of the month for Soap Making 101 Classes! Hang out with Soapy & Erik, make your own 4oz Soap Bar, and be awesome! We've done this class and came home with some coffee soap and some lavender soap as well!  This makes for a fun date night! Be sure to reserve your spot in advance!
Click here for more info.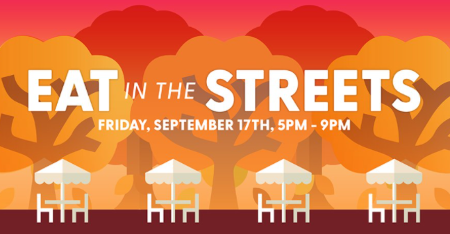 Sept. Eat in the Streets
Fri, Sept. 17, 5pm
Cost: FREE
At: Pepper Place (map)
Join in this month for the September "Eat in the Streets" at Pepper Place – A block party filled with activities, food, and fun for all. On Friday, September 17th from 5pm-9pm Pepper Place will block off 29th street to celebrate & enjoy the vast dining scene at The Place. This is the perfect time to enjoy food, shopping community and live music by Daniel Bowden brought to you by @MusicBhm !
Click here for more info.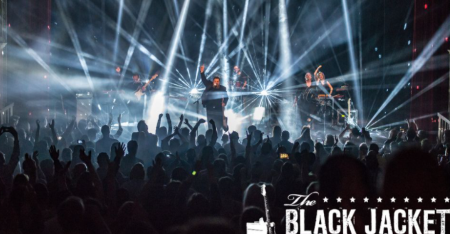 Pink Floyd's The Wall
Fri, Sept. 17, 8pm
Cost: $25+
At: BJCC (map)
Black Jacket Symphony is playing Pink Floyd's The Wall note for note this Friday! Black Jacket always puts on an incredible show! They encourage you to come and sing along as they pay tribute to this historic album! If you are a Pink Floyd fan you do NOT want to miss this show!
Click here for more info.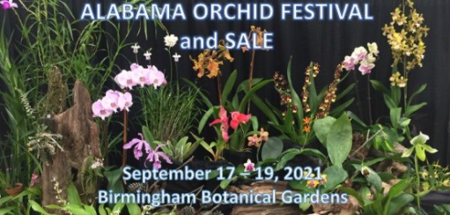 Alabama Orchid Festival
Fri-Sat, Sept. 17-18,
Cost: Free to attend
At: Botanical Gardens (map)
The Northeast Alabama Orchid Society is partnering to present the 2021 Alabama Orchid Festival and Sale. For over 35 years, orchid societies and regional vendors have come together from all over the SE to bring blooming orchids for enthusiasts to purchase from hundreds of available plants, and also to see orchids on display in the auditorium of the Birmingham Botanical Gardens September 17-19,2021. The Orchid Show and Sale and the Birmingham Botanical Gardens are not only beautiful in September, they are also free to the public with free parking. Photography during the show is welcomed and encouraged.
Click here for more info.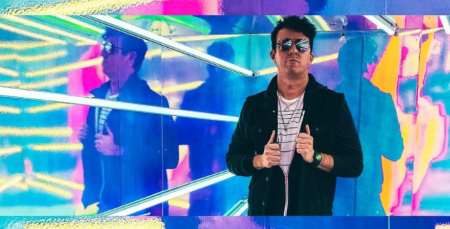 DJ Mark AD
Fri, Sept. 17, 11:30pm-2am
Cost: $10
At: Fennec (map)
If you haven't checked out Fennec yet, you are missing out! Here is a chance to have some late night Friday fun with DJ Mark AD!  He'll be keeping the party going until 2am! Fennec also has a delicious food menu and plenty of great cocktails! They even have a stage behind the bar!  It's such a cool new venue!
Click here for more info.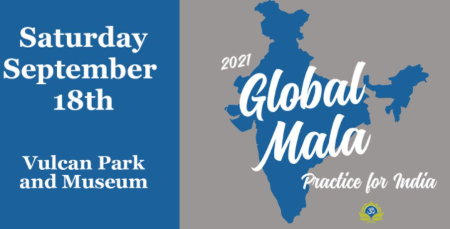 2021 Global Mala
Sat, Sept. 18, 7am
Cost: FREE/$10 suggested donation
At: Vulcan Park & Museum (map)
Please join the community for the yearly practice of 108 sun salutations in honor of the International Day of Peace at Vulcan Park and Museum. Teachers from Birmingham (and the surrounding area) will lead you through this practice. Sun salutations will be led in the traditional count. The use of props, chairs, etc. are all welcome and encouraged. All are welcome! This practice is for everyone - yogis of all levels - in no way do you have to complete all of the sun salutations! 5 is okay, 10 is okay, 35 is okay - come enjoy a beautiful morning in the park!
Click here for more info.
Paws for the Cause
Sat, Sept. 18, 8am
Cost: $25+
At: Veterans Park Hoover (map)
Paws for the Cause is a certified 5k off-road race through the beautiful Veterans Park in Hoover on September 18th. The course takes you on a path through the park around the lake and through tree-lined trails surrounding the park. NEW: The Tail Waggin' Trek is a 1-mile "obstacle" course run for individuals or teams and fun for adults, kids & dogs! All obstacles are family-friendly and either silly fun animal-themed challenges suitable for all ages and those that can walk a mile. Now more than ever, the shelter needs financial support to care for the hundreds of pets in their care and foster homes.
Click here for more info.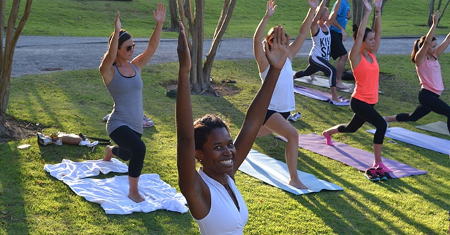 Family Yoga in the Gardens
Sat. Sept. 18, 8am
Cost: $15 for 2/ $5 each additional guest
At: Botanical Gardens (map)
Enjoy this unique opportunity for healthy fun with the family in the gardens of Birmingham Botanical Gardens. This energetic class will incorporate individual and partner yoga poses for strength and balance, plus breathing exercises to help foster calm and focus. Our garden inspired crafts will assist in cooling the mind and body. This series will take place at the Birmingham Botanical Gardens. For ages 4+, please read the BBG social distancing guidelines on their registration page. Craft instructions will be sent to families following class instead of conducted on site. Advanced registration is required.
Click here for more info.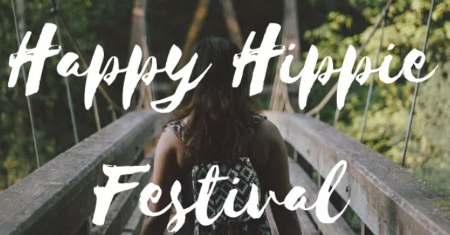 Happy Hippie Festival
Sat, Sept. 18, 10am-5pm
Cost: $10
At: Shelby Exhibition Center (map)
Be sure to go enjoy this family friendly event. There will be several vendors, food trucks, live music, a car show, and much more! It all takes place at the Shelby Exhibition Center! The fun will be going on all day, so check it out!
Click here for more info.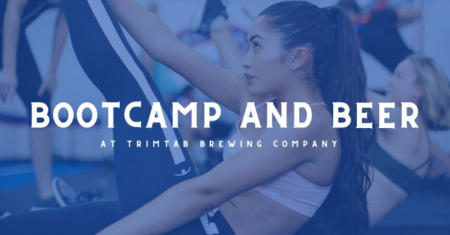 Bootcamp & Beer
Sat, Sept. 18, 11am
Cost: FREE
At: TrimTab Brewing (map)
Join F45 Training Downtown BHM for a fun, FREE workout at TrimTab Brewing! Get your Saturday started right with a full body 45-minute workout led by F45 Downtown BHM and F45 Liberty Park coaches. No exercise equipment needed and open to ALL fitness levels. Bring a water bottle, yoga mat or towel, friends and energy! Stay after for beers at TrimTab and a chance to WIN a $50 Trim Tab Gift Card and more! Come see what F45 is about. F45 is the most fun you'll ever have working out! Their circuit and HIIT style workouts are scaled to any fitness level, and the classes are a great way to make friends while you get fit!
Click here for more info.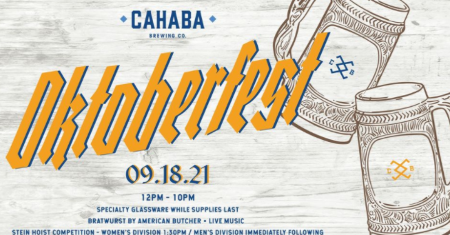 Oktoberfest
Sat, Sept. 18, 12-10pm
Cost: FREE
At: Cahaba Brewing Co. (map)
It's time for the Cahaba Brewing annual Oktoberfest! Join in the fun at the Taproom for excellent craft beer, great food, cocktails, and good times as you celebrate the release of the seasonal Oktoberfest canned beer. They'll also have bratwurst from American Butcher, live music, a stein-hoisting competition, and more!
Click here for more info.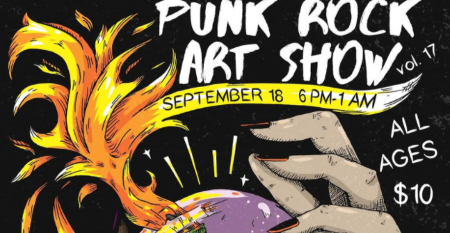 Punk Rock Art Show
Sat, Sept. 18, 6pm-1am
Cost: $10
At: TrueStory Brewing (map)
Get ready to enjoy plenty of live punk music and local art! It's the 17th edition of the Punk Rock Art Show! This month it's at True Story Brewing! This is a great way to support local artists and have a great time!
Click here for more info.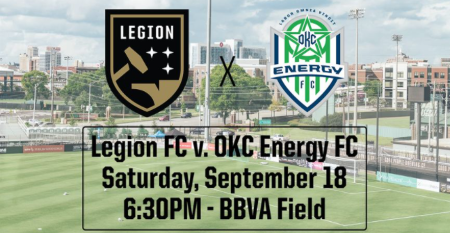 Legion FC vs OKC Energy FC
Sat, Sept. 18, 6:30pm
Cost: $15+
At: BBVA Compass Field (map)
Legion FC takes on Oklahoma City this Saturday! Head over to BBVA Compass Field and cheer them on! These games are always so exciting! The Magic City Brigade keeps the energy up for the entire match! There are just a handful of games left this season, so don't miss out!
Click here for more info.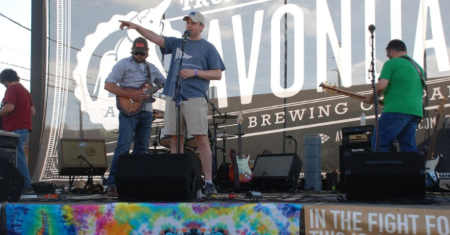 Earthbound's EarthFest 2021
Sun, Sept. 19, 2-8pm
Cost: $5 suggested donation
At: Avondale Brewing Co. (map)
Earthbound headlines Earthbound's Earthfest, the rock band's annual outdoor concert at Avondale Brewery (21 41st St S, Birmingham, AL 35222). The event benefits Black Warrior Riverkeeper, a nonprofit clean water advocacy organization protecting Alabama's Black Warrior River watershed. The family-friendly outdoor event is open to pets and people of all ages, although guests under 21 must be accompanied by a parent or guardian. Suggested $5 donations at the door will support Black Warrior Riverkeeper, as will the proceeds from merchandise, art, beer, and food trucks. The event's top sponsor this year is Skates 280. "Earthbound's Earthfest normally takes place in the spring on the Saturday closest to Earth Day, and we have never done it on a fall Sunday," said Charles Scribner, executive director of Black Warrior Riverkeeper. "The last edition of Earthbound's Earthfest occurred way back in April of 2019, so we are excited to return to Avondale Brewery's spacious backyard, enjoy great music and promote clean water."
Click here for more info.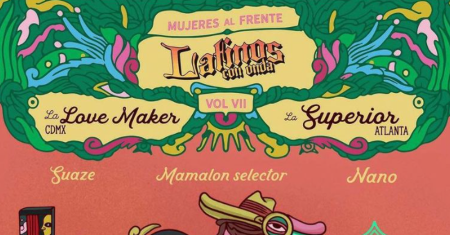 Latinos con Onda
Sun, Sept. 19, 4pm-12am
Cost: $10
At: Ghost Train Brewing (map)
Celebrate the Independence of Latin America with a full day of authentic music, art, and food, plants, photo booths, and of course, drinks! The party will be going from 4PM - midnight, and there will be a $10 cover at the door. All ages are welcome! For more information, head over to @latinoscononda !
Click here for more info.