Weekend Roundup: Sept. 9-12, 2021
Goodbye Summer, Hello Fall Events!
We hope everyone had an enjoyable Labor Day weekend! Now that Summer has come to a close, let's jump right into some great Fall events! Art Walk and Birming-FAM Fest are both happenin' this weekend! You don't want to miss these two-day events! The Birmingham Wellness Passport also launched this week, so we'll be trying our various fitness studios and local health based restaurants and businesses between now and Oct. 31st ! Let's jump right into the weekend fun!
#RUhappenin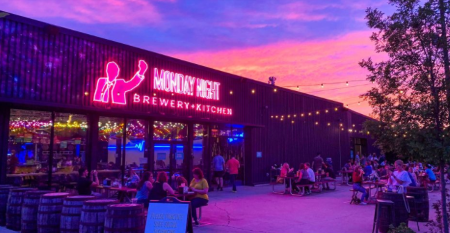 Monday Night Brewing 1yr Anniversary
Now-Sun, Sept. 9-12
Cost: Free to attend
At: Monday Night Brewing (map)
Get ready because Monday Night Brewing is partying ALL WEEK LONG in honor of their one-year anniversary and the unwavering support of the community during a super weird year. You can expect daily beer releases, including some real exclusive stuff, amazing vendors, SLUSHEE specials, live music, and long-lasting friendship! Each day has a theme! Throwback Thursday, Trivia Friday, a BIG Party Saturday, and Super Chill Sunday! Don't miss out!
Click here for more info.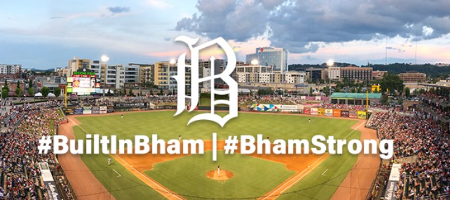 Barons vs Trash Pandas
Now-Sun, Sept. 9-12, times vary
Cost: $8
At: Regions Field (map)
It's the last home stand for the 2021 Barons baseball season! The Barons take on their newest in state rivals, the Rocket City Trash Pandas. Don't miss Thirsty Thursday, Fireworks Friday, and more! We love to stop by Tortugas for a pregame slice of pizza!  Let's help make these homegames the best of the season!
Click  here for more info.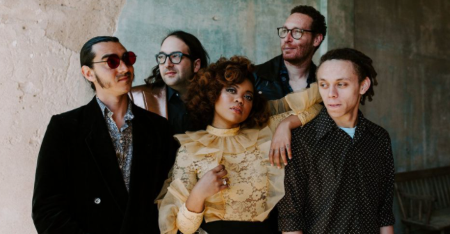 Seratones w/ Lesibu Grand & Results of Adults
Thurs, Sept. 9, 10pm
Cost: $15
At: The Nick (map)
We first discovered Seratones when they played Secret Stages years ago! We've since seen them at Sloss Fest, Art on the Rocks, and other Birmingham events. They are absolutely incredible, so you definitely want to catch this late show at The Nick! Prepare for some soulfully funky rock!  They always put on an amazing show!
Click here for more info.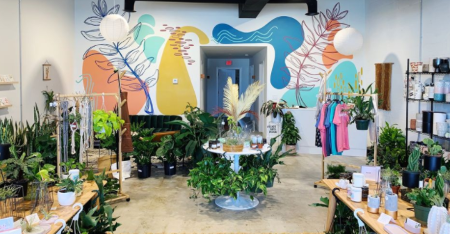 House Plant Collective Happy Hour
Fri, Sept. 10, 4-6pm
Cost: Free to attend
At: House Plant Collective (map)
House Plant Collective is hosting a Happy Hour this Friday evening and they want you to come and enjoy some drinks!  While you sip on your beverage be sure to check out all of their incredible plants, gifts, and more!  Take a selfie in front of the colorful mural and share it on social media! HPC always does a great job of hosting these events!
Click here for more info.

Artwalk 2021!
Fri-Sat, Sept. 10-11, 5-10pm/10am-6pm
Cost: FREE
At: 20th St. N (map)
Artwalk is BACK for 2021! Artwalk is an arts festival that transforms Birmingham's loft neighborhood into an arts district, featuring the work of more than 100 visual artists, live musicians, street performers, food and drink vendors, and children's activities. Come shop local artists, listen to great live music, eat delicious food, and hangout with friends! It's FREE to attend!
Click here for more info.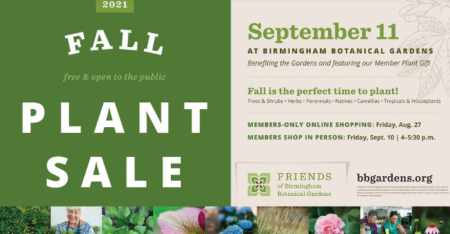 Fall Plant Sale
Sat, Sept. 11, 8am-2pm
Cost: FREE
At: Bham Botanical Gardens (map)
Join in the fun on Saturday, September 11, at Birmingham Botanical Gardens for the nonprofit Friends of Birmingham Botanical Gardens' annual Fall Plant Sale! Hundreds of plants—many of which have been nurtured at the Gardens by the Friends' dedicated volunteer growing groups—will be available for purchase. Proceeds from the sale will support the Friends' mission: to protect, nurture, and share the wonders of Birmingham Botanical Gardens. BBG Members get a chance to shop early  from 4–5:30 p.m. on Friday!
Click here for more info.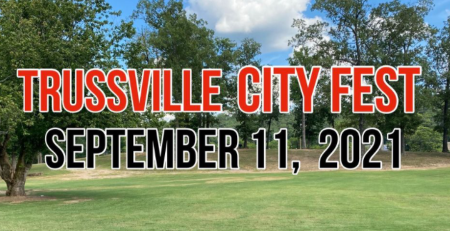 Trussville City Fest
Sat, Sept. 11, 8am-until
Cost: FREE
At: Trussville Park (map)
Trussville City Fest is a FREE, fun, family event in historic downtown Trussville! This 41 year old festival will be held on Saturday, September 11, 8am-until. Activities will be located at Veterans Park, all along Main Street, and at the new Trussville Entertainment District. Head over for live music, food, drinks, a kid zone, and more!
Click here for more info.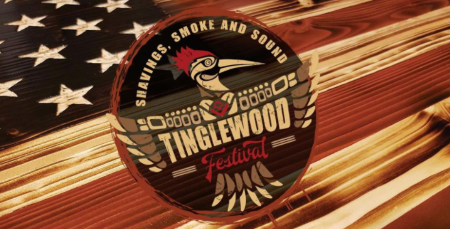 Tinglewood Festival/Cars by the Creek
Sat, Sept. 11,  9am-5pm
Cost: FREE
At: Orr Park Montevallo (map)
Enjoy a uniquely Montevallo event with live chainsaw wood carving, woodworking artist vendors, Tim Tingle's Whittling Contest, and a wooden boat race. Festival-goers will find everything from knives, wooden bowls, vases, jewelry, and toys, to handcrafted furniture, bird houses, ornaments, and more! There will also be a classic car show—the 19th Annual Cars by the Creek—a variety of children's activities, axe throwing, and food vendors on site. Live music runs all day during the festival with a wide variety of styles from patriotic, folk/Americana, R&B, vintage country and Western, and even an Elvis tribute!
Click here for more info.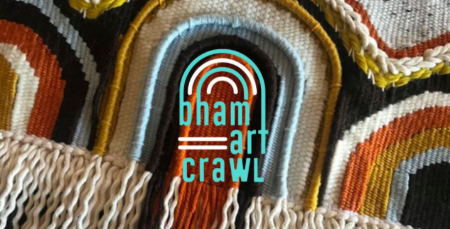 Art Crawl
Sat, Sept. 11, 11am-3pm
Cost: FREE
At: Pizitz (map)
This weekend is FULL of Art events! Stop by the Pizitz and check out the September Art Crawl! They will have plenty of great local artists on site. You never know what amazing pieces you'll find to add to your collection! Be sure to grab some food from the Pizitz Food Hall and take advantage of FREE parking in the covered deck on 18th Street!
Click here for more info.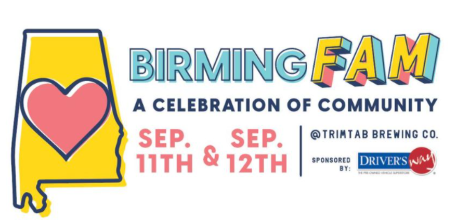 Birming-FAM Fest
Sat-Sun, Sept. 11-12, 12-12am/12-10pm
Cost: $25 per day/$40 2day Pass
At: TrimTab Brewing (map)
TrimTab is hosting this TWO DAY festival packed FULL of great musicians, drinks, and vendors! Proceeds benefit Jones Valley Teaching Farm. You can enjoy a bike joust, a hot dog eating contest, a Hero Donuts eating contest (winner get free donuts for a YEAR!), yoga, and more!  Get a day pass or save some money and get a 2day pass! Bring your friends because it's going to be a fun time!
Click here for more info.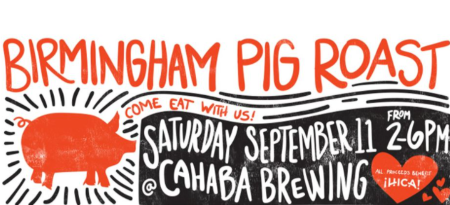 Bham Pig Roast
Sat, Sept. 11, 2-6pm
Cost: $25
At: Cahaba Brewing Co. (map)
The ¡HICA! Junior Board presents the inaugural Birmingham Pig Roast! This is an event that brings together Alabama's passion for good barbecue and the rich Latino communities in Birmingham. In Puerto Rico and other Latino cultures, a pig roast happens whenever there is a big celebration. Now, the ¡HICA! Jr. Board is bringing that celebration to Birmingham. Be sure to try the Lagerveza—a beer by Cahaba Brewing Company brewed just for this day!
Click here for more info.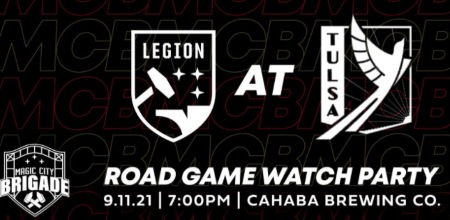 Legion vs Tulsa Watch Party
Sat, Sept. 11, 7pm
Cost: FREE
At: Cahaba Brewing Co. (map)
Join the Magic City Brigade at Cahaba Brewing to watch Legion FC take on Tulsa! Legion is on the road, but you can still cheer them on! These watch parties are always so much fun and you can sip on your favorite Cahaba Brew or cocktail while you're there!
Click here for more info.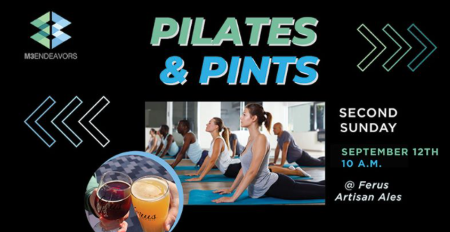 Pilates & Pints
Sun, Sept. 12, 10am
Cost: FREE
At: Ferus (map)
Wind down your weekend with a free pilates class at Ferus Artisan Ales this Sunday. Enjoy a workout then a pint afterwards. Ferus also has an incredible food selection in case you want a post pilates lunch!  This event happens once a month, so try not to miss out!
Click here for more info.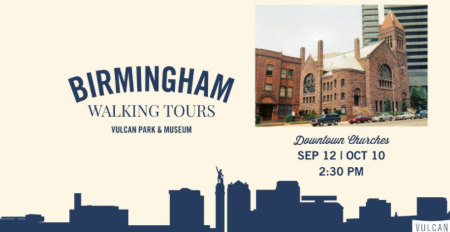 Birmingham Walking Tours: Downtown Churches
Sun, Sept. 12, 2:30-4pm
Cost: $40/$25 Vulcan Members
At: Location given after registration
Birmingham's downtown churches reach back to the city's founding days—and now are contributing to the renewed vitality of the city center. Come learn about the architecture, hear some stories the buildings tell, find out about the range of resources they offer, and visit a few of the church interiors. This tour focuses on the original congregations that are still downtown: Cathedral of St. Paul, First Presbyterian Church, Cathedral Church of the Advent, First United Methodist Church, and 16th Street Baptist Church. These walking tours are hosted by Vulcan Park and Museum.
Click here for more info.