Weekend Roundup: Sept. 30-Oct. 3, 2021
October is here and we are so excited to kick off the Halloween season!
This weekend will be momentous as it marks the first event at Protective Stadium! What better way to celebrate than with a UAB Blazers Football home game! The weekend also features a BBQ festival, a music fest at Saturn, and much more! It's also Slicefest 2021 weekend! Check below for the full rundown of our picks for weekend events!
#RUhappenin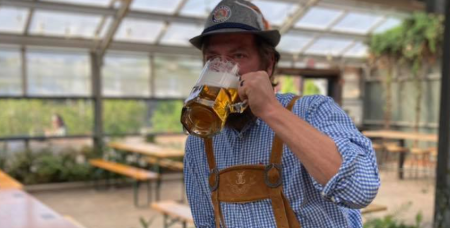 Oktoberfest in the Beer Garden
Thurs-Sun, Sept. 30-Oct. 3
Cost: Free to attend
At: Carrigan's Beer Garden (map)
Join Carrigan's for Oktoberfest food and drink specials September 29th through October 2nd featuring Oktoberfest beers from Bitburger, Paulaner, Benediktiner, and Weihenstephaner. Food specials will include Brisket Sandwich with Sauerkraut, Muenster, Dijonnaise, & au Jus as well as Tater Tot Currywurst Bavarian Brat with Grilled Onion and Stone Ground Mustard. Throughout the week/weekend they will host Stein Hoist competitions, have live Oktoberfest themed music, and much more!
Click here for more info.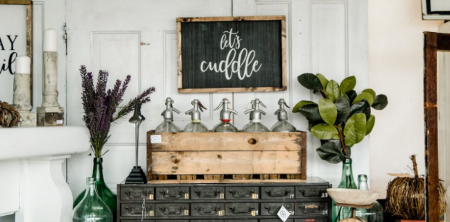 Vintage Market Days
Thurs-Sat, Sept.30-Oct. 2
Cost: $11/day ($5 parking)
At: Finley Center (map)
This Thursday through Saturday you can check out over 85 vendors at Vintage Market Days! Stock up on Fall gifts and decor, sample some delicious food items, and spend some quality time shopping with your friends! Vintage Market Days always has such a great turnout. It's also indoors, so you won't have to worry about the weather! This event has become a fast favorite in the greater Birmingham area.
Click here for more info.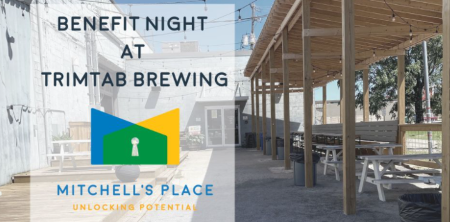 TimTab Brewing Benefit Night
Thurs, Sept. 30, 4-8pm
Cost: FREE
At: TrimTab Brewing (map)
The Mitchell's Place Junior Board is hosting a benefit night at TrimTab! In honor of their great work, TrimTab will have a limited release brew for the occasion. You can enjoy some patio time with friends while supporting the Mitchell's Place mission of helping those on the spectrum unlock their full potential.  You'll also be able to get information about the Mitchell's Place Junior Board if you're interested in joining!
Click here for more info.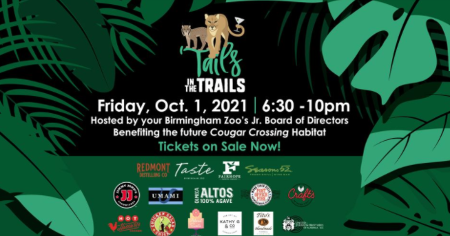 'Tails in the Trails 2021
Fri, Oct. 1, 6:30-10pm
Cost: $45 (benefits the Bham Zoo)
At: Birmingham Zoo (map)
Your Birmingham Zoo's Junior Board invites you to their 11th Annual 'Tails in the Trails blowout on Friday, October 1 from 6:30 pm until 10:00 pm. Party down on the Hugh Kaul Plaza at this outdoor celebration with live music by Nationwide Coverage, foodie favorites from area restaurants, beer, wine, and two specialty cocktails, and a silent auction! This year's event is raising funds for the upcoming Cougar Crossing Habitat!
Click here for more info.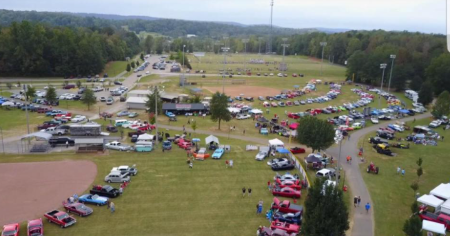 11th Annual Crusin' for a Miracle Car Show
Sat, Oct. 2, 8am-3pm
Cost: FREE ($10 to register a vehicle)
At: 607 Park Ave. Moody (map)
This is a non-profit Car Show that will benefit The Moody Miracle League Special Needs Baseball. The event is from 8am-3pm Saturday in conjunction with the Moody Annual OktoberFest!!. This is a Kid Friendly & Family Event. They will have a Pin Up Girl Contest & Live Auction with custom made items to be auctioned off! This FREE event is perfect for car lovers!
Click here for more info.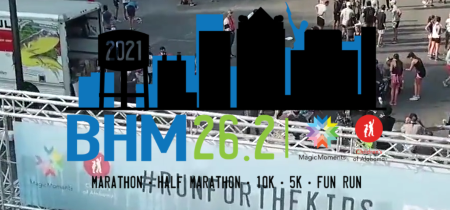 BHM 26.2
Sat-Sun, Oct. 2-3
Cost: $0-$95
At: Sloss Furnaces (map)
BHM26.2 is Alabama's only fully charitable race series, benefiting Magic Moments and Children's of Alabama on Saturday, October 2 and Sunday, October 3 at Sloss Furnaces. It consists of a full marathon, half marathon, 10K, 5k and fun run (FREE)!, BHM26.2's race weekend brings an exciting course to Birmingham, including a marathon course that has no repeats or loops. With over 2,000 runners, this event is one of Birmingham's most highly attended races with a family-friendly after party for participants and anyone who wants to support the cause. Entry fees vary based on which option you choose.
Click here for more info.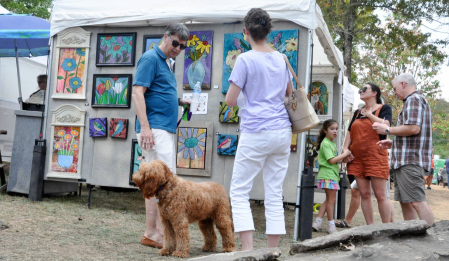 58th Annual Bluff Park Art Show
Sat, Oct. 2, 9am-5pm
Cost: FREE
At: Bluff Park (map)
(photo by Jon Anderson)
The Bluff Park Art Show celebrates all things creative and attracts art lovers and artists from all around the South and local Birmingham, Alabama art community. The Bluff Park Art Show promises to be an engaging experience for all ages (and your furry friends). Come and go as you please throughout the day, stay as long as you'd like, or pop in and check out your favorite artist's work. Browse numerous works of art, discover and meet new and seasoned artists face-to-face. Explore handmade art from regional southeast artists that tell the stories of the people who created them, including painting, glass, clay, digital imaging, jewelry, metalwork, photography, woodworking, fiber, sculptures, printmaking, and mixed media. Browse racks of one-of-a-kind fashions, find unique gifts for everyone on your list and treat yourself to something wonderful that couldn't be found anywhere else.
Click here for more info.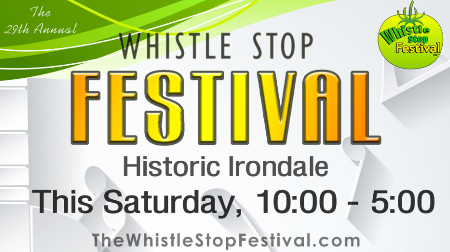 Whistle Stop Festival
Sat, Oct. 2, 10am-5pm
Cost: FREE
At: Historic Downtown Irondale (map)
Back for it's 29th year, the Whistle Stop Festival is a full day of food, music, and fun! Head to Historic Downtown Irondale this Saturday for all of the festivities. There will be various zones like a Fit Zone, Kids Zone, and more! You can check out local vendors as you listen to live music throughout the day.  This is definitely a fest you don't want to miss!
Click here for more info.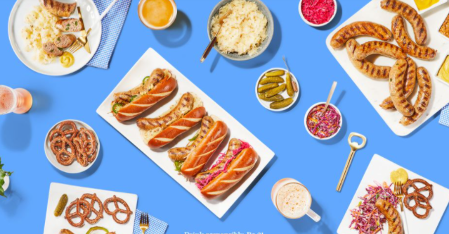 Oktoberfest!
Sat, Oct. 2, 11am-2pm
Cost: FREE
At: GreenWise Market Lane Parke (map)
Get into the Oktoberfest spirit this Saturday at Lane Parke in Mountain Brook. It's going to be an unbelievably good time. Enjoy tasty house-made brats, local beers, live music, fun games, and more. The fun kicks off at 11am and goes until 2pm. It should be fun for the whole family!
Click here for more info.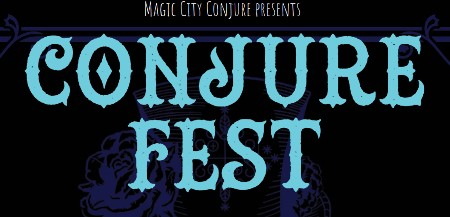 Conjure Fest
Sat, Oct. 2, 12-8pm
Cost: FREE
At: Iniquities (map)
We can't think of a better way to start October and get into the Halloween spirit than attending Conjure Fest this Saturday! This will be a FREE event hosted at Iniquities on 7th Ave South. You can look forward to a full day of vendors, readings, food and more! There will also be a pumpkin carving contest and a gumbo cookoff! For those of you who LOVE Halloween (like Russell) this event is a must!
Click here for more info.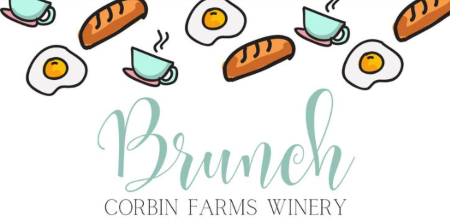 October Brunch
Sat-Sun, Oct. 2-3, 12-3pm
Cost: $13
At: Corbin Farms Winery (map)
Brunches are so much fun, but FALL brunches seem almost magical! Corbin Farms has two opportunities for you to enjoy some delicious fall food for just $13 this weekend! On Saturday and Sunday, from 12-3pm, you can choose between Ratatouille Quiche or a Sausage & Cream Cheese Casserole! Both are served with a hashbrown casserole and fresh fruit! This is a great deal for some delicious food and we are pretty sure they have an excellent selection of wines for you to pair with it!
Click here for more info.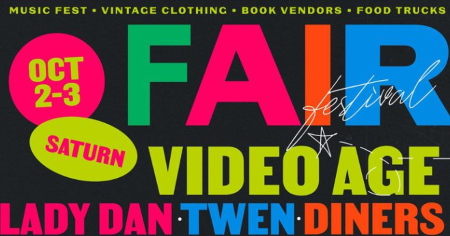 Book Fair Music Festival
Sat-Sun, Oct. 2-3
Cost: $15 day/ $25 weekend
At: Saturn (map)
Earth Libraries presents this multi-day music festival taking place in the heart of Avondale! The main venue will be Saturn. Vendors include Manitou, Thank You Books, Avondale Public Library, Burdock Book Collective. Various food trucks and vintage merchants will be onsite. The fest is sponsored by Birmingham Mountain Radio, Mom's Basement, Seasick Records, and Cahaba Brewery!  Come hear some fantastic music and shop some great local vendors! This is an 18+ event.
Click here for more info.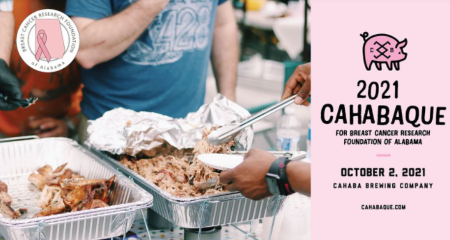 8th Annual CahabaQue
Sat, Oct. 2, 1-5pm
Cost: $15
At: Cahaba Brewing Co. (map)
Bring your appetite to this event as you enjoy UNLIMITED samples of delicious BBQ! It's all going down at Cahaba Brewing Co. this Saturday starting at 1pm. There will be live music from Murph and Audible Envy as well as some local vendors. This is one of our favorite food based events! As of now, there are a limited number of VIP tickets still available for $50 that include early entry, alcohol tastings, and access to the Redmont Distillery Lounge!
Click here for more info.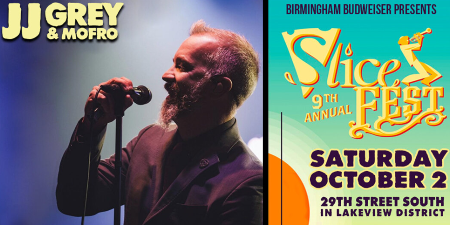 Slicefest 2021
Sat, Oct. 2, 3-10pm
Cost: $35/ $150 VIP
At: Lakeview District (map)
(Check our IG Page for a VIP Giveaway!)
Slicefest makes its return to Lakeview for 2021! Get ready for some fantastic music, a lively crowd, and a day packed full of fun! Birmingham's largest food & music block party hosted by Slice Pizza & Brewhouse. Over the past 8 years, the event has grown to a full-blown festival bringing in local and regional music talent paired with local craft beer and specialty pizzas. SliceFest is a family-friendly event with activities for all ages, including a petting zoo, face painting, and more, and will be a great place for game day with large-screen TVs airing college football throughout the day. As with previous years, SliceFest is expected to welcome a SOLD OUT crowd on this 9th anniversary with patrons from Birmingham and across the Southeast. Community is what SliceFest is all about, not just a celebration of those that support Slice Pizza & Brewhouse, but a way to give back to the community. SliceFest has donated over $80,000 to Birmingham-based non-profits.
Click here for more info.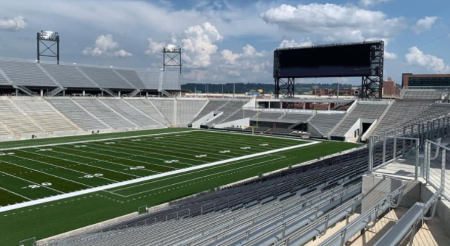 UAB vs Liberty
Sat, Oct. 2, 6pm
Cost: $20+
At: Protective Stadium (map)
The wait is finally over! UAB Football will be the FIRST public event held at the new Protective Stadium!  We can't think of a better way to christen this incredible venue than by cheering on the UAB Blazers Football Team! The energy for this game will no doubt be electric.  Be sure to get your tickets early and be a part of this historic day for the City of Birmingham and the UAB Football program! Go Blazers!
Click here for more info.

Cahaba River Fry-Down
Sun, Oct. 3, 12-4pm
Cost: FREE
At: Online
The Cahaba River Society will host its 12th annual Cahaba River Fry-Down Catfish Cookoff and Festival virtually in 2021. While the nonprofit hoped to bring the community back together in-person this year, the current surge in the pandemic has required a return to the online format that made the 2020 festival the widest-reaching event in the organization's history. Log on and watch some incredible recipes being prepared as funds are raised to help protect the Cahaba River!
Click here for more info.