Returning to Their Roots: BLUEROOT returns to Pepper Place with a new location!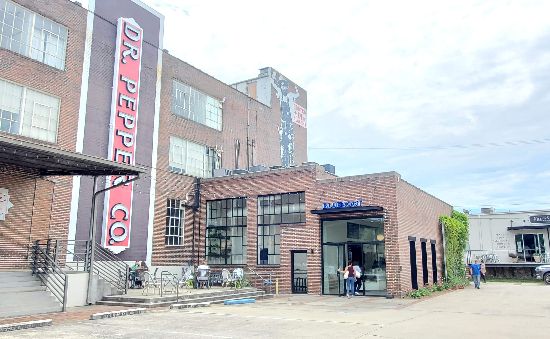 Back in the Spring of 2019, Jennifer Ryan debuted BLUEROOT as a pop-up at the Pepper Place Farmers Market. Now BLUEROOT has returned to Pepper Place with their very own brick & mortar location!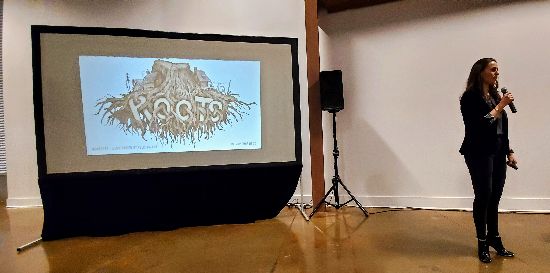 How it began.
We first had the pleasure of meeting Jen when she told her story during a Creative Mornings Birmingham event at Sloss Furnaces. She shared how she, a California native, moved to Birmingham and realized how hard it was to find healthy food options that were both accessible and affordable. She decided to address this issue by creating BLUEROOT to provide delicious and healthy snacks and meals to the Birmingham community.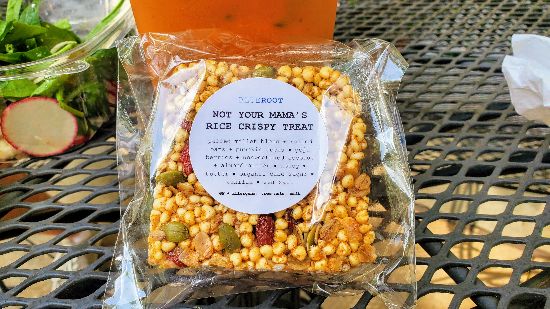 Jennifer's plan was straight forward. She identified her end game, did her homework, sought advice from peers, crafted her story, set milestones, and remained adaptable.  Her vision, and the demand for the BLUEROOT menu,  quickly outgrew her Pepper Place pop-up tent.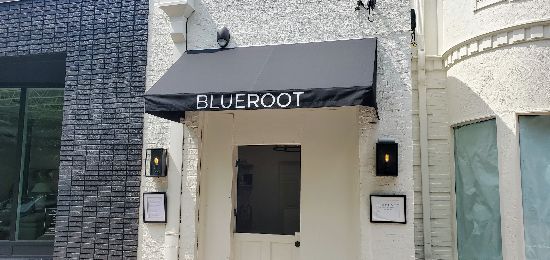 Next Steps.
After opening "The Outpost" in Mountain Brook, a small grab-and-go location, Jennifer partnered with Birmingham Restaurant Week and started selling some tasty treats at places like FORGE. (These quickly became a not-so-guilty pleasure of ours!) From the outset she stayed engaged with the Birmingham Community. It wasn't long before it was time to take the next step! It's only fitting that she decided to open the first full size BLUEROOT location where it all began, at Pepper Place!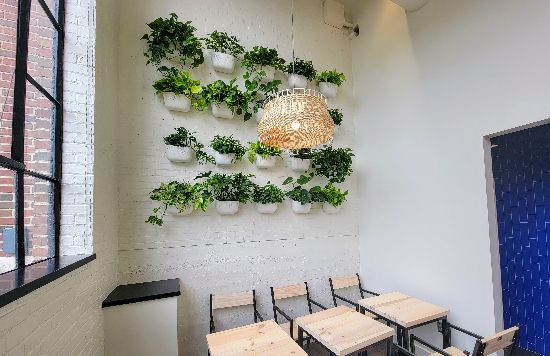 New Look!
Amber and I recently checked out the new location just before it opened for their "Friends & Family" preview. We were blown away at how light and welcoming the space has become! BLUEROOT has such a clean and airy aesthetic with a ton of natural light. One of the first things we noticed was an insanely high plant wall that was done in collaboration with Botanica.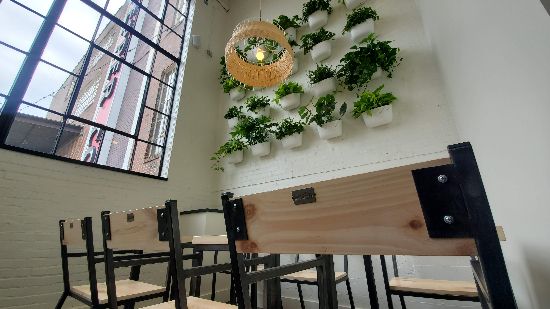 The next thing we saw was the incredible 14 seat community table (oh, how we missed community seating!)  as well as three tables for two.  All of the tables and chairs were built by Magic City Woodworks!  The dining space is set up to allow you to relax and eat, while the front half is designed for quick and efficient service!

The FOOD!
It may come as a surprise to some that the BLUEROOT menu was originally created by James Beard award winning chef, Robin Bashinsky. After your first bite, it makes perfect sense! We've been blogging for Birmingham Restaurant Week for years now, and BLUEROOT was the meal that surprised me the most last year! Amber and I weren't prepared for how packed full of flavor the salads and bowls were!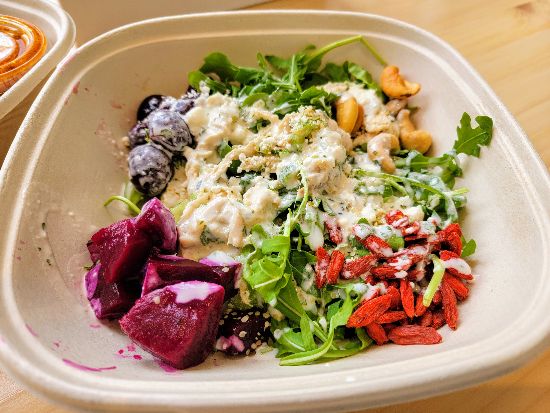 Jennifer has now expanded the menu at the new location to include even more healthy options that will have you discovering new flavor combinations with every bite! They still have favorites like their Rice Crispy Treats and Dark Chocolate Tahini Brownies, while also adding salmon to the menu as well as a chicken salad made with greek yogurt in place of mayo. We had the Santa Fe Bowl & Super Food Bowl. Both were incredible! BLUEROOT uses bread from local favorite, Bandit Patisserie!  They are served in compostable containers that are perfect for dining in or take out. Even the utensils are compostable!  BLUEROOT also partnered with FeedBHM to make sure that food that doesn't get sold goes to help end hunger and prevent food waste!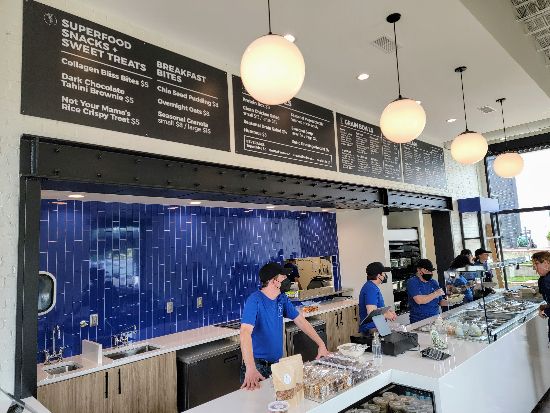 Three ways to enjoy!
BLUEROOT has been set up so that you have three different options of ordering. The first is walking through the line and ordering your food or building your own bowl to take with you, dine inside, or enjoy the patio seating.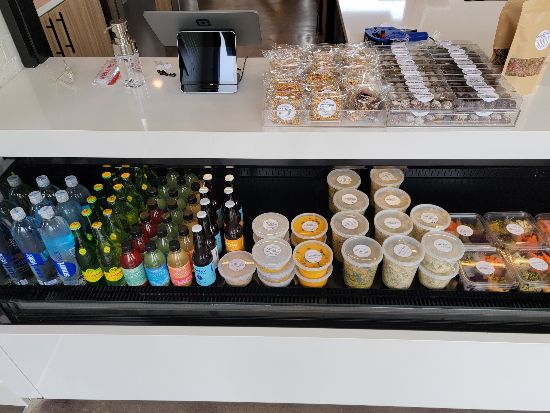 You can also order ahead of time, come in the back door, grab your order and go without waiting!  The third option is a walk up counter where you can get some grab-and-go drinks and snacks! The snack bar features items from both Better Kombucha Birmingham and Harvest Roots ! All of this is designed to help you get in and out on your lunch break and to allow you to spend more time savoring your food than waiting on it.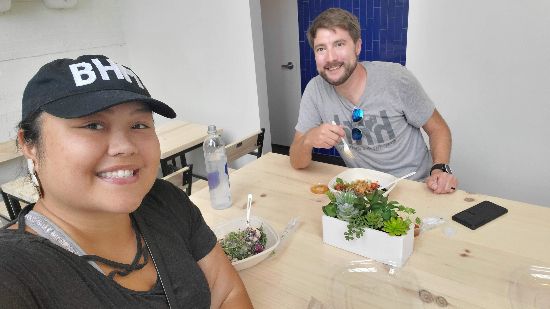 The details.
BLUEROOT has their grand opening on Tuesday, July 20th. They are located in the heart of Pepper Place next to the giant Dr. Pepper sign.  Their hours will be  Tues-Fri, 11am-6pm and Saturdays from 7am-2pm. The Saturday hours will be perfect for grabbing a great meal while shopping The Market at Pepper Place!  We have no doubt that we'll be making frequent stops after our Ignite Cycle classes!  Not only does BLUEROOT have healthy and delicious food, Jennifer has built her business on a foundation of intra-community  relationships. To us, that is the "Magic" of our city!
-Russell Hooks